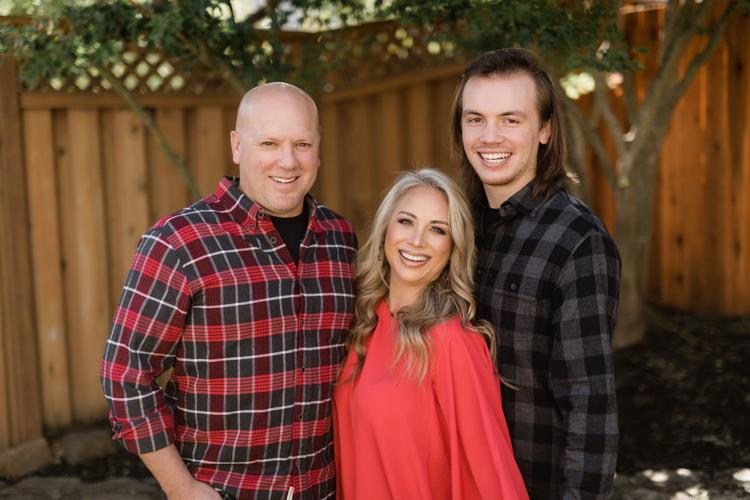 On Nov. 6, a Napa family had a very special reunion, one that was 24 years in the making.
That day, Holly and Cam Neal met their first-born son for the only the second time. Life had just come full circle.
Such a reunion was something that the couple could barely have imagined back in 1995. That was the year they chose to place their son for adoption.
Surprise news
Both 19 at the time, "We were barely a couple when we found out we were pregnant," said Holly, now 44. They'd met while students at UC Davis and living the same dorm building.
At the end of the school year, Holly went home to Roseville, where her family lived at the time. Cam came home to Napa, where he grew up.
After taking a pregnancy test, and seeing the results, "I sat on the bathroom floor crying," said Holly. "I was in shock and panicked and not knowing what to do," she said.
She called Cam the next day to tell him the news.
He was shocked as well, said Cam, now 45.
"There was definitely some emotional response," he said. But his next step was to think calmly and clearly about the situation.
"I did not tell my parents anything," said Holly. "They were both very strong in their Christian faith," and the idea that their daughter was pregnant and unmarried, "in that order," would be hard for them, she knew.
Holly and Cam met in Napa "to discuss our options face to face," she said. They could either keep the baby, place the baby for adoption or get an abortion.
"I think it was within seconds we had ruled out abortion. We weren't going to go that route," said Holly.
They also didn't think getting married was the answer either.
"We were unsure, at 19, that we would remain together under all that stress. We didn't want to force a relationship under those circumstances."
Neither could imagine becoming a parent at that point in their lives. Would one or the other drop out of school to raise the baby? How would that work?
Holly and Cam had one important thing going for them. Both had adoption histories in their family.
Holly and her brother are both adopted. Cam's sister is adopted.
"The stories of adoption in our lives were so happy and fulfilling; positive." said Holly. "It wasn't a foreign thing for us."
In one of the hardest decisions of their lives, Holly and Cam decided to place their baby for adoption.
Cam said once he told his parents, "they were quick to be supportive ... but there was sadness."
"I think they probably were watching their kid have a loss of innocence. And nothing they could do to change it."
"I was dreading telling my parents," said Holly.
She wrote her parents a letter. "I said you can choose to be with us on this journey and support us or not." But, "I was scared," she admitted. "I was really afraid of their response."
"To their credit, her parents were so loving," said Cam.
"They said they supported us," said Holly. "They saw the bigger picture."
"I felt like I was letting everyone down," admitted Holly. But, "I knew there were people out there, like my parents, who wanted a family but couldn't do it on their own."
Next came another difficult decision – choosing the family that would adopt their baby.
"It's a very surreal experience," said Holly. At this point they were both sophomores at UC Davis.
"We felt like we were babies having babies making grown up decisions," she said.
After connecting with an attorney that recently helped Cam's family adopt his sister, they began reading profiles of families looking to adopt.
From dozens, they narrowed their search to three and then two families. And then they had phone calls with those two families.
"They were both great," said Cam.
"But there was a calmness and peacefulness" about the family they chose, and "that spoke to us because our lives were the opposite of those things," he said.
The couple was older, said Holly. "Their age is what allowed for them to project such a mature togetherness."
"They seemed very loving," said Holly. "They seemed like a strong family."
Meanwhile, Holly and Cam continued going to school. But they didn't live together. Their parents would not have supported that, they said. And they didn't want to rush their relationship.
It was weird being pregnant on campus, admitted Holly.
"I wasn't super proud to show my pregnancy. I was trying to cover and conceal," she said. But, "I had to get over it."
A son is born
On March 9, 1995, after a difficult labor and an emergency C-section, their son was born at Sutter Davis Hospital. He weighed 9 lb. 6 oz.
"It remains the most difficult day of my life," said Cam. Twenty-four years later, "I can still become emotional in an instant" about the birth, he said, tearing up.
"It's not a bad memory — it's a very challenging memory that ended up being pivotal in my life and our life as a couple."
Holly and Cam held and fed their baby for about an hour.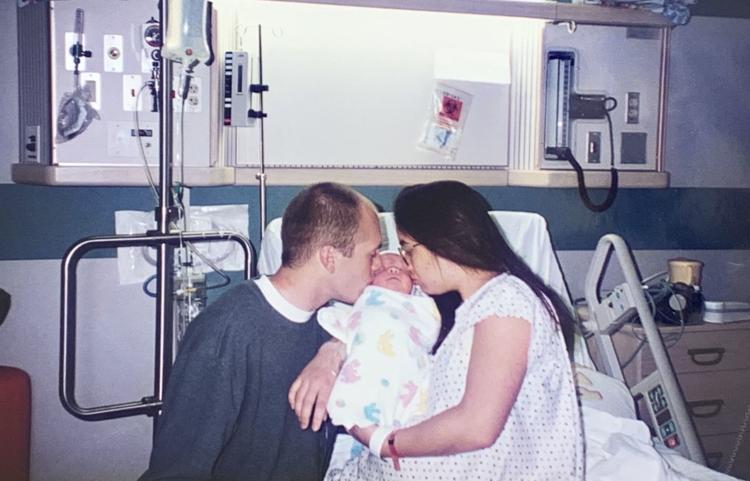 "I was an emotional mess," she said. "How do you begin to say goodbye? You question everything. Am I making the right choice?"
"At 19, I couldn't imagine having the life I have now," she said.
The family Holly and Cam had chosen for adoption was at the hospital, and had their own room to bond with their new baby. They also named him – choosing the name Tannon.
"Cam and I felt that was something his parents should have the honor of doing," Holly said.
The couple had agreed in advance there weren't going to be any face to face visits with Tannon.
"That speaks a lot to where we were emotionally" at that time, said Cam. "We didn't desire to see Tannon; we couldn't handle it," he said.
Holly and Cam's own parents did not meet Tannon. Looking back, "I wish I had been more mature (and) let my parents meet him," said Cam.
Holly spent a few days in the hospital recovering. Cam had UC Davis classes to attend. Holly took one quarter off from school.
You have free articles remaining.
Tannon's parents provided counseling sessions for Holly and Cam, which turned out to be a comfort to them both.
"Our life was centered around the pregnancy and it was a little bit of an empty feeling in the weeks that followed," said Cam.
"We saw it as a mourning process," said Holly.
"This was a time for us to cry but it got to be a space where we got beyond talking about the baby. It allowed for some growth," said Holly.
The truth was, "At some point life moves on and you are still in it and you have to find a way to navigate it," said Holly.
But they stayed together.
"We had a close group of friends that were supportive and understanding at that time," said Holly.
"I would cry but there was something about knowing that he was thriving and everything we wanted for him was happening," said Holly.
"It was sad but it was also confirming" that we did the right thing, said Cam.
Then, in March 1997, Holly and Cam got engaged. They married in Roseville in August 1998. Six months later, Holly was pregnant.
"I knew we wanted to have a family of our own," she said.
"We had already been down this monumental road. We had seen what trials looked like," said Holly.
Their first daughter, Olivia, was born in October 1999. "Looking at her gave me a sense of peace because they looked so much alike. It gave me another connection to Tannon," said Holly.
Tannon's family, the Hedges, initially lived in Livermore but later moved to Alabama to be closer to family.
Over the years, they exchanged letters and photos, and then emails.
Holly and Cam had another son, Sam, in May 2003.
When Olivia was 13 and Sam 9, the Neals told their two children about Tannon.
"Cam and I struggled with 'when,'" said Holly. "Ultimately we decided they were old enough to handle the weight of the information."
When Tannon turned 18, Holly and Cam wrote a letter to Tannon's family, to let them know they'd be open to a reunion if Tannon was.
And then, this past July, Tannon wrote to the Neals. He was ready to meet.
Holly said that one of her biggest fears was that Tannon would not understand why they chose adoption. Or that they had two children after him.
But that's not what Tannon said. Instead, he understood and respected their decision.
"He thanked us for choosing life. It was what I needed" to hear, said Holly. "It answered all my prayers."
In early November, Tannon arrived in Napa for a five-day stay at the Neal's north Napa home.
Anxiously waiting for him to arrive at their house, "I almost felt like I was giving birth to him again," said Holly. "When is he going to be here?" she thought anxiously, as she paced.
To everyone's joy, the reunion was everything they hoped it would be.
"It's amazing," said Holly. "He just fits in our family."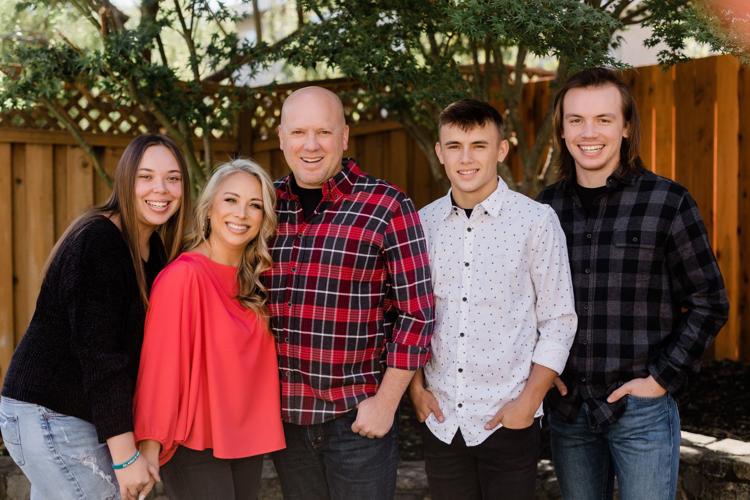 Cam said meeting his son was like out-of-body moment.
"The last time I had touched him was in that hospital room" when he hugged newborn Tannon goodbye.
When he got to hug his son for the second time, "That was the best hug I've ever gotten."
In addition to that, "I loved the fact that he connected with the kids immediately," said Cam. "He was intentional about it. He really met Sam where Sam needed to be met and the same with Liv," said Cam.
Holly made a video about her adoption experience and posted it on social media. The family also had group photos taken during that visit.
"We've never been secretive" about the adoption, said Holly. There should be no shame or stigma.
"There is something to be said about a birth mom who chooses life for her child," said Holly.
"It's a story that is powerful and it needs to out there. We all have very valid stories that could give hope in some way to someone else."
Reaction to her video has been "immensely supportive," said Holly. "I was definitely afraid" to post something so public, she acknowledged, especially in today's social media world.
"But it's been really supportive."
"I've always had a very tender space for adoptions. It's been nice to have this support," she said.
For his part, Tannon said he felt "a longing" to meet Holly and Cam "from the moment I understood what my adoption was, but always pushed it farther away due to insecurity in who I was and my achievements; I was worried about being a disappointment."
However, "I was not coming to them to find happiness, to find a family or for answers. I just knew I was ready."
"I didn't want to wake up one day and hear that a terrible accident had occurred and I would never have the chance to meet the Neals. It was just time."
Meeting Holly and Cam for the first time was surreal, he said.
"It is the only word to describe the feeling of meeting the two people that created you. I assume most people grow up with their genetic parents but for me, this was the first time meeting blood relatives. I found myself just staring and smiling. Just being around people where you both know things about each other but share no stories is a unique situation to be in. I'll remember those two hugs in their driveway forever and I think about the meeting often."
Tannon, who wants to go to medical school and become a neonatologist, said he feels personally affirmed by the visit.
"I am extremely loved by two families and so I am inspired to dream bigger and higher."
"I am planning on meeting the Neals again and look forward to hopefully many years of building a relationship with them.
Tannon and the Neals plan to see each other again soon, either in California or Alabama.
Holly said she's also embarking on one more adoption story: her own. Born in the Philippines in 1975, she hopes to one day find her own birth parents.
Yes, Holly and Cam have had trials and tribulations over the past 24 years, they said.
But, "As a couple, we have proven to ourselves that we belong together and we can take on any obstacle that comes our way," said Cam.
Jennifer Huffman's most memorable stories from 2019
I wrote more than 225 stories in 2019 but to me, these five stand out the most, for different reasons.