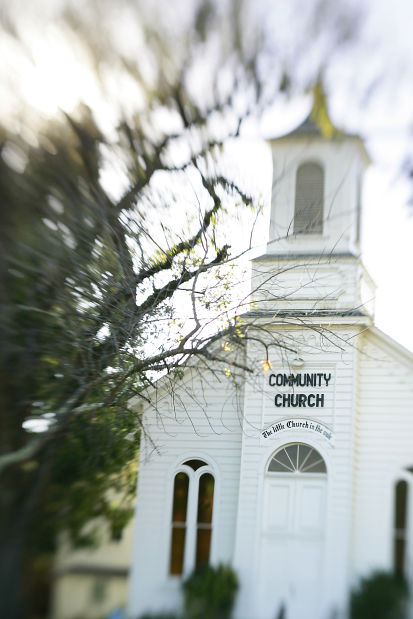 Can neighbors of a Yountville church stop its congregation from expanding into a neighboring house? Or does a federal law bar the town from throwing such roadblocks in the church's path?
Town officials are grappling with those decisions as the Yountville Community Church proposes converting a home at 6619 Yount St., next door to its 137-year-old chapel. Church leaders say the 1,037-square-foot house and its garage would be overhauled to clear more space for a variety of uses — if it can win an exemption to zoning rules requiring residential lots to remain in residential use.
The Town Council will take up the plan at its Dec. 3 meeting, Town Clerk Michelle Dahme confirmed Friday.
In an application the church filed Sept. 4 with the town Planning Commission, the four applicants, including lead pastor Rev. Bart Pense, said the expansion will make room for a pastor's office and meeting room. The conversion would allow the congregation to move ministry, receptions and pastor's work out of its existing three-room annex, which for about 40 years has needed to be vacated weekly to make room for Sunday school classes.
Yountville Community Church would rework the garage to include a media center, sink and refrigerator, according to its proposal. It also would add a patio and pergola to host church members' barbecues and up to four weddings and eight funerals a year. A produce garden would be created to augment the church's food distribution program for low-income residents.
The original annex would revert to full-time classroom use for children and teenagers, according to the application.
Yountville Community Church's neighbor house has Old Town Historic zoning, which the town created in 1992 and requires lots residentially zoned before that year to remain in residential use, even if a home is modified or demolished.
Yountville's legal counsel has advised the town to tread lightly with the church's application to avoid running afoul of federal law, according to a memorandum dated Nov. 6.
The Religious Land Use and Institutionalized Persons Act, passed by Congress in 2000, bans governments from imposing land use rules creating a "substantial burden" on religious groups engaged in religious activity without a "compelling governmental interest."
Town Attorney Arnold Alvarez-Glasman wrote the Town Council that while the act doesn't prevent cities from imposing the same zoning laws on churches as on other organizations, Yountville may still find itself burdening the Yountville congregation by enforcing its zoning code — with little guidance from past court cases to show whether local zoning law or the federal act will win out if the church seeks legal action.
Any opposition to the church's plan from neighbors "standing alone and without supporting evidence, cannot be the sole basis for a denial of the YCC application," Alvarez-Glasman wrote.
However, a law firm representing unnamed homeowners on Yount and Webber streets denied that the federal law protects the Yountville church's expansion plan.
In a July 30 letter to the Town Council, Sonia M. Agee of the San Jose firm Ropers Majeski Kohn Bentley argued the law prevents only direct government interference with worship activities and not a religious group's related programs.
A congregation's land use does not gain federal protection "merely because it advertises, promotes, recruits, fundraises, does administrative work for, generates profit for, or in other ways supports religious exercise," Agee wrote council members.
She denied that the house's residential zoning allows for any office use or assemblies, and declared that permitting such uses risks increased noise, traffic and parking problems for nearby residents.
But a conservative legal organization representing the Yountville church argued that "supporting" activities are just as vital to its mission as prayer and preaching.
Having sufficient space for social as well as worship programs "is fundamental to the Yountville Church, being part and parcel of the mandates of YCC's faith," wrote Kevin Snider, chief counsel of the Pacific Justice Institute, which advises religious groups in court cases. "Indeed, denial of the application to use the property would be a great onus on the Church's religious exercise," he said.