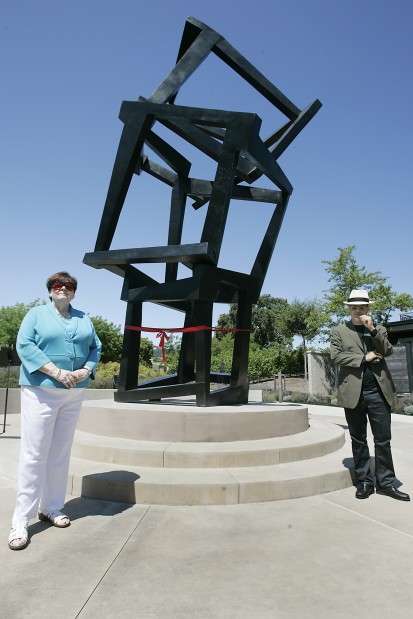 Hundreds of people came to see the unveiling Saturday of Yountville's newest prized possession — a monumental sculpture by international artist Jedd Novatt.
The 26-foot-tall sculpture "Chaos Pamplona," a series of squares jutting into the air, was officially unveiled with a ribbon-cutting ceremony in a park near the Bardessono hotel as the Russian National Orchestra Brass Quintet played "Fanfare" nearby.
"What a thrill it is to stand here in the shadow of 'Chaos Pamplona' and know that it will be keeping watch for years to come in the memory of my husband, Sash Spencer," said Mary Spencer, the art collector from Boca Raton, Fla., who donated the $800,000 sculpture to the town.
Mary Spencer said she and her husband, who began to collect Novatt's work in 1989, were introduced to the Napa Valley in the late 1970s by her late brother. She chose Yountville after she was introduced to Yountville gallery owner Michael Polenske. Polenske then approached town officials, who set out about a year ago to raise $60,000 to bring the sculpture from Spain, where it was created, to Yountville.
The money raised included $10,000 from the Napa Tourism Improvement District, a grant from the Peter A. and Vernice H. Gasser Foundation, and donations from individuals and businesses, officials said.
The new sculpture will be added to Yountville's "Art Walk," which features Napa artist Gordon Huether and others.
Yountville, famous for its restaurants and its wines, will also soon be known for its art, predicted Mayor John Dunbar, Town Manager Steve Rogers, members of the Yountville Arts Committee and others.
"We're adding to the experience," Dunbar said.
Novatt, who is based in Paris, was in Yountville Monday to welcome the 6,000-pound sculpture, which was transported by truck from the Port of Oakland, where it had arrived after a six-week journey from Spain. He also helped position the piece at the public park next to the town's new Community Center.
"I'm beyond honored that you have a work of mine in your town," Novatt told the crowd gathered Saturday.
The unveiling was scheduled with the start of Festival de Sole in an effort to "engage both the visual arts and the performing arts," Dunbar said.
Novatt said the public will have to do the work of interpreting his sculpture, adding he cannot control what people think.
Visitors and Yountville residents said they liked the art piece, saying they enjoyed that they could see the mountains and the vineyards through it.
"It was so inviting," said Javonne Harward, a psychologist from Saratoga, near Santa Cruz, as she and friends, Campbell painter Betty McGuire and Yountville resident Billie Hewitt, enjoyed sandwiches donated by local businesses for the occasion.
McGuire said she, too, enjoyed "Chaos Pamplona."
"It provides a frame for the beauty around us," she said.
Like others, Hewitt said the sculpture will be a draw for the town.
"It will enhance the experience of visiting Yountville," she said.
Judy Pohlers, another Yountville resident, was among the many who said the Bardessono park was perfect for "Chaos Pamplona."
Ron Lee of Yountville, who came with his family to see the new sculpture, wondered about the meaning of "Chaos Pamplona."
"It's nice," he said. "I don't know what it's supposed to represent," he admitted, smiling.
To Mark Semis, a physician from San Francisco, the sculpture is a war memorial.
"I'm not saying I don't like it," he said.
Without knowing the sculpture's name, Semis said it should be called "chaos."
Told that its name is "Chaos Pamplona," Semis smiled.
"So I figured it out," he said. "It's funny that I've figured it out."
Tom Shirmang, a Yountville resident, also enjoyed being able to see through the sculpture.