This week in odd news: Competitive eater downs record 501 wings to win Wing Bowl
From a competitive eater who downed an obscene amount of chicken wings to a sinkhole that swallowed a man and his motorcycle, here's a look at some of this week's strangest headlines from around the world.
Molly Schuyler downs record 501 wings to win Wing Bowl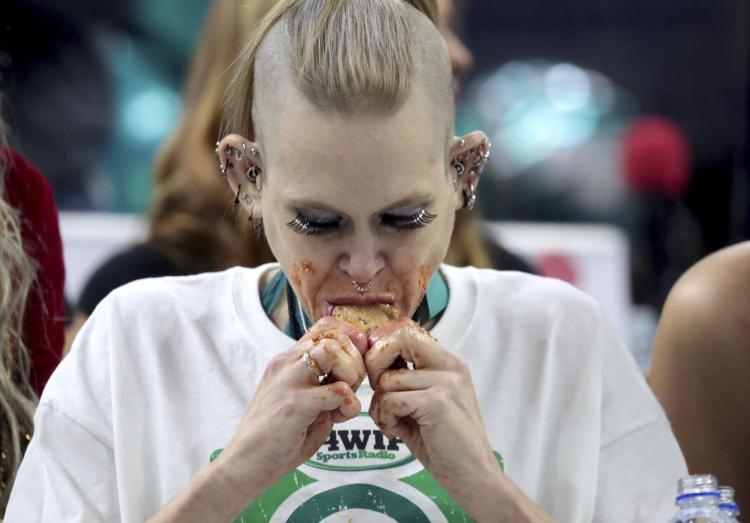 PHILADELPHIA (AP) — Competitive eater Molly Schuyler gnawed her way through a record 501 chicken wings in 30 minutes to win her third Wing Bowl in Philadelphia.
Wing Bowl is usually Philadelphia's substitute for the Eagles going to the Super Bowl.
But Friday's competition was an unusual two-fer. It was also a rally for the Eagles on the eve of their third Super Bowl appearance.
Wing Bowl 26 drew nearly 20,000 people to the Wells Fargo Center to watch Schuyler top the old wing-eating record of 444, set in 2015.
The event was started in the 1990s by local sports radio hosts and is usually staged two days before the Super Bowl. It's turned into a huge, boozy spectacle with a parade of flamboyant contestants and a competition for women called "Wingettes."
On Sunday, the Eagles play the New England Patriots.
After surgery, Eagles fan frets: Did I miss the Super Bowl?
WILLIAMSTOWN, N.J. (AP) — When a die-hard Philadelphia Eagles fan woke up groggy from recent dental surgery, she had one big fear: "Did I miss the Super Bowl?!?"
Haley Parks' father posted a video on Facebook this week showing her coming out of anesthesia after having her wisdom teeth removed.
When her mom let her know the game was Sunday, Parks asked if she could go. She says the team is "like my sisters," that they better win because she wants to go to a parade, and that she's sad for injured Eagles quarterback Carson Wentz.
But she has faith in "St. Nick," Eagles' quarterback Nick Foles.
The video had been viewed more than a million times as of Thursday, something Parks says has been "crazy to see."
The Eagles face the New England Patriots Sunday.
A wild ride: Sinkhole swallows man and his motorcycle
AUGUSTA, Ga. (AP) — A motorcyclist got the ride of his life in Georgia when a sinkhole opened up in a parking lot and swallowed him and his bike.
The Augusta Chronicle reports city firefighters pulled the man from the hole at the Augusta Exchange parking lot Wednesday. The motorcyclist had minor injuries.
Augusta Utilities Director Tom Wiedmeier says the hole opened up near a storm drain. The newspaper reports recent sinkholes have been blamed on leaking underground pipes.
Unicycle thief sought in San Francisco; reward offered
SAN FRANCISCO (AP) — Someone at the San Francisco airport stole a 7-foot (2.13-meter) unicycle used by the Red Panda Acrobat for her plate-juggling routine and the legendary performer is offering a $2,000 reward to get it back.
KTVU-TV reports that police on Wednesday released surveillance photos from Jan. 24 that show a man wheeling away a black bag containing the $25,000 unicycle belonging to acrobat Rong Niu.
Niu is known for juggling plates on her head and feet while balancing on a unicycle during halftime at sporting events.
She is a regular performer for the Golden State Warriors, the Los Angeles Clippers and Los Angeles Lakers. She's also appeared on America's Got Talent.
Niu's agent, Pat Figley, says she's had that unicycle for 30 years and is heartbroken.
Maine city's attempt to break beer can record comes up short
BANGOR, Maine (AP) — Residents in Bangor, Maine, came just 28 beer cans short of setting a world record.
Attendees at the city's annual Chamber Dinner last week were attempting to break the record for simultaneously opening beer cans. WABI-TV reports the vast majority of the beers were supplied by Geaghan Brothers Brewing, and hundreds of attendees did the honors of opening them at the same time.
The Brewer-based beer maker says it sent video of the attempt to Guinness World Records and got word that the effort did not break the record.
The record was set in Japan in 2016 with 1,149 cans opened simultaneously. The Bangor attempt managed 1,122, which is a record for the city itself.
An island without gas? That's happening in North Carolina
OCRACOKE, N.C. (AP) — It's a good thing Ocracoke Island in North Carolina is small enough to walk or bike around. The island along the Outer Banks has lost its only gas station.
Hyde County manager Bill Rich tells The Virginian-Pilot in Norfolk, Virginia, that the fuel provider for Ocracoke Station shut off the pumps because the owner couldn't pay the bills.
The station was damaged by Hurricane Matthew in October 2016. Rich says the owner has spent his money repairing the station while he awaits reimbursement from his insurance company.
Residents now must take the ferry to the mainland to refuel. But the good news is that a tank of gas can last for months on the small island.
Rich says the county is working with the owner to reopen the station.
Couple, married 70 years, renew vows — this time in church
UXBRIDGE, Mass. (AP) — A Massachusetts couple have finally gotten the church wedding they always wanted — 70 years after first tying the knot.
The Telegram & Gazette reports 90-year-old Edward Gouin and 89-year-old Lena Gouin renewed their vows Saturday at the Roman Catholic Church of the Good Shepherd in Uxbridge thanks to some careful planning by their family.
Edward is Catholic and Lena is Congregationalist so a wedding in a church was barred when they were first married. Instead, they were wed in a church rectory.
Attitudes have since changed.
Edward says, "Today, it can happen."
The World War II veteran says the secrets to a long marriage are never go to bed angry and kiss your wife every time you leave the house.
The couple have three children, eight grandchildren and three great-grandchildren.
Poultry in motion: Bill targets owners of trespassing fowl
CONCORD, N.H. (AP) — Why did the chicken cross the road? And did it have permission?
The New Hampshire Legislature is considering a bill that would make trespassing fowl a violation, not for the chicken, but for its owners. Under the proposal, anyone who knowingly, recklessly or negligently allows their domestic fowl to enter someone else's property without permission can be convicted of a violation if the birds damage crops or property
The law already makes such trespassing illegal when it comes to sheep, goats, cows, horses or pigs, and the bill's sponsor says fowl shouldn't be exempt.
While a constituent's frustration with a neighbor's ducks spurred the legislation, Loudon Republican Rep. Michael Moffett told a House Committee on Tuesday he also has heard from a man who claims his neighbor has used chickens as a "form of harassment and provocation."
"It does come down to property rights, which is important," Moffett said. "People, wherever you live, should be free from having your property invaded or encroached upon by animals or birds from neighboring property who are not being taken care of.
"You've heard the saying, 'birds of feather flock together,' which is fine, but a lot of us don't think it's fine when flock they together onto a neighbor's property and wreak havoc."
Committee members raised questions including whether the proposal would apply to someone who has a duck pond for domestic ducks but also attracts wild ducks.
"How do we determine whether it's a wild duck or a domestic duck that's going across the property?" said Rep. Larry Laflamme, D-Berlin.
"Chickens are clearly domesticated, ducks are kinda a gray area," Moffett said.
Earl Tuson, a Loudon vegetable farmer who does not raise fowl, opposed the bill, saying the current law was clearly directed at livestock that, unlike chickens and ducks, could cause considerable damage. He said the bill could lead to further harassment of farmers by neighbors who don't understand agriculture.
"Farms across the state are increasingly coming into closer contact with residential development, and the occupants of those developments are frequently unaware of normal and customary agricultural activities," he said. "Everyone loves eating bacon until they move into next to the pig farm."
— By HOLLY RAMER, Associated Press
Owner receives letter granting dog unemployment benefits
SAUGATUCK, Mich. (AP) — Michael Ryder had been approved for $360 every week in Michigan unemployment benefits — until the state learned he'd been dogging it at the Detroit-area restaurant chain where he supposedly worked.
Ryder is a German Shepherd owned by attorney Michael Haddock on the other side of the state in Saugatuck.
WZZM-TV reports that Haddock received a benefits letter addressed to "Michael Ryder" from Michigan's Unemployment Insurance Agency. The station says Haddock contacted the agency about the letter.
The agency says its computer system sent the letter, but the claim later was flagged as suspicious and denied.
Investigations administrator Tim Kolar wrote in a tongue-in-cheek email that he knows "first-hand it is rare for 'man's best friend' to contribute financially to the household and that will continue in this instance."
German police hunt thieves who stole 44 tons of chocolate
BERLIN (AP) — Police say two truck trailers loaded with 44 tons (48.5 U.S. tons) of chocolate were stolen in southern Germany and there's no sign of the sticky-fingered perpetrators.
Police said Monday the trailers packed with 400,000 euros ($496,100) worth of chocolate were stolen from an industrial park in Freiburg on Friday night.
One was found Saturday hauled by a Polish truck that had stopped at a rest area near the German-French border. The driver fled on foot and the trailer was still full of the stolen chocolate.
The second trailer was found in Lahr, also near the border with France. Two thirds of the chocolate — and the thief — were gone.
Police say they've launched a search for the thieves and are appealing for any witnesses to come forward.
Loaded grenade launcher left at Florida Goodwill store
BRADENTON, Fla. (AP) — Talk about one heckuva an explosive donation.
Authorities say a grenade launcher, loaded with a live grenade, was left with other donated items at a Florida Goodwill store.
The Bradenton Herald reports that employees at a Goodwill store near Tampa reported the weapon on Sunday.
The Manatee County Sheriff's Office says the store manager told deputies that the grenade launcher had come in a shipment from another store several days earlier. The employees at the other location said they sent it along because they didn't know what it was.
Deputies say they disposed of the active grenade in a Hazmat locker, and the launcher was stored in the agency's property room.
It's not clear who donated the items.