Woman dismantles neighbor's 'disgusting' Easter display and more of this week's weirdest news
A look at the stranger side of news from across the country, including a robber that was really robot vacuum cleaner and one woman's mission to get rid of a racy Easter display.
Woman charged for damaging neighbor's racy Easter display
CLIFTON, N.J. (AP) — A New Jersey woman who used garden shears to destroy her neighbor's racy Easter display has been charged with criminal mischief.
The display at a dental office in Clifton, New Jersey, featured five mannequins dressed in lingerie, all holding Easter baskets and surrounded by Easter eggs. It had drawn mixed reviews from neighbors, as well as passers-by who stopped to take photos.
A television news crew was filming the display earlier this week when 37-year-old Desiree Shepstone took it down. She says she didn't want her 16-year-old son to be subjected to the "disgusting" display.
The dentist who created the display, Wayne Gangi, says he will soon have it back up. He says he got the idea for the Playboy bunnies-themed decorations during a trip to Party City.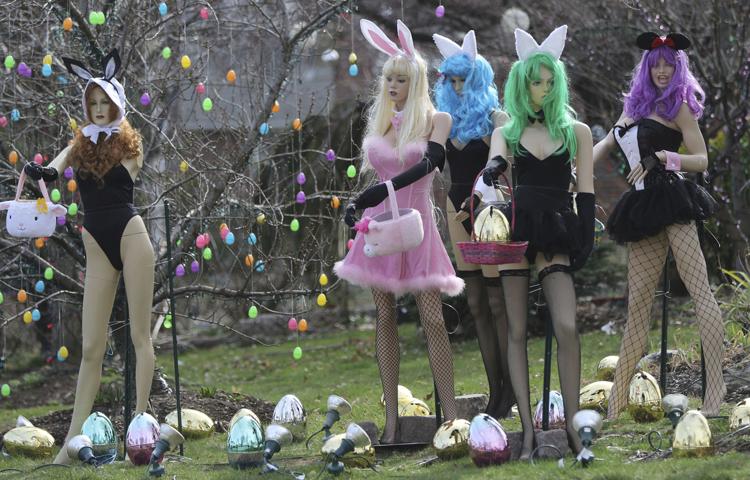 Police video shows robber was really robot vacuum cleaner
BEAVERTON, Ore. (AP) — Authorities have released police body camera video showing the moment when officers in Oregon realized a suspected robber holed up in a bathroom was really a robotic vacuum cleaner.
The Washington County Sheriff's Office says deputies discovered the menacing appliance after entering the bathroom with guns drawn.
Assisted by a Beaverton canine officer, they had gone to the home after a house sitter called 911 Monday, saying someone was inside the bathroom.
Sheriff's Sgt. Danny DiPietro says this encounter was his first "Roomba burglar" in 13 years on the job.
He says the office is still having a good laugh about it.
Beaverton is a suburb west of Portland.
Mysterious bowls of mashed potatoes confuse Mississippians
JACKSON, Miss. (AP) — Residents of a neighborhood in Jackson, Mississippi, are confused by the bowls of mashed potatoes they're finding on their cars, porches and mailboxes.
Resident Jordan Lewis described the Belhaven neighborhood as a quirky one, with residents decorating road signs and putting Christmas trees in potholes.
"So we don't know if someone is just playing a prank or if someone just had a lot of leftovers," Lewis said.
But Sebastian Bjernegard says some residents fear there's a more sinister message behind the potatoes.
"Some people were thinking maybe the mashed potatoes were poisoned to kill animals," he said, noting that he almost stepped into a bowl of potatoes Tuesday. "I didn't taste it. I have a three-second rule, so I didn't touch it. But some people were worried."
It's unclear if anyone has eaten the potatoes, and news outlets report residents haven't alerted law enforcement.
Resident Michaela Lin says some of potato-finders have connections to a local private Christian university, which may be a clue.
Police: Man buys $8 million island then steals from Kmart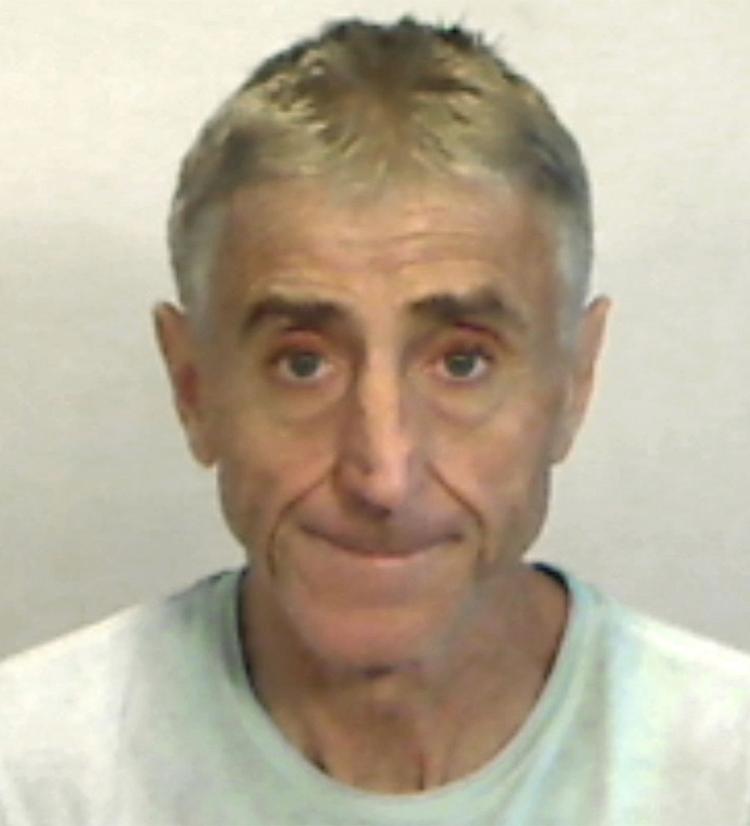 KEY WEST, Fla. (AP) — A man who had just bought an $8 million island off of Key West was arrested Saturday for participating in what police described as a scheme to steal $300 in household items from Kmart.
Officials at Kmart called Key West police April 5 after they say Andrew Francis Lippi, 59, had purchased several items, including a Keurig coffee maker and light bulbs, and returned the original boxes for a refund. But police say the boxes were stuffed with other items. For example, store officials said a basketball was inside the Keurig box.
The store's loss prevention officer provided detectives with video of Lippi buying and returning all of the items between March 30 and April 5, according to an arrest report.
The Miami Herald reports Lippi bought Thompson Island, which had been the home to the family of philanthropist Edward B. Knight. Lippi also owns the "Real World" house in Key West, where MTV shot its 17th season in 2006.
Lippi told detectives he did not change out any of the items before returning them. According to the arrest report, Lippi also told detectives the clerk should have known there was no coffee maker inside the box because of its weight. He also told officers he returned the light bulbs because they cost too much and he did not realize they'd been switched.
Lippi was charged with grand theft and booked into jail. He was also issued a trespass warning to stay away from Kmart. Jail records show he was released Sunday.
Lippi told the Herald the theft allegation is "complicated" and he'd rather not talk about it.
Bad idea: Pouring gas on wet ballfield, setting it on fire
RIDGEFIELD, Conn. (AP) — Three high school baseball coaches in Connecticut have been placed on administrative leave while police finish an investigation into who poured 24 gallons of gasoline on the team's home field and lit it on fire.
Ridgefield schools Superintendent William Collins announced the decision in a letter to parents Tuesday.
The Danbury News-Times reports that the gasoline had been poured in an attempt to dry the wet infield more quickly in advance of a varsity baseball game scheduled for Saturday between Ridgefield High School and Amity High School.
Collins says the administrative leave is out of caution and he does not think the coaching staff was directly involved. His letter says students were not involved.
Cleanup and repair of the field is expected to cost $50,000.
Wanted woman's Facebook taunts help police track her down
WAYNESBURG, Pa. (AP) — A wanted Pennsylvania woman who taunted a sheriff's department online by asking if they "do pick up or delivery" has gotten a response: They do both, and she's in custody.
Chloe Jones commented on a Facebook post by the Greene County Sheriff's Office featuring her as one of the county's most wanted, writing "Do you guys do pick up or delivery??" followed by four crying-laughing emojis. Police say she had failed to appear in court on assault charges.
She then got into arguments with other commenters and claimed she was at a hospital in Morgantown, West Virginia. Police there tracked her down this week, and she was extradited to Pennsylvania.
Court records don't say whether she has a lawyer to comment on her behalf.
The sheriff's office took to Facebook again to announce her arrest and add that Jones "and her witty comments are taking a hiatus from our Facebook comments section due to the jail not having internet for her to use."
Police: Firefighter went into store nude on dare to buy soda
MIDDLETOWN, R.I. (AP) — A firefighter who police say walked naked into a Rhode Island convenience store on a dare has been placed on leave.
Police responded to a 7-Eleven in Middletown the afternoon of April 3 for a report of a naked customer. The owner said the man with a "smile on his face" purchased a soda and left in a car.
The car, with two fully clothed occupants, was pulled over. The 29-year-old passenger said she "dared" her boyfriend to go into the store nude because he said it was legal in Rhode Island.
Police say 60-year-old John Walsh, of Lynnfield, Massachusetts, was charged with disorderly conduct. His phone rang busy Thursday.
Lynnfield Fire Chief Glenn Davis says Walsh has been placed on paid administrative leave. He's been with the department for 40 years.
Police: New Mexico man hid dozens of stolen diamonds in anus
ALBUQUERQUE, N.M. (AP) — A New Mexico man is facing charges after police say he tried to hide nearly four dozen stolen diamonds in his anus.
A criminal complaint filed in Albuquerque's Metropolitan Court says an officer cracked the case after seeing Eusebio Padilla remove "a baggy" from his rear end during a traffic stop on Sunday.
Court documents say Officer Daniel DeGraff found 44 small diamonds in the baggy and Padilla admitted the precious stones were likely stolen.
DeGraff wrote he initially stopped the 23-year-old Padilla in Albuquerque for riding a motorcycle without a license plate.
Padilla told DeGraff that he got the diamonds from his uncle and he was looking to trade them for drugs.
Padilla was charged with tampering with evidence and receiving stolen property. It was not known if he had an attorney.
S. Korean babies born Dec. 31 become 2-year-olds next day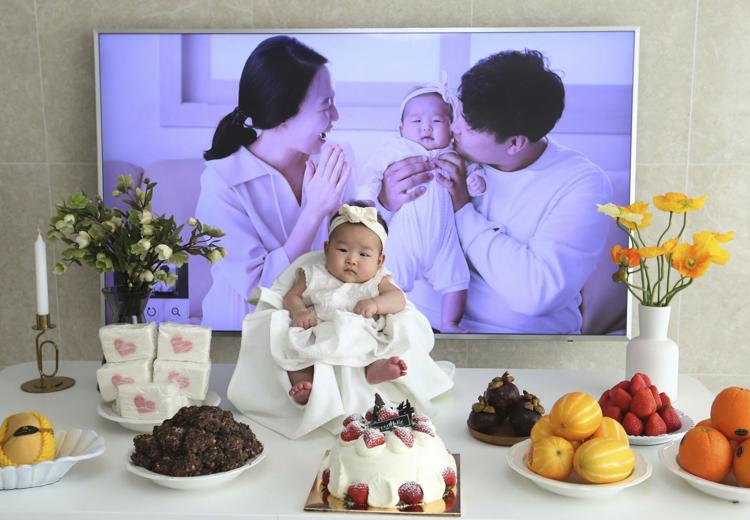 DAEJEON, South Korea (AP) — Just two hours after Lee Dong Kil's daughter was born on New Year's Eve, the clock struck midnight, 2019 was ushered in, and the infant became 2-years-old. She wasn't alone, though it happened for her quicker than most: Every baby born in South Korea last year became 2 on Jan. 1.
According to one of the world's most unusual age-calculating systems, South Korean babies become 1 on the day of their birth and then get an additional year tacked on when the calendar hits Jan. 1. A lawmaker is working now to overturn the centuries-old tradition amid complaints that it's an anachronistic, time-wasting custom that drags down an otherwise ultramodern country.
For parents whose babies are born in December, it can be especially painful. One hour after his daughter's birth in the central city of Daejeon at 10 p.m. on Dec. 31 of last year, Lee posted the news on social media. His friends immediately showered him with congratulatory messages.
"An hour later, when the New Year began, they phoned me again to say congratulations for my baby becoming 2-years-old," said Lee, who is 32 internationally but 34 in South Korea. "I thought, 'Ah, right. She's now 2 years old, though it's been only two hours since she was born. What the heck!'"
The origins of this age reckoning system aren't clear. Being 1 upon birth may be linked to the time babies spend in their mothers' wombs or to an ancient Asian numerical system that didn't have the concept of zero.
Becoming a year older on Jan. 1? That's even harder to explain.
It could be that ancient Koreans cared a lot about the year in which they were born in the Chinese 60-year cycle, but, without regular calendars, didn't care much about the specific day they were born; so they mostly ignored the day of their birth and instead marked another year of age on the day of the Lunar New Year, according to senior curator Jung Yonhak at the National Folk Museum of Korea.
This may have then shifted to the solar New Year on Jan. 1 as the South began embracing the Western calendar. North Korea uses the Western age calculating system, but they have a twist: they follow their own calendar that's based on the birth of national founder and president-for-life Kim Il Sung.
The year of your birth is still incredibly important in South Korea, and lumps those linked children together for life.
Other Asian countries, including Japan and Vietnam, abandoned the Chinese-style age system amid an influx of Western culture. Officially, South Korea has used Western-style calculations since the early 1960s. But its citizens still embrace the old-fashioned system in their daily lives because the government has done little to get people to change over to the Western style.
Most South Koreans are simply accustomed to living with two ages.
People don't hold massive joint birthday parties on New Year's Day; they just celebrate their birthday on the days they were born. Young people consider themselves another year old on solar New Year's Day (Jan. 1) while older people often use the Lunar New Year's Day. Many family restaurants don't charge babies if they are 36-months-old or younger, so parents often calculate their babies' ages under the Western method when they're dining out.
Some South Koreans still worry that the practice makes their nation look odd on the international stage. Some feel confusion when meeting with foreigners. Associated Press journalists in Seoul must ask Koreans what year and month they were born to calculate their Western age for news stories.
There are also some who say the concept of "Korean age" encourages a fixation on age-based social standing in this seniority-based country. In South Korea, those born in the same year often treat each other as equals, while people must use honorific titles to address those born earlier, rather than directly using their names.
Ahn Chang-gun, from the southeastern city of Gimhae, said he felt "empty" when his first child became 2 on Jan. 1, 2013, about two weeks after his wife delivered him after eight years of marriage. "He was this precious baby that we finally had, but I felt that all of a sudden two years had just gone by and yet I hadn't done anything for my baby," said Ahn.
Parents whose babies are born in December often worry about their kids falling behind other children born earlier in the same year, though worries gradually disappear as their children age.
When Seo Hyo Sun from Buchon, just west of Seoul, was taken to the hospital to get a cesarean section on Dec. 29, she couldn't stop weeping because her baby's due date was supposed to be Jan. 7.
"Tears kept flowing. ... My doctor told me the baby wanted to come out today so let's just celebrate," said Seo, 31 in international age. "When I awoke from my anesthesia, I felt really grateful ... because my baby was born healthy. That was enough."
In January, lawmaker Hwang Ju-hong tabled a bill aimed at requiring the government to put international ages in official documents and encouraging general citizens to go with their international ages in everyday life. It's the first legislative attempt to abolish "Korean age."
"It is aimed at resolving confusion and inefficiency caused by the mixed use of age-counting systems," Hwang said in the proposed legislation.
Hwang's office said a parliamentary committee discussion and a public hearing on the issue are expected in coming months.
Surveys in recent years showed more South Koreans supported international age though it wasn't clear how seriously they wanted a change.
"If we use international age, things could get more complicated because it's a society that cares so much about which year you were born," said Lim KyoungJae, 46, head of the Seoul-based Miko Travel agency. "We should also definitely count the time of a baby being conceived and growing in its mother's womb."
Lim's employee Choi Min Kyung, who is 26 internationally and 28 in South Korea, disagreed.
"It's good to be two years younger ... (especially) when you meet men" on blind dates, Choi said with a laugh. "There is a big difference between 26 and 28."
— By HYUNG-JIN KIM, Associated Press
Associated Press journalist Chang Yong Jun contributed to this report.