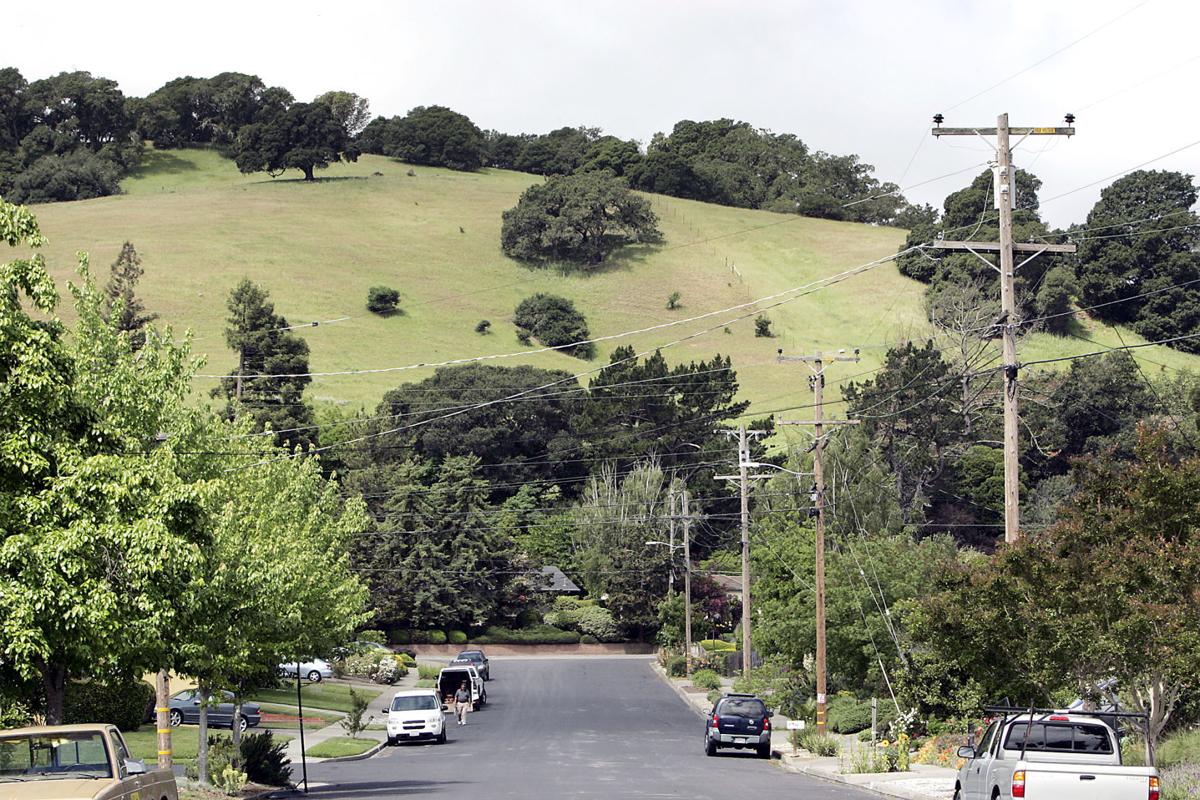 The debate over Napa Oaks, the beleaguered residential development proposed in the hillsides of Old Sonoma Road, was revived at Monday evening's General Plan Advisory Committee (GPAC) meeting.
Proposed changes to land-use designations for the roughly 80-acre property at Napa's southwestern gateway as well as a similar plot near Timberhill Park in west Browns Valley would allow for the construction of significantly more homes in the areas.
Though no specific project or development is in question, staff's support of allowing for higher density development had many neighbors fearful that the return of the threat of a subdivision of multi-million dollar homes is inevitable.
"The General Plan is not a development-driven plan. It's a community-based plan, and this process is the time that we have these difficult conversations on the few remaining lands open within the city limits," said senior planner Mike Walker.
Acreage above Old Sonoma Road and the vineyards of Congress Valley has been exceptionally controversial, the subject of more than 20 years of battles between a unified battalion of neighbors and the property's owner, Walnut Creek-based developer Davidon Homes. City Council twice vetoed project proposals that would have required rezoning the land to a category more lenient to developing clusters of homes, and successfully fought a lawsuit from Davidon.
Napa Oaks II, as the project was named, would have created 51 homes on roughly 80 acres. Homeowners feared the development would worsen traffic and erosion, impede views and affect water quality and fire safety. The narrow 3-2 City Council rejection in 2018 went against city staff's recommendation of approval, leading many homeowners to believe the decades-long battle against Davidon had been forever put to rest.
Similar concerns were brought up by speakers during public testimony Monday evening. Additional worries about biodiversity and property were brought up, especially as it related to Timberhill.
But, according to Walker, much of council's opposition was not about the higher density designation, but rather about a hesitancy to vote on a General Plan amendment so close the start of the official General Plan process, currently underway and slated to lay the groundwork for the city's next 20 years of development.
Napa's surrounded by its Rural Urban Line, which sets the boundaries for city sprawl. As it continues to grow, Napa's running into that line, making it incumbent upon the city to determine how it can grow inward rather than outward, Walker said.
Napa's 1998 General Plan labels the rolling hills of Old Sonoma Road and west Browns Valley as "resource areas," restricting their development to one residential home per 20 acres. Staff recommended changing this to "very low density," which would theoretically allow for one to two homes per acre and the creation of residential lots as small as a single acre, though the staff report included no mention of any proposed project. Walker also said Davidon and staff had not been in touch.
"No projects are being talked about, no development proposals have been put forth to the GPAC," advisory committee member Patrick Band confirmed.
In addition, land-use designations are distinct from zoning, per the city staff's report, as the latter provides for a more granular look at what should actually go in specific spaces. According to the report, this may actually mean that multiple zoning classifications fall within one land use designation.
A rare full house turned out to the 4 p.m. meeting at Napa's Senior Center. The crowd was especially surprising given the agenda was published just five days prior on Wednesday, which was the first time neighbors or committee members knew these land-use designations would be discussed.
"I didn't know any of these were going to be on the agenda until I saw the agenda packet, and I believe that was the case for other committee members as well," Band said.
Sharon Macklin, a speaker during public comment, addressed this dissonance directly. "I would like to know how the staff and consultants were motivated to recommend this. I am so uncomfortable knowing staff and consultants somehow slipped this in without the GPAC folks knowing about it," she said to loud applause.
Brendan Kelly, a Napa architect, drew on his past development experience to determine there was something "remarkably broken" about the process up to this point.
"It is completely unacceptable to have so many neighbors out here so surprised," he said, adding that turning something so green into a higher density area "without massive political support and community outreach" would make moving forward cumbersome.
But, according to Walker, their rollout of the meeting's agenda is consistent with that of other public meetings like City Council.
"I don't know beyond that if we could get that much information any faster and keep on the pace that we're trying to maintain with the schedule," he said, instead encouraging people to sign themselves up for the email distribution listserve to stay notified.
Other statements during the public comment period called attention to the lack of downtown housing and, seemingly in anticipation of the likelihood of mega-development proposals resurfacing, asked the committee and staff to expand workforce housing, not the number of units sold at market price.
"This doesn't do any of the good that we need. In fact, it does harm," said Brad Fisher, a Browns Valley resident.
Nothing was decided at Monday's meeting. It simply started the conversation about land use designation, Walker assured attendees at the end of the night. Next steps will include a series of community outreach efforts, public workshops and neighborhood surveys. All the feedback gathered from these initiatives will then be wrapped up into the plan that's ultimately passed along to the Planning Commission and City Council for approval at some point next year.