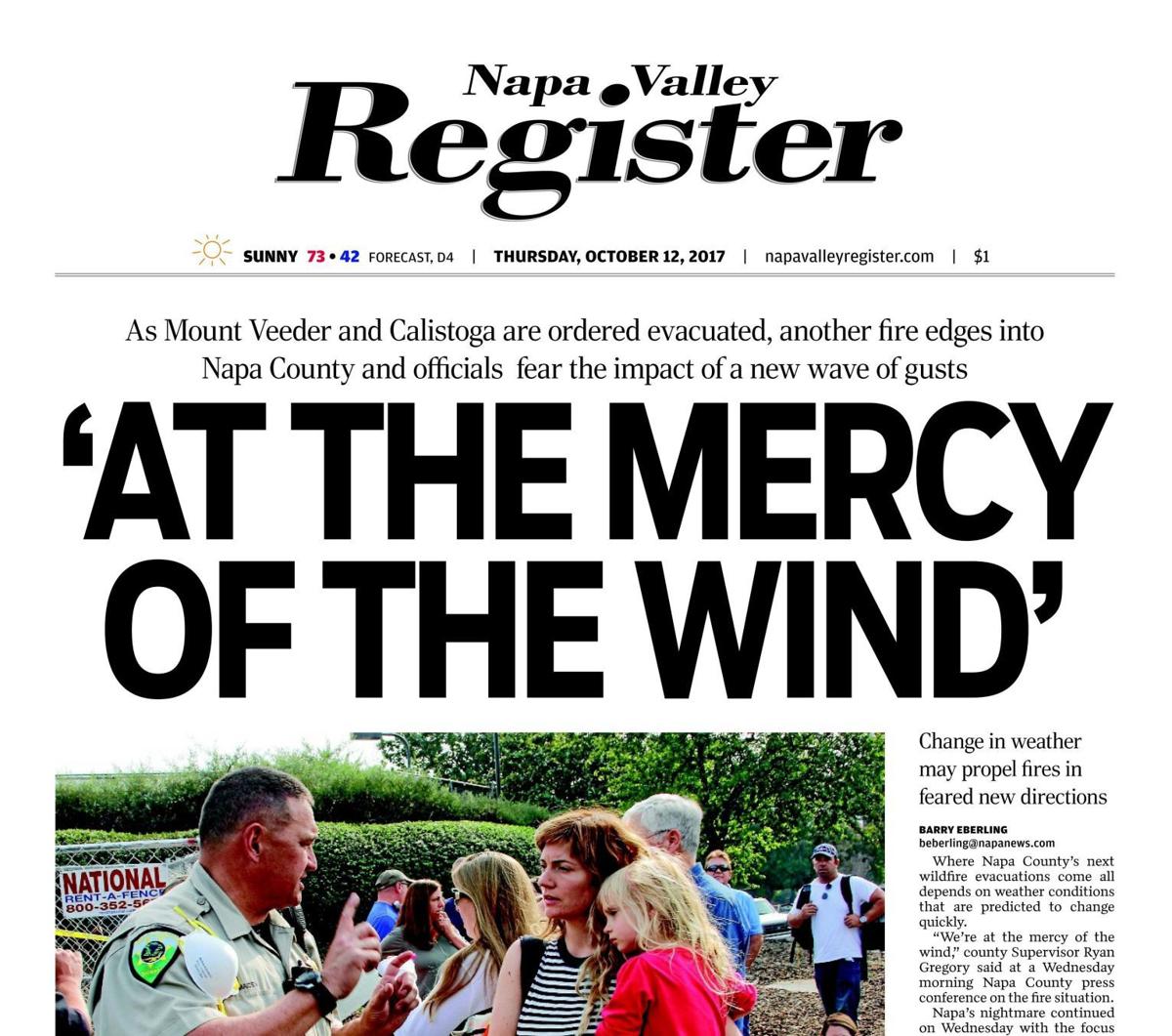 The California Newspaper Publishers Association is gathering stories from its members on how newspapers cover disasters. They asked me to reflect on our experience with last year's firestorms.
Since most of you don't read the CNPA's quarterly newsletter, it seemed appropriate to share it here. Here's what I had to say:
When disaster strikes, a newspaper becomes something more akin to a radio station or a fast-changing billboard – at least that's been our experience at the Napa Valley Register.
During the recent firestorms that swept Wine Country in October, and earlier in the South Napa Earthquake of 2014, we turned to our website and social media to broadcast both emergency bulletins and general information of use to our readers – where evacuation centers were being set up, where debris removal or relief sites were located, what roads or services were closed and so forth.
Our readers almost immediately responded and our website traffic jumped more than 600 percent – the first week of the fires, we had 3.3 million page views from nearly 2 million readers, up from a typical week of around 450,000 views by about 300,000 readers. On Facebook, we received 1,739 new followers in October (pushing us to nearly 40,000 followers today). Our posts reached about 200,000 followers daily between Oct. 8 and Oct. 13.
Why is this important? Because in an emergency, people seem to reach reflexively for a trusted brand, and they particularly appreciate having a single central clearinghouse for such information. In both cases, we took down our paywall to provide free emergency information to the public.
While most of what we offered to the public, particularly on social media, in those first hours and days was readily available to the public via government websites and alert services such as Nixle, we as a news organization are uniquely positioned to gather that information and feed it out to the public in a single stream. We get the press releases. We get the alerts and have the relevant websites bookmarked and at our instant command. We know who to call and where to look to get up-to-date information.
And better yet, people know to look for us.
But that's all online. In print, it was a somewhat different story. Because we no longer have our own press, and contract at the Press Democrat in neighboring Sonoma County, it was impractical for us to run any kind of special edition. That limited our ability to put breaking or time-sensitive information into print.
Instead, we used the print edition as a way to gather the more detailed and thoughtful stories the reporters had been doing – visiting firefighters on the front lines, talking with people in emergency shelters, collecting photos of the destruction – to document what had happened over the past 24 hours. It was an approach we had used during the 2014 earthquake as well – the print edition became a vehicle for readers (and our staff too) to try understand and process what was happening.
While our general approach to the fires was the same as to the 2014 earthquake, there was a substantial difference for us as news gatherers. We were in the middle of the story ourselves. While many staffers experienced damage in the quake, they were under no danger thereafter as they gathered news.
The fires, however, were an ongoing menace. Several staff members brought loaded suitcases into the newsroom in case their neighborhoods were evacuated. I live in Calistoga which was evacuated entirely for five days, so my family and I spend the time staying with a friend in Napa. Police reporter Maria Sestito narrowly avoided serious injury when a large tree fell where she had been interviewing a firefighter.
Overall, the fires, and the quake before it, seemed to reaffirm our reader's interest in reliable, readily available local news. It also reassured me and my staff that there is still real value in what we know how to do best.
Catch the latest in Opinion
Get opinion pieces, letters and editorials sent directly to your inbox weekly!