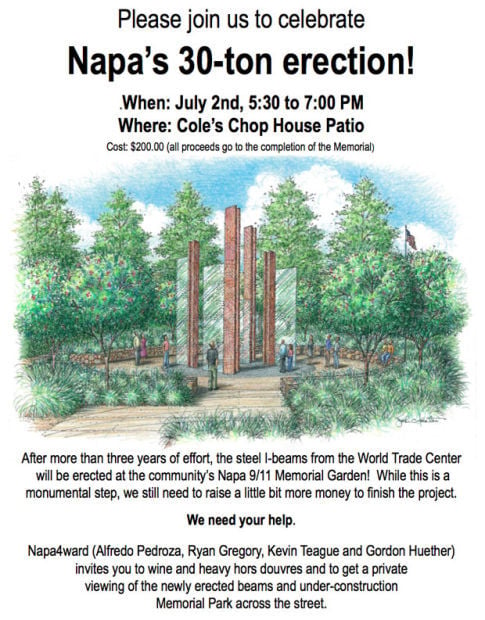 The recently formed Napa4ward group just took a major step backward.
A flyer distributed by the group of four local businessmen this week to promote a fundraiser for the soon-to-be completed Napa 9/11 Memorial Garden invites attendees in its headline to celebrate "Napa's 30-ton erection!" A rendering of the monument which features several 25-foot-tall steel beams from the wreckage of the World Trade Center protruding from the ground is directly underneath the headline.
Evoking phallic imagery for a memorial garden project meant to honor the 3,000 victims of the terrorist attacks of Sept. 11, 2001 is tasteless, tone-deaf and contrary to the spirit of the memorial. To call it a misguided attempt at humor is an understatement.
While the group's intention to help raise funds for the completion of the 9/11 memorial was good, the adolescent humor attempted in the flyer attaches a terrible message to a three-year-old project promoted as a place for solemn reflection and remembrance.
Napa4ward is a group of four local newsmakers, City Councilman Alfredo Pedroza, businessmen Ryan Gregory and Kevin Teague and artist Gordon Huether. The group formed this spring to find ways to assist community initiatives.
"At the end of the day, our intention is to raise money for the memorial," Pedroza said. "So much time and energy has gone into it, and were trying to help them make it through this last stretch.
"Our headline is part of re-energizing folks around it."
Pedroza and Gregory said the members of Napa4ward agreed on the headline. Gregory acknowledged its double-meaning, calling it "kitschy" and an "attention-grabber."
Huether, on the other hand, denied any intention to evoke phallic imagery.
"I don't know where your guys' heads are at," Huether said. "It is a little insulting (that you think) we would use sex to raise money for the memorial. It blows my mind that anyone would think that about such a very serious thing (as the memorial)."
Huether said that if anyone was offended by the flyer, he'd say, "I'm sorry that you interpreted it that way. Maybe you have to think about how you think about things.
"Erection of steel is a very common, professional term. It has nothing to do with sex."
Teague said his focus was on raising money for the memorial and didn't spend much energy on whether someone might read the headline as a double entendre. "To be honest," he said. "I didn't give it much thought."
The fundraiser is slated for July 2 at Cole's Chop House, beginning at 5:30 p.m. Tickets are $200. The $250,000 project in downtown Napa is still trying to raise as much as $20,000. The beams are scheduled to be installed next week.
Poor flyer judgment aside, our hope would be that the project gets its funding and is completed on schedule.
It is designed to be a place where the tragic events and the heroism of Sept. 11 are remembered and the victims are grieved.
Let's hope this chapter in the project's history is quickly forgotten.
Catch the latest in Opinion
Get opinion pieces, letters and editorials sent directly to your inbox weekly!