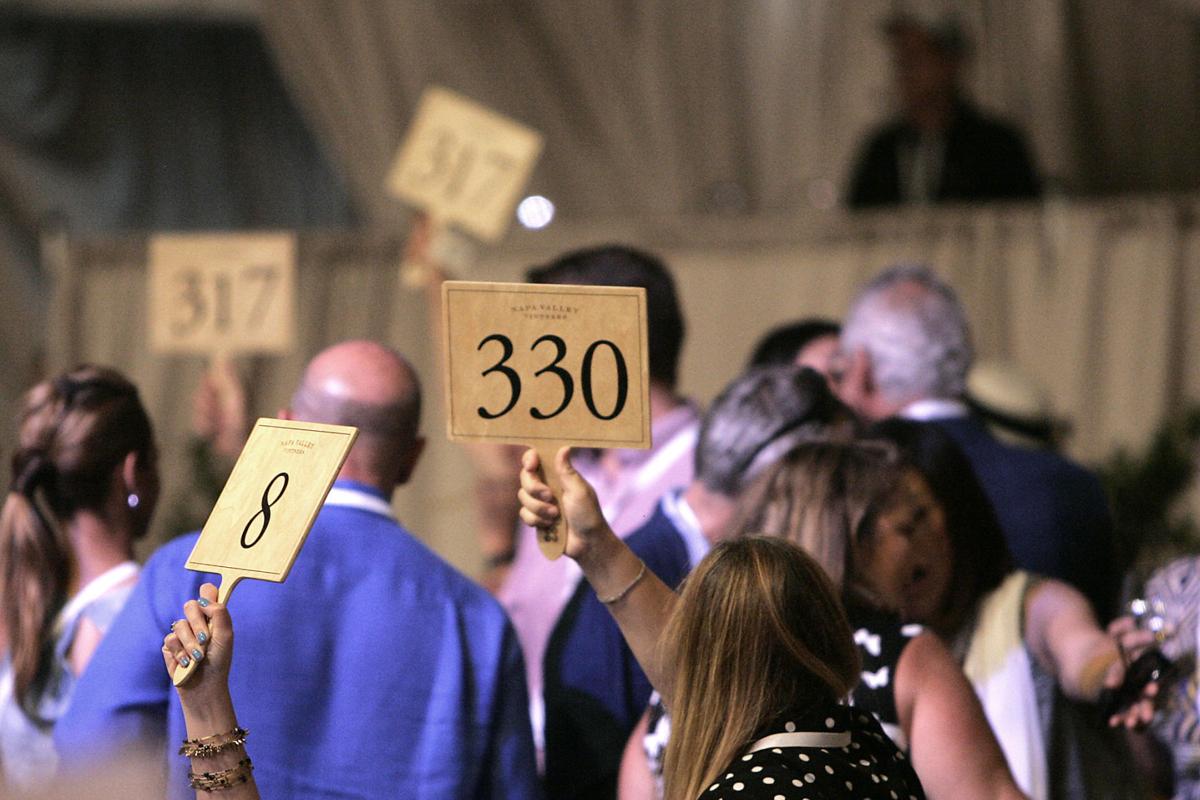 It is astoundingly easy to take for granted the advantages and strengths this county possesses. We are a small community, but blessed with great wealth, an active and educated populace, and a powerful philanthropic and non-profit culture.
As a result, Napa County residents of all sorts have access to social services, financial assistance, education, and resources that are the envy of other communities. Our social safety net is far from perfect, but it is also far superior to the system in many other counties and states.
Underlying this is a collection of foundations and donors, including the distinguished Gasser Foundation and Napa Valley Community Foundation.
But one overshadows them all, both in size and world-wide reach: Auction Napa Valley.
It started in 1981, founded by the Mondavis and a few others, as one of many weekend auctions and parties for a good cause in Napa County. It has grown into a world-renowned event for wine collectors and fans of the Napa Valley lifestyle. It has become the centerpiece of the annual calendar for the host Napa Valley Vintners, the focus of year-round planning and excitement.
More importantly, it has become a mainstay of the philanthropic community here in Napa County. It has raised about $170 million for charitable causes over the years. In 2014, it brought in a record-breaking $18.4 million and has settled into the $14-15 million range in the last two years, a range organizers say is a comfortable target for the foreseeable future.
That money has made real change in our county. Among many other causes, the Vintners have given generously to OLE Health to ensure access to quality care for everyone, NapaLearns and Aldea Children and Family Services to help at-risk and English-learning students to succeed in school and at home, Collabria Care and Rianda House to help aging residents, and the Cope Family Center to help families touched by trauma, substance abuse, and poverty.
Do not overlook the $10 million the Vintners gave to fund emergency and long-term relief after the 2014 earthquake. That money, administered by the Community Foundation, has become the seed of a permanent fund to meet future disasters.
Unlike many philanthropic foundations, Auction Napa Valley gives money to worthy non-profits on an "unrestricted" basis, meaning it can be used for any aspect of their work and is not confined to a specific program. This allows the organizations to try innovative or unusual programs, or to build administrative capacity, which is often sorely lacking in smaller non-profits, to allow for future growth.
The wine industry in Napa County has its critics, but there is no way to argue that Auction Napa Valley has not been an enormous boon to this community, an asset that has made real and beneficial change.
They don't have to do this; it is a genuine expression of their interest in the community, and it is organized and led by the winemakers who live here. It has required enormous administrative effort to plan and organize over the years. It has required the Vintners to develop a separate philanthropic operation, with expertise in identifying and evaluating non-profits and their grant applications. The event itself requires the commitment of all the Vintner members, the staff of the non-profits that benefit from the Auction, and an army of community volunteers.
The auction returns this year in the first weekend in June. The chairs of the event are the members of the famous Coppola family. While many details remain secret, Auction officials are promising that the Coppolas will bring their trademark innovation and Hollywood flair. The younger members of the Coppola family will also be revamping some of the associated events and parties to appeal to a younger generation of wine consumers and would-be bidders.
We met with representatives of the Vintners and of Auction Napa Valley (which is a separate but closely intertwined foundation) and we were impressed with their plans, both for this year's event and also for the future. They seem aware that the Auction has grown far beyond its simple beginnings and requires care, strategy, and technical expertise to sustain both as an event and as a philanthropic enterprise.
They appear to have created a flexible, nimble, and responsible system for evolving the event and making meaningful investments in the community with the resulting proceeds.
So as the excitement builds for the 37th annual Auction Napa Valley, please take a moment to consider the benefits it has brought to our county. It is more than just a party for wealthy people – it is an essential part of the social fabric of our community. That is not a thing that should be taken for granted.
The Napa Valley Register Editorial Board consists of Publisher Brenda Speth, Editor Sean Scully, and public members Cindy Webber, Ed Shenk, Mary Jean Mclaughlin and Chris Hammaker.