Duck dating ad seeks match for man's grieving bird, and more of this week's weirdest news
There's no Tinder for waterfowl, but that didn't stop a Maine bird owner from trying to find a match for a mourning duckling.
Lonesome duck: Dating ad seeks match for man's grieving bird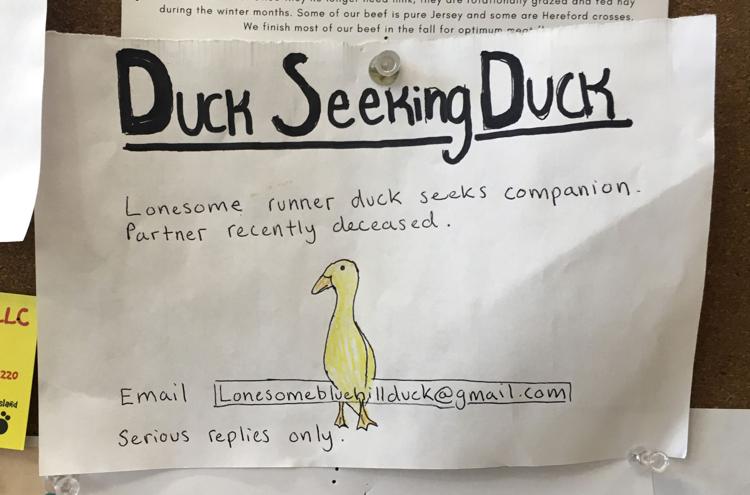 BLUE HILL, Maine (AP) — There's no Tinder for waterfowl, but that didn't stop a Maine bird owner from trying to find a match for a mourning duckling.
One of Chris Morris' ducks, Yellow Duck, lost its mate to a hungry bobcat a couple of weeks ago at Morris' yard in Blue Hill. Morris, a 31-year-old special education teacher, drew up a singles ad for Yellow Duck and placed it on a community bulletin board at a local grocery store.
The ad declares: "Duck seeking duck. Lonesome runner duck seeks companion. Partner recently deceased." It also includes an email address dedicated to the dating search and states, "serious replies only."
The Bangor Daily News reports farm owner Sadie Greene might have just the duck to mend Yellow Duck's broken heart. Greene and Morris are arranging a meeting for the ducks on Sunday.
Yellow Duck's favorite food is slugs, and they might be on the menu for the big date, Morris said.
Man found eaten by alligator actually died of meth overdose
FORT MEADE, Fla. (AP) — Florida officials say a man who was found partially eaten by an alligator in June actually died of a meth overdose.
According to an autopsy report from a central Florida medical examiner, Michael Glenn Ford II had methamphetamine in his system when he died, and that was the cause of his death.
The body of the 45-year-old was found in a canal on private property in June in Polk County, halfway between Tampa and Orlando.
Ford's hand and foot were found inside the gator's stomach. The Florida Fish and Wildlife Commission trapped and killed the alligator to perform the necropsy.
Medical Examiner Stephen Nelson wrote in a report dated Nov. 27 that Ford's injuries and amputations lacked the "sufficient associated bleeding to suggest they were made while alive."
Oink oink, cha-ching: $3 million found in barrels of pork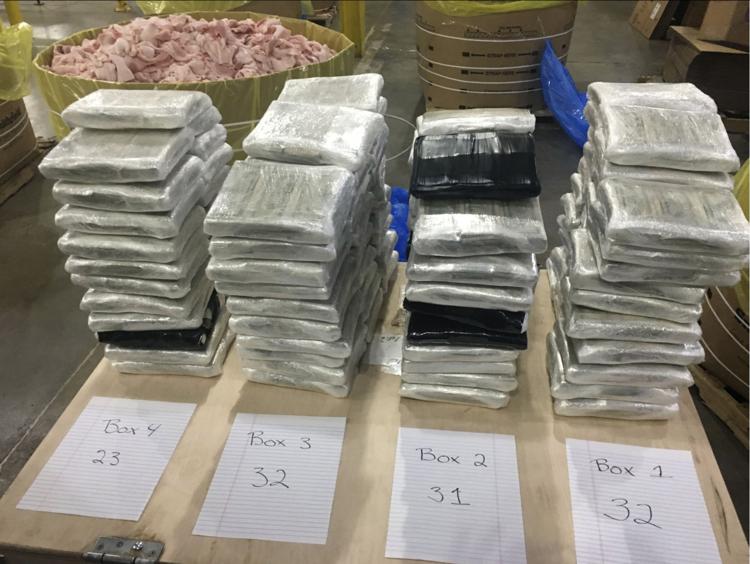 SHELBY, N.C. (AP) — Barrels of raw pork shoulder were riding fat in a tractor trailer pulled over by North Carolina deputies.
Approximately $3 million in cash was recovered from the barrels Saturday, the Cleveland County Sheriff's Office said in a Facebook post Tuesday. The driver of the tractor trailer was accused of failing to maintain his lane and impeding the flow of traffic on Interstate 85.
Deputies became suspicious of the truck when a K-9 alerted to the trailer, the post says. Deputies searched the tractor trailer and discovered the cash wrapped in plastic in the barrels.
The money is believed to have been obtained from drug sales throughout the region and was headed to Mexico, Sheriff Alan Norman said.
"It's one of the largest U.S. currency seizures in Cleveland County history," Norman told The Shelby Star.
The Department of Justice has been called to assist in the investigation, according to the sheriff's office.
North Carolina woman faked being kidnapped so she could steal car
SOPHIA, N.C. (AP) — A North Carolina woman ran to man's house Wednesday to say she had just escaped an attempted kidnapping by a stranger.
Virginia Saavedra, 37, then allegedly took advantage of the Good Samaritan's kindness by stealing his truck before leading authorities on a high-speed chase, according to the Randolph County Sheriff's Office.
Upon hearing Saavedra's story, the man let her sit in his truck to warm up while he called 911, news outlets report. Saavedra allegedly then stole the truck, which was spotted by deputies responding to the man's 911 call.
Deputies tried to stop the truck, but Saavedra led them on a 26-mile chase into a neighboring county, they say. Deputies soon boxed the truck in and it got stuck on a grassy shoulder. Deputies said Saavedra then tried to reverse the stolen truck and rammed a patrol car before trying to flee. She was arrested on more than a dozen charges including driving the wrong way on a divided highway and felony assault with a deadly weapon on a government official.
She gave authorities a fake name upon her arrest, but was correctly identified when she got to jail, deputies say. It's unclear if she has a lawyer.
Police: Subway worker robbed shop to teach 'a lesson'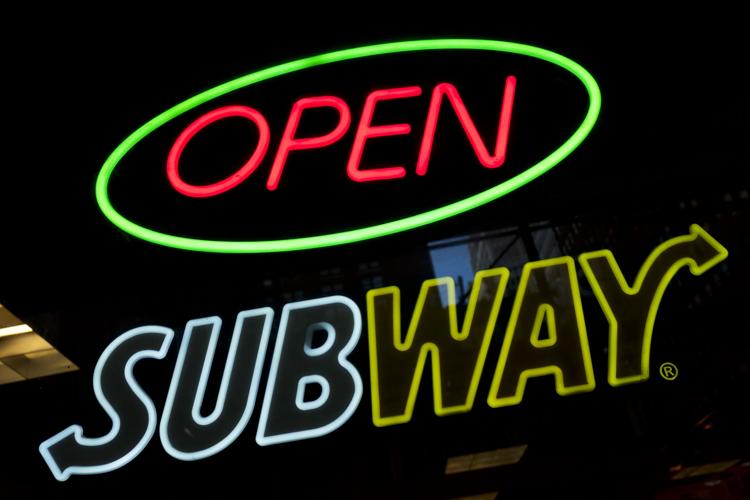 LAS CRUCES, N.M. (AP) — An employee of a New Mexico Subway sandwich shop is facing charges after police say she robbed the place to teach another worker "a lesson."
Lorena Ariana Marin, 22, and her alleged accomplice Angelo Rey Espinosa, 19, were arrested Monday night following reports of a robbery in Las Cruces, New Mexico, the Las Cruces Sun-News reports.
Police said Espinosa allegedly stood by while Marin verbally and physically threatened the employees after hopping behind the counter. They ushered the employees to the back of the store, but one employee ran to her car and got away.
Marin told officers she committed the robbery "to teach one of the employees a lesson about what could happen late at night in that part of town." Marin and Espinosa are facing robbery charges.
No attorney was listed for either suspect. They are being held without bail at the Doña Ana County Detention Center.
Kentucky police seize air fryer containing 20 pounds of meth
LOUISVILLE, Ky. (AP) — It may be the holiday season, but police in Kentucky confiscated an unusual gift being delivered to a Kentucky man's home — a package with about 20 pounds (9 kilograms) of meth that was shipped through the mail inside of an air fryer.
Narcotics officers were able to intercept the parcel containing about $100,000 worth of drugs, Louisville Metro police said in a Facebook post Saturday.
The package was delivered to a suspect's home where officers obtained a search warrant to collect it, the Major Case Unit confirmed to news outlets. The suspect wasn't home at time of seizure.
Photos posted by the police department show at least seven packages of drugs wrapped in plastic alongside the Hamilton Beach brand air fryer and the box it came in.
Police say the investigation is ongoing.
Wyoming deputies lasso deer that fell through iced-over pond
Two Wyoming sheriff's deputies channeled their inner cowboy and lassoed a deer flailing in a frigid pond after it fell through thin ice, authorities said Wednesday.
Sublette County sheriff's Deputies Justin Hays and Joshua Peterson responded to a report Tuesday afternoon that a deer had fallen into a pond near the small ranching town of Daniel in southwestern Wyoming.
Because the ice was too thin to walk on, they lassoed the deer and and pulled it to shore. They left the deer on a nearby driveway where it could warm up, and it was gone a few hours later, sheriff's officials said.
Peterson stood at one end of the pond with a lasso and drove the deer toward Hays at the other end, Sgt. Travis Bingham said.
Peterson's body camera captured video of Hays as he swung the lasso around his head before looping it easily around the deer.
The deputies carry ropes with them to herd cows that block roadways in the county, Bingham said. Hays, in particular, is a skilled cowboy, he said.
"It was the right people in the right place at the right time," Bingham said.