Talk of meth gators, albino porcupines are highlights of this week's weirdest news
Here's a look at the stranger side of news from the past week.
All-white creature identified as rare albino porcupine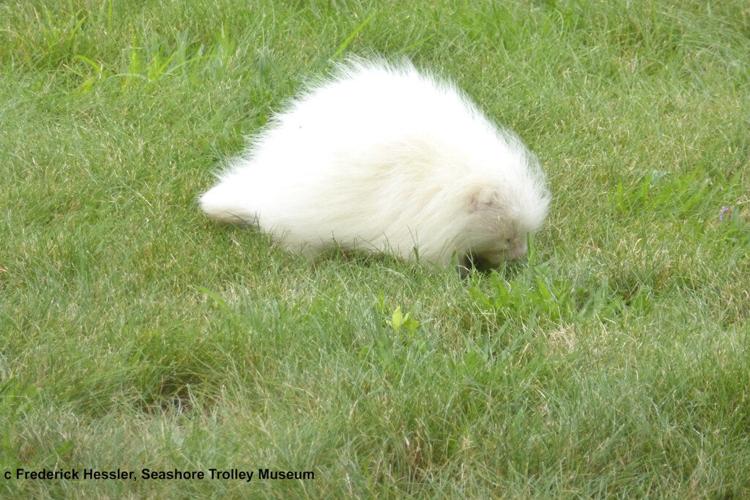 KENNEBUNKPORT, Maine (AP) — A curious visitor to a Maine train museum that resembled a white throw pillow or perhaps a lost toupee turned out to be a rare albino porcupine.
The young rodent turned up Tuesday at Seashore Trolley Museum in Kennebunkport, perplexing the staff, who sought help identifying it via social media. The consensus was it's an albino porcupine.
The Portland Press Herald reports the animal appeared to be a baby because its quills had not yet hardened. A spokeswoman for the museum said midday Wednesday that it hadn't yet been seen again, but it was assumed to be lurking in the area.
Porcupines are common in Maine, though albino ones certainly aren't. About one of every 10,000 of the species is an albino porcupine.
Phony Ferraris, 'Shamborghinis' seized at Brazil factory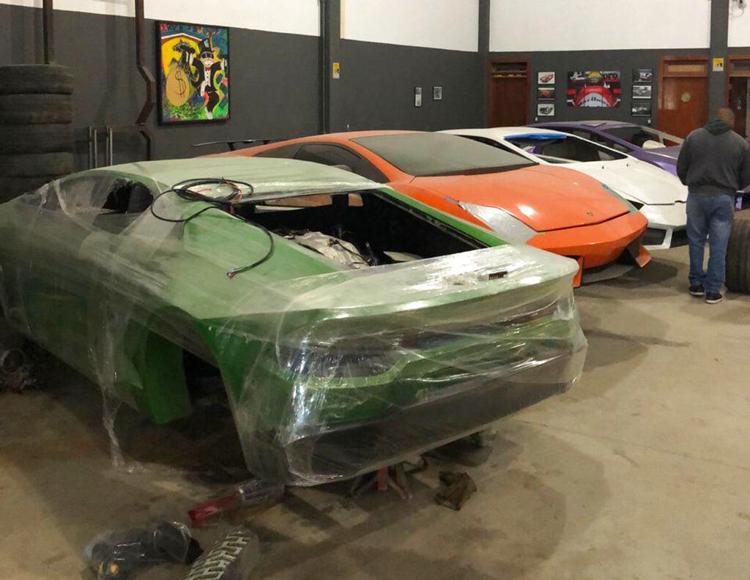 RIO DE JANEIRO (AP) — Brazilian police say they've shut down a clandestine factory that was producing fake Ferraris and sham Lamborghinis.
A father and son who owned the workshop in the southern state of Santa Catarina have been arrested on industrial property charges.
Police said the cars were being offered on social media for $45,000 to $60,000 — a small fraction of the price of the real thing.
Officials didn't say what sort of parts were used to build the vehicles, but they distributed photos showing sleek bodies, as well as badges and accessories emblazoned with the Italian brands.
Monday's raid followed a complaint by the Italian companies.
Eight partially finished vehicles were seized in the raid, and police said they are investigating how many were made.
If you flush drugs down the toilet, you could be creating 'meth gators,' police in Tennessee say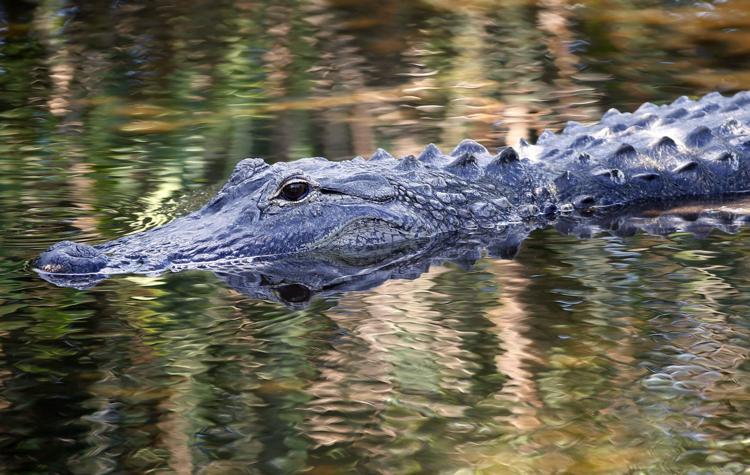 A Tennessee police department is warning residents to stop flushing drugs down their toilet and sinks out of fear they could create "meth gators."
"Now our sewer guys take great pride in releasing water that is cleaner than what is in the creek, but they are not really prepared for meth," according to a Loretto Police Department social media post. "Ducks, Geese, and other fowl frequent our treatment ponds and we shudder to think what one all hyped up on meth would do."
The police posted the warning to Facebook on Saturday after officers found a suspect unsuccessfully trying to flush methamphetamine and paraphernalia at their home.
The suspect was arrested, but police say this is becoming a bigger issue for the city because drugs in the sewer system end up in retention ponds for processing before they are sent downstream.
Police warn that if the drugs make it far enough, they will end up being consumed by gators in Shoal Creek.
"They've had enough methed up animals the past few weeks without our help," police wrote.
Loretto Police urge residents to bring in any drugs, including prescription medication, into their offices for proper disposal instead of flushing.
— By Leanna Faulk and Jamiel Lynch, CNN
The-CNN-Wire™ & © 2019 Cable News Network, Inc., a Time Warner Company. All rights reserved.
Tick removed from Kentucky man's eye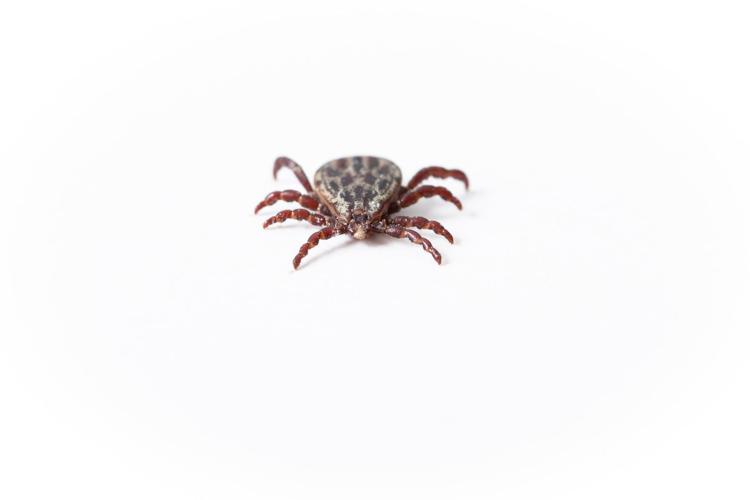 PRESTONSBURG, Ky. (AP) — A Kentucky man who went to the doctor with an irritated eye got the unsavory news that it contained a tick.
WYMT-TV reports an optometrist used tweezers to remove the tick from Chris Prater's eye.
Prater works for an electric company and had left a job site where his crew had removed a tree from power lines when his eye started bothering him.
He noticed a tiny spot on his eye and tried to flush it several times to no avail. Finally, he went to the doctor and admits he got "scared a little bit" at the diagnosis.
After numbing Prater's eye, the doctor removed the tick. Prater was sent home with antibiotics and steroid drops.
Prater says he uses bug repellent before he starts each work day, "but you can't spray your eyes."
Florida expert captures elusive alligator at Chicago lagoon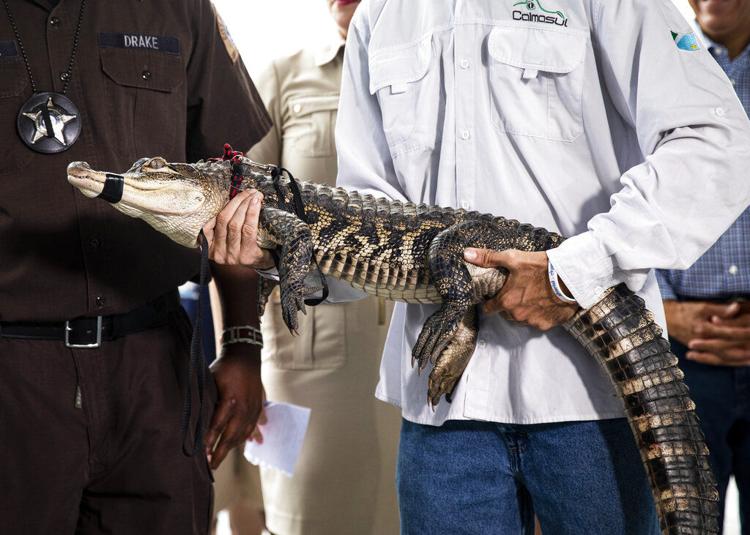 CHICAGO (AP) — The alligator had a good run as day after day the people hunting for him in a Chicago lagoon came up empty, but in the end he was no match for an expert the city shipped in from Florida.
The male gator, nicknamed 'Chance the Snapper,' was first spotted in the Humboldt Park lagoon about a week ago. After local enthusiasts tried and failed to trap the reptile, Frank Robb arrived from St. Augustine on Sunday . By early Tuesday, he had caught the 5 foot 3 inch animal using something that even cartoon alligators know to avoid: a fishing pole.
"I brought my fishing rod and it went down pretty fast," Robb said at a news conference at the park Tuesday morning. At about 1:30 a.m. — about 36 hours into the hunt — Robb said he "saw his eye shine and caught him on the fishing rod. One cast... and it was done."
Chance — whose name sounds a lot like Chicago's own Chance the Rapper — looked pretty calm as Robb pulled him out of a big plastic tub, and he didn't squirm as he settled into Robb's grip. Robb moved around a bit so all the photographers from pretty much every newspaper and television news show snapped pictures — Chance couldn't do any snapping of his own thanks to what looked like a thick rubber band or electrical tape holding his jaw shut tight.
Chance was a daily news story from the day he was first spotted and photos started popping up online. Investigators don't know why the animal was in the lagoon but they knew they had to capture it.
Robb assessed the situation and knew from his 24 years of gator catching under his belt that the best way to capture a gator was to make it nice and calm. So, on his recommendation, the city closed sections of the park to reduce the noise and kerfuffle that Robb suspected was keeping the animal in hiding.
Chance will to stay in the tub for now, but the city said it was already looking for roomier quarters, most likely a wildlife sanctuary or a zoo.
"No harm will come to this alligator," said Kelley Gandurski, the executive director of the Chicago Animal Care and Control.
—By DON BABWIN Associated Press
Nesting penguins can't resist lure of New Zealand sushi shop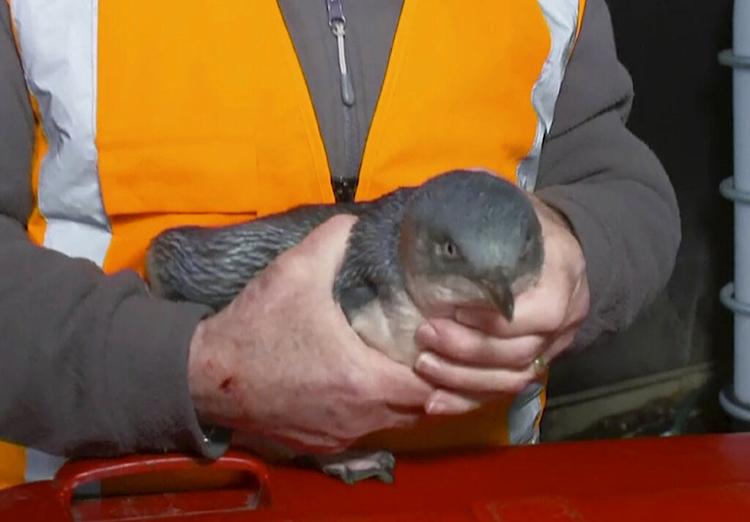 WELLINGTON, New Zealand (AP) — Two little blue penguins just couldn't stay away from a New Zealand sushi store, returning to nest there even after police had captured them and escorted them back to the ocean.
Wellington police described them as "waddling vagrants," while the store's co-owner joked he had no idea that word of his tasty raw fish had reached as far as the subaquatic community.
But Jack Mace, an operations manager for the Department of Conservation, said the birds would have simply thought they had found a snug burrow underneath the store and wouldn't have taken note of what was being sold above them.
"They were within penguin commuting distance of the harbor, and they thought they'd found a nice spot," Mace said.
Police got the first call about a penguin loose in the city on Saturday night, after somebody reported spotting a grumpy bird under a parked car. Police said they managed to release it back into the ocean.
Then police starting taking more calls on Monday and found two penguins huddled under the Sushi Bi store near the capital's busy train station.
"The waddling vagrants were removed from their sushi stand refuge earlier today by Constable John Zhu," police wrote on their Facebook page. "Unsurprisingly, this was not the first report police had received about the fishy birds."
And it turned out it wouldn't be the last.
Within hours, the two penguins were back underneath the shop.
Co-owner Long Lin said he was tidying up the storage room when he heard a sound from near the water tank. He walked outside and peered underneath the store and thought he was looking at a pigeon.
"And then I was like, 'Oh my God, it's a penguin," he said. "I was panicked. I didn't know what to do."
He called authorities, but meanwhile the penguins waddled out. So he grabbed them one by one and put them inside the store. He said the second penguin pecked at him several times, leaving red welts on his chest.
"It was a bit wild," he said.
Inside the store, the birds strutted about seemingly without a care, to the amazement of worker Shawnee Kim.
Kim said she tried offering them some fresh salmon, but they didn't seem interested.
Mace said rangers managed to extract the birds from under the store's freezer and put them in a special nesting box on the harbor, which is about a 200-meter (660-foot) waddle from the store.
Mace said the penguins haven't been seen since and may be out at sea.
He said the population of little blue penguins has rebounded in Wellington thanks to the efforts of people who have removed predators from three islands in the harbor and have helped with other conservation efforts, like building artificial nest boxes.
Little blue penguins typically start looking for nesting spots in July and start laying eggs in August.
— By NICK PERRY Associated Press
California officers reunite 250-pound tortoise with owners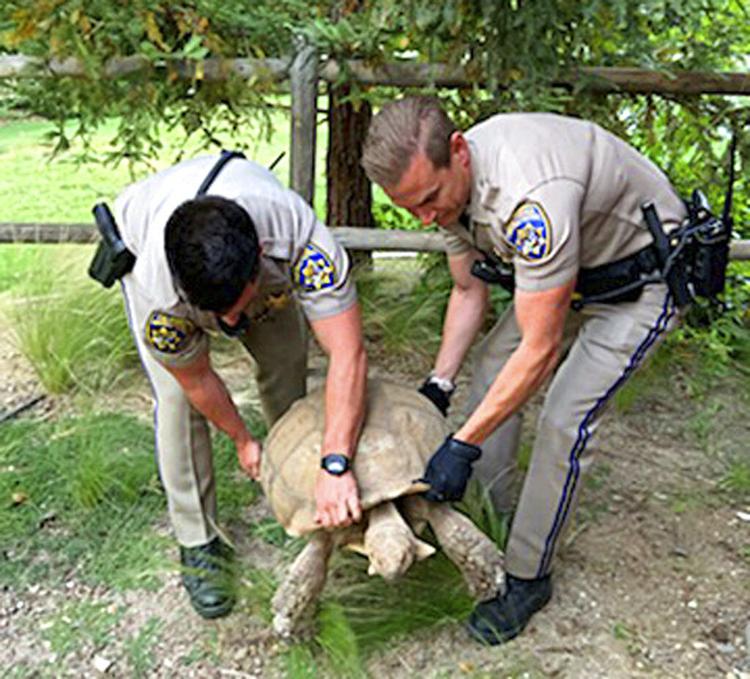 SANTA YNEZ, Calif. (AP) — A 250-pound tortoise that wandered away from its home has been rescued after California Highway Patrol officers found it on the side of a road.
And no, they didn't arrest it for speeding.
The highway patrol says it got a call about the big reptile Sunday evening. It was spotted on the shoulder of a road in Santa Ynez, about 100 miles (161 kilometers) northwest of Los Angeles.
Santa Ynez Animal Rescue picked up the tortoise before CHP officers arrived. The CHP located the owners, put the tortoise in the patrol car and delivered it to them about two hours later.
Utah boy advertises 'Ice Cold Beer' at root beer stand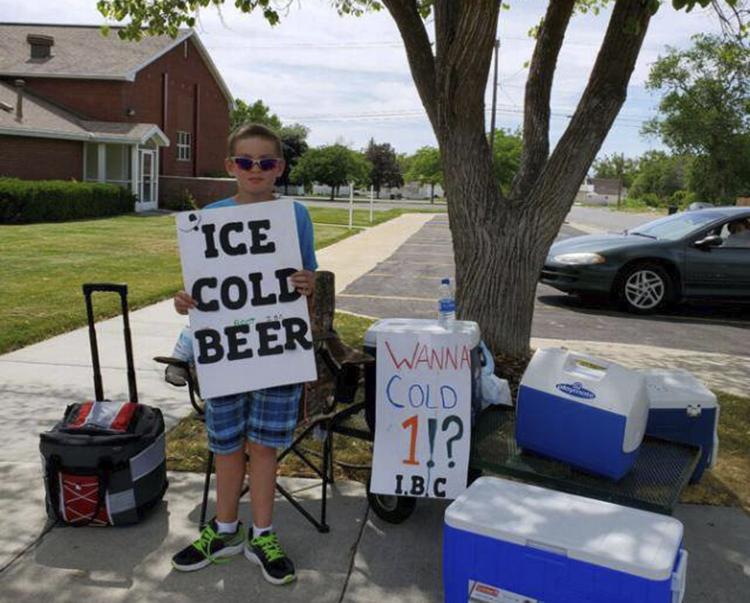 SALT LAKE CITY (AP) — A Utah boy has earned widespread social media attention for his neighborhood soda stand thanks to a sign he holds that reads, "Ice Cold Beer" with "root" above the word beer in tiny print.
Several residents in the northern Utah city called police earlier this week concerned about a young boy selling alcohol in front of a church, said Brigham City Police Lt. Tony Ferderber on Thursday.
Officers that went to check it out realized that it was just a clever marketing ploy and posted pictures of 11-year-old Seth Parker on Facebook with the comment, "a twist on a lemonade stand."
Sen. Mitt Romney, of Utah, tweeted a picture of Seth with the comment, "A lesson in reading the fine print! The future is bright for this young Utah entrepreneur."
Seth's mother Alexis Parker said Thursday that the family is dumbfounded and excited by all the attention. She estimated that some 60 people a day come to the stand.
Seth started the stand because his parents urged him to get out more after they noticed he had struggled to make new friends since the family moved from Georgia last year, Alexis Parker said.
Seth thought about a yard sale or lemonade stand but settled on selling the soda because he is a root beer "fanatic," she said. He chose the sign with the tiny print as a little "wise crack."
The first day brought some scoffs and scowls, especially for people without good vision, she said.
But people soon caught on to the joke.
"We're loving people stopping by and just having a good laugh," said Alexis Parker. "It is a joy all the way around."
—By BRADY McCOMBS Associated Press