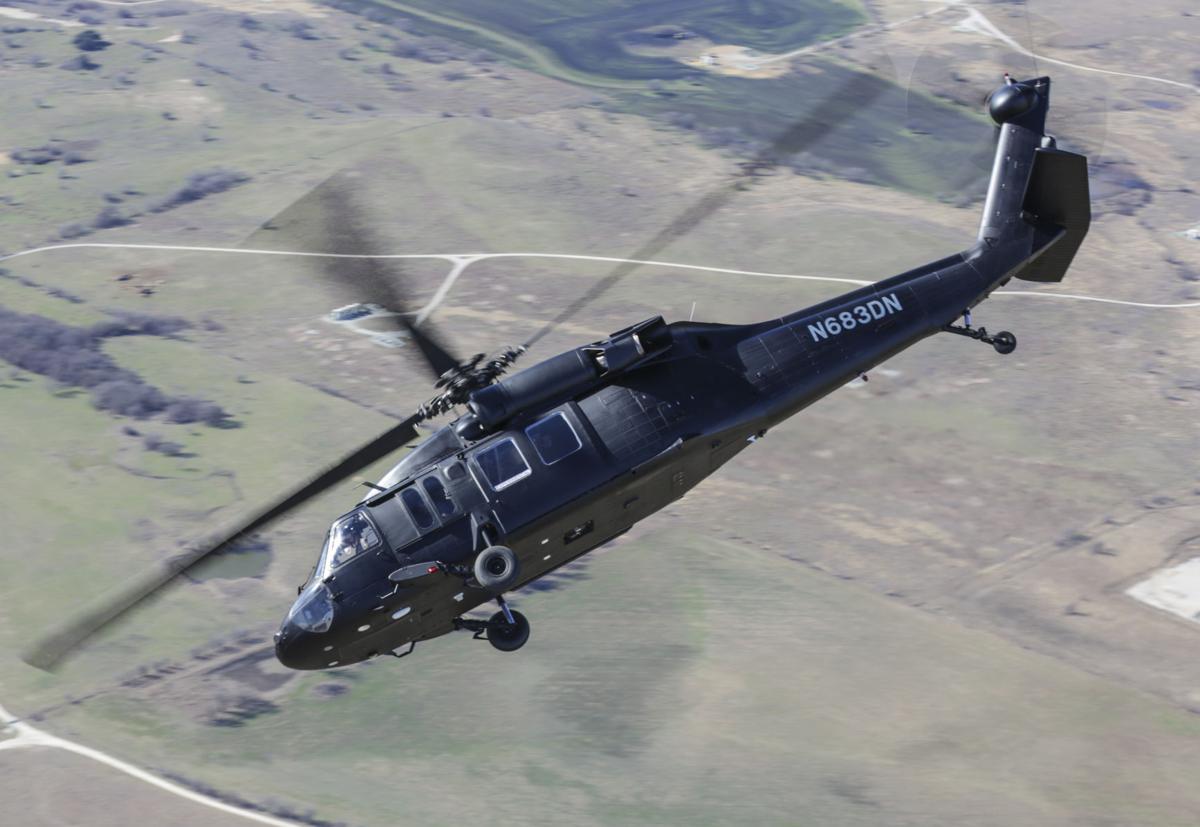 Michael Rogerson, who has an Oakville house and is CEO of Rogerson Kratos digital electronics company, wants to base two water-dropping Black Hawk helicopters in Napa County to fight wildfires.
It's the latest citizen-organized push to bring more firefighting equipment to Napa County. The goal is to get water on wildfires as soon as possible and prevent them from erupting into the next Hennessey or Glass fire.
Rogerson and his company would provide the Black Hawks. Napa County and Cal Fire would have to agree on the deployment and operational details if they decide the offer is a good one.
"I'm not doing this because I want to be in the firefighting business," Rogerson said last Wednesday. "I'm doing this to help Napa County."
Napa County Fire Chief Geoff Belyea on Thursday said he can't yet comment on the offer.
"It's just an idea," he said. "There's really no formal proposal yet on the table."
All of this comes against the backdrop of the Atlas, Tubbs, Nuns, Hennessey, and Glass fires that burned much of the county over three years. Some residents have looked for new ways to extinguish fires quickly.
Growers/Vintners for Responsible Agriculture recently tried to base two water-dropping Fire Boss airplanes in the county. Napa County and Cal Fire turned down that offer, with Cal Fire officials at one point saying helicopters are superior to the small planes.
Randy Dunn of Growers/Vintners for Responsible Agriculture has talked with Rogerson. The Howell Mountain winemaker and grapegrower who pushed hard for the Fire Boss planes backs the Black Hawks idea.
"Napa County is the one who should really step up and grab onto these 'copters," Dunn said.
Like Belyea, Board of Supervisors Chairperson Alfredo Pedroza isn't yet ready to pronounce judgment on the idea.
"I've heard it casually," Pedroza said on Thursday. "Randy Dunn has reached out a  few times. I have not seen a proposal in writing. We always have to keep an open mind to securing additional resources for our county."
If a proposal comes forward, the county will evaluate it, he said.
According to Cal Fire and the county, two Fire Boss planes might have cost as much as $3.5 million to deploy in the county for fire season. Growers/Vintners for Responsible Agriculture would have paid $1.5 million to keep the planes on standby and the county up to $2 million for operations and other costs, depending on how many fires broke out.
How much deploying the Black Hawks would cost and whether Cal Fire or the county would pay for operations remained unclear late last week.
Rogerson said his company modernizes aircraft and bought four surplus U.S. Army Sikorsky UH-60 Black Hawk helicopters. Two would be used for the Napa County program, should it come to be.
One of the Black Hawks as of last week was in Tennessee being retrofitted with an internal water tank and other equipment. Rogerson said it should be ready the first week of July.
The company said it has the pilots, maintenance people, and spare parts to support the two Black Hawks. The water tank will be able to hold 850 gallons and can be filled from lakes and other water bodies using a retractable snorkel.
Rogerson said retrofits cost more than $1.5 million each and each Black Hawk is worth more than $8.5 million. A company fact sheet said the helicopters have such features as modernized, digital cockpits.
"We have an amazing resource at Napa County Airport with the Chinook," Belyea said.
The Chinook could travel to fight fires in other areas, Cal Fire officials said. Dunn wants aerial resources that would be guaranteed to remain close to Napa County.
Rogerson is new to Napa County and lives in the hills in the Oakville area. That location is vulnerable to wildfires.
"Big-time," Rogerson said. "We did brush clearance and it was a major effort. We are now 150 feet around the house clear of brush."
Rogerson has been CEO of Rogerson Aircraft Corp. of Southern California since 1979. Rogerson Kratos is one of the company's units, according to the LinkedIn website profile.
Dunn said he would still like to see two Fire Boss planes based in Napa County dump water on fires as quickly as possible, even if the Black Hawks idea comes to fruition.
"I think we ought to have them both," Dunn said. "There's no such thing as having too many aircraft if we get something happening."