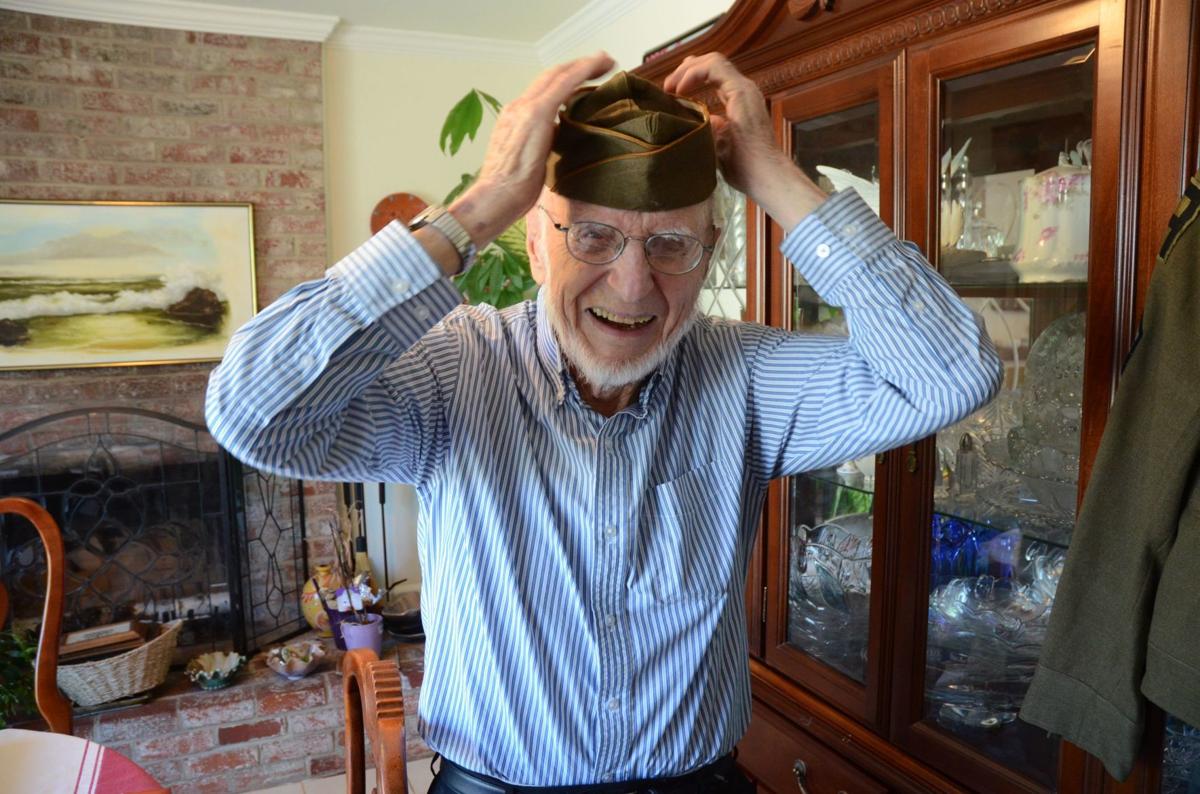 Harold Bunnell died earlier this month, taking with him yet another tiny piece of the sprawling story that was World War II.
Bunnell, 96, of Napa, was one of the 10 local veterans we profiled for our They Served With Honor series last year, three of whom served in World War II.
I only got to meet him briefly — a little bit more than an hour in his home. We were joined by his son Dan, a retired doctor here in Napa, and his wife of 76 years, Charlotte.
That interview sticks out in my mind for several reasons.
Harold Bunnell's invasion of France started at the wheel of a two-and-a-half-ton GMC truck, plunging off the back of a landing craft into the surf off Omaha beach.
First was the clarity of his recollection — those events of seven and a half decades ago were still alive to him. His eyes grew moist when remembering his best friend in the unit, Frank Braun, who was electrocuted when a German bomb knocked down live powerlines onto a truck he was trying to repair.
He also teared up slightly when recalling the first sight of New York from the deck of the cruise liner Queen Mary, which was bringing troops back home after the end of the fighting in Europe.
More importantly was Bunnell's striking practicality. For him, there was no glory or romance to war. He didn't speak about grand ideological vision, but rather that one thing that drives every person in war at an elemental level – getting home.
"Every GI will tell you, if they're honest, they'll say I want to go home," he told me. "I want to go home to that pretty little thing that's waiting for me."
Not to say that he wasn't proud of his service. Before our meeting, he had carefully laid out a table full of memorabilia and brought out his old uniforms, which he was proud to say he could still fit in. He handed over with pride a book listing all the members of his unit, the 3509th Ordnance Automotive Maintenance Company.
Their job wasn't glamorous, but it was as important to the war effort as anyone's. They were the mobile mechanics that kept supply trucks running. A damaged or broken down truck meant less ammunition, less food, and fewer supplies to the men fighting on the front line. Bunnell and his colleagues would dash about in a Jeep just behind the front line, often under threat from German artillery and aircraft, looking for stalled trucks and getting them back on the move.
He shrugged off any idea that there was anything heroic about his duty – he was just doing his job, he said.
Often the best moments in journalism are when another person lets you in, opens up, and allows you to tell their story.
"(My father) told me this, and I followed it: no matter what job you get, do your very best. Don't dog it," he said. "Always do your very best and if you can do a little extra, do it, just so long as you don't make everybody else mad at you."
What was also striking about Bunnell was the tender and loving relationship with his wife. They got married just before he shipped off to Europe, he a 19-year-old draftee and she a 17-year-old just finishing high school. They raised three highly successful boys and have eight grandchildren and 12 great grandchildren.
I have no idea what ups and downs they had in their 76-year marriage, and I am sure there were many, but in their living room in Napa that day, they had an easy energy together that told me this was a couple that had a marriage that worked and had stood the test of time for good reason.
Memorial Day is different from other holidays. Today, we gather not to mark a date or time, but rather an idea.
About 16 million Americans served in World War II. In 2019, when I interviewed Bunnell, the federal government estimated that there were fewer than 400,000 of those veterans still alive. Most, like Bunnell, are well into their 90s or more.
By the year 2030, there may well be no more living veterans left from that era.
I am so glad I was able to capture even a small part of Bunnell's story. His son told me recently that his father began to decline just a week after we spoke, so that day at his home in Napa was just about the last opportunity to hear his living testimony to what he saw and what he did.
Thanks for your service, Harold Bunnell, and thanks for sharing your story.
And for all of you with veterans in your life, especially those toward the end of their lives, please remember to hear their stories before they can no longer be told.