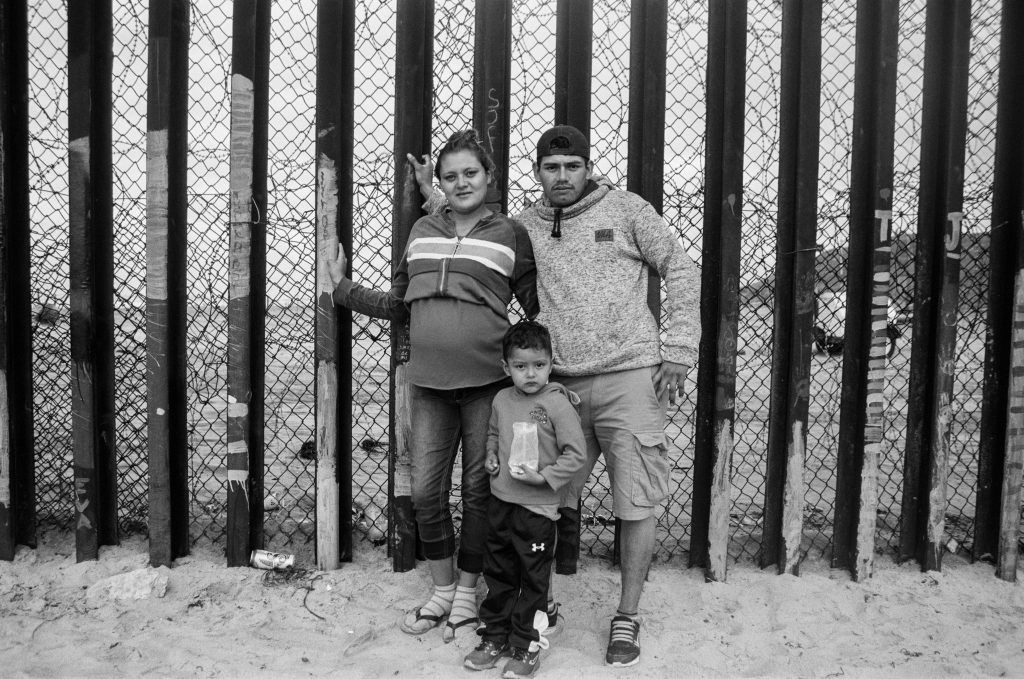 'Ummm, would you like to get married?" I asked repeatedly in Spanish.
I always imagined that if I ever asked that question I would be looking intently into the eyes of a single woman, my voice strong and clear with unequivocal intent. But instead, I was shiftily avoiding the eyes of not one woman, but a whole line of them, and the men who were their partners.
We were in Tijuana at the sports complex serving as a haphazard shelter for more than 6,000 refugees – including more than 1,000 kids – seeking asylum in the United States. People were staying under whatever scraps of blankets, cardboard, and plastic they could find and stitch together – even the playground slide was turned into a pseudo-shelter. Seemingly everyone was coughing.
The border, marked by an inhospitable and deeply ugly fence, was less than 25 yards from where we were awkwardly proposing to dozens of women.
These women – and the children hanging on them – had walked, swum, and hitch-hiked thousands miles only to be stopped by that fence. And now they were being solicited by strangers as they patiently waited for the small bowl of rice and beans that would likely be their only food for the day.
Along with two friends, photographer Eduardo Ezequiel and Dan Newman, a political consultant who had served in the Peace Corps in Paraguay, I joined the "caravan" of migrants stuck at the border in November. Our hope was to support, document, and learn.
Each day, we brought in as many supplies as we could carry: flip-flops, diapers, menstrual pads, tarps, toys. When rain came, we used industrial rolls of plastic to cover living areas. The plastic provided some minimal protection, but the storm turned the dirt ground into an ankle-deep muddy lake, floating with human waste and trash.
We spent much of our time simply trying to help people understand the bewildering asylum process. A desire to work isn't sufficient grounds for asylum. They needed to share their painful, personal, tragic stories, and document them if possible, in order to show a justifiable fear of returning to their country. Being married helps.
Names are handwritten in a spiral notebook known as "La Lista." Applicants receive a tiny scrap of paper with an assigned number. If the person is present to hear their number called, he or she will receive an interview. If individuals are not there to hear their numbers, their names are erased from the list. Many of the migrants don't know the list exists.
The Trump administration is trying to change the rules so that victims of domestic and gang violence would no longer qualify, and has proposed charging $50 application fees – seemingly more money than exists in the entire shelter.
The administration also is slowing the process with a policy known as "metering," which causes people to lose hope and return to the countries they fled. Metering also increases the incentive to cross illegally.
In late afternoons, we'd start organizing weddings by finding men and women who were couples and wanted to get married on very short notice. Our primary goal was to increase their chances of being processed together, and thus reduce the number of families torn apart. We also felt that everyone including us benefited from the brief and joyful distraction.
That's how we found ourselves proposing marriage to women trying to get dinner. Some were interested but they had little time to decide. One bride asked to borrow shoes because she didn't want to get married in Crocs.
We scurried to secure cake and Champagne. Cake turned out to be a questionable decision, as the kids' stomachs weren't prepared for all-you-can-eat cake after weeks of malnourishment. One happy child vomited on my friend's leg.
We played the wedding march on an iPhone as the couples joined hands and recited their vows. I was not the only one crying.
Andrea Hartsough is an attorney in San Francisco who has practiced immigration law. She wrote this commentary for CALmatters, a public interest journalism venture committed to explaining how California's Capitol works and why it matters.