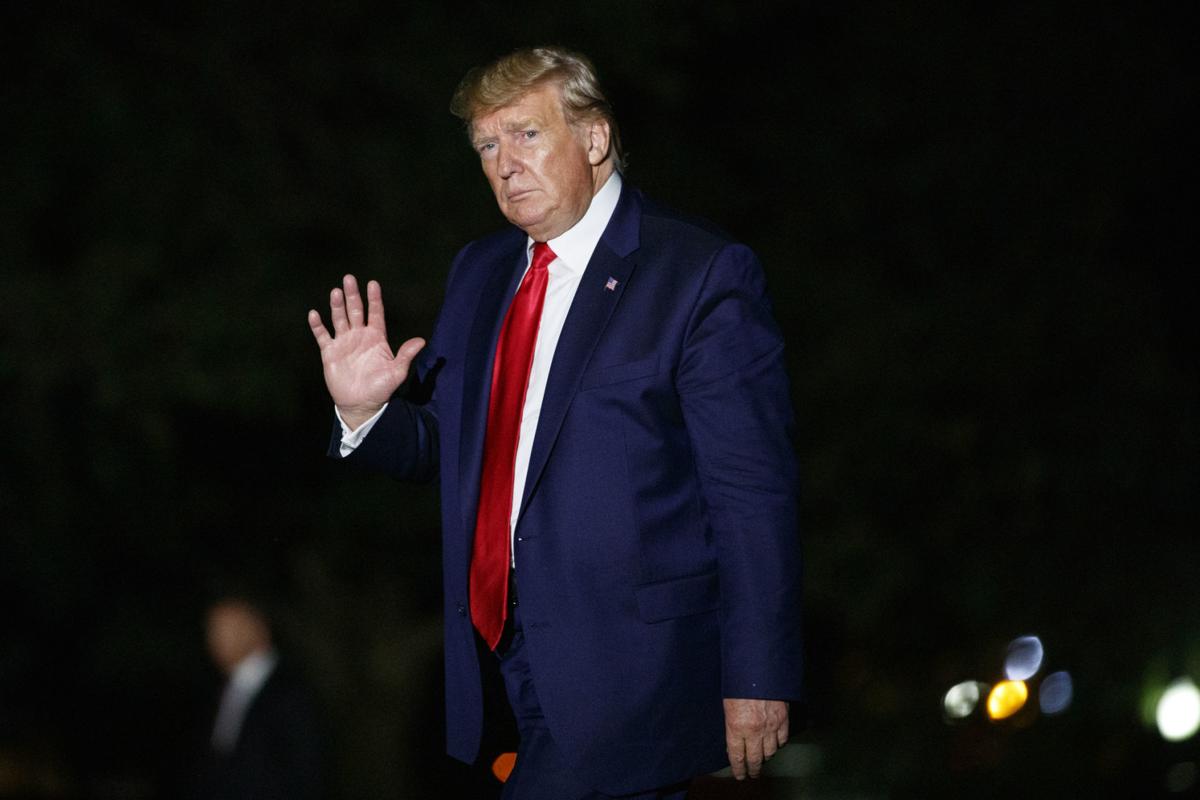 "They that sow the wind," the Bible's book of Hosea warns, "shall reap the whirlwind." Donald Trump has sown the wind, and his Republican Party will reap the whirlwind.
Hopefully in 2020, possibly not until 2022 and 2024. But sooner or later, probably sooner.
One reason is the growing evidence of a connection between Trump's racist, divisive rhetoric, the violent acts they have inspired such as last Saturday's El Paso massacre, the spineless Republican response, and the decision by GOP lawmakers to leave politics, most recently four Texas House members.
In his first formal remarks on the weekend's mass murders in El Paso and Dayton, Trump Monday blamed the former on "a wicked man" and the latter on "another twisted monster." He declared, "Our nation must condemn racism, bigotry and white supremacy" and expressed himself open to "all ideas that will actually work."
But he made no reference to his own role in sowing racial divisions and gave no indication he is willing to accept new gun control measures, leaving in doubt if any major new steps will follow.
And unfortunately, starting by questioning President Barack Obama's American birthplace and attacking Mexicans as "rapists" bringing drugs and crime, Trump's principal political strategy from the start has been to divide, rather than unite. He has not sought so much to solve admittedly difficult problems like immigration as to inflame them, rejecting potentially workable compromises.
In fact, an argument can be made that Trump hasn't done much to solve many of the problems he said "I alone can fix": trade relations and nuclear proliferation abroad, economic dislocation and infrastructure decay at home.
Another factor working against him is he began — and has remained — a minority president. He received 46 percent of the vote in 2016, and his job approval has rarely reached that level in the ensuing 33 months. Polls matching him against potential 2020 rivals show him consistently in the low 40s, an unelectable level unless he can rouse enough supporters to vote, discourage enough opponents or luck out with another unpopular opponent.
In recent weeks, he has used new racial targets — like the four young left-wing congresswomen of color and the veteran and respected Rep. Elijah Cummings — to whip up fervent supporters eager to chant "Send them back!" instead of "Lock her up!"
You have free articles remaining.
He has cowed potentially critical voices within the GOP into silence, thanks to his 90 percent support among the ever-shrinking number of rank-and-file Republicans.
Look at the timid Republican reaction to the fact that the Collin County, Texas, man accused of the El Paso murders echoed Trump's 2018 campaign rhetoric in writing he was fighting the "Hispanic invasion of Texas."
House Republican Leader Kevin McCarthy and Texas Lt. Gov. Dan Patrick blamed such killings on video games, a factor Trump also mentioned. Texas Sen. John Cornyn decried proposed solutions that are "clear, simple and wrong."
Texas Sen. Ted Cruz, a Cuban American, assailed the shooter's "hateful anti-Hispanic bigotry." But many other Republicans stayed silent, especially those who fear angering their party's Trumpian hard core or the less partisan swing voters who decide general elections.
The GOP silence is legislative as well as rhetorical.
The Democratic House passed legislation closing a loophole on background checks for weapons purchasers. Senate Republican Leader Mitch McConnell refused to schedule it, like he sidetracked a bill to protect elections from foreign interference, lest they pass and confront GOP senators with a Trump veto.
With early polls showing that Democrats have a good chance to retain their House majority, it's hardly surprising that Republicans facing difficult re-election races are choosing to leave rather than defend Trump's racism in what could be a losing re-election battle.
Texas has shown the aftershocks of last November's election, in which El Paso Rep. Beto O'Rourke nearly defeated Cruz and Republicans lost two House seats, keeping six by fewer than 5 points. Jonathan Martin noted in The New York Times that Rep. Kenny Marchant of Coppell, who bowed out Monday, won his last three races by decreasing margins of 33, 17 and 3 points.
Two other narrow victors, Reps. Will Hurd of San Antonio and Pete Olson of Sugar Land, have already announced retirement. The other three are Reps. Mike McCaul of West Lake Hills, John Marshall Carter of Round Rock and Chip Roy of Austin.
As for Trump, the conventional wisdom is that he faces a very close election that he could either win or lose narrowly. The Cook Political Report's David Wasserman, one of the shrewdest political demographers, speculated that Trump could lose the popular vote by 5 percent and, with a narrow victory in Wisconsin, win the electoral vote by two votes.
Of the three potential outcomes, two would be unfortunate: a repeat split decision like 2016 that leaves these issues unresolved or a decisive Trump victory that rewards his racist rhetoric and divisive policies. But the more he inflames and divides, the more likely one hopes he will drive away enough moderate Republicans and independents to end his ugly authoritarianism before it does more damage.
Carl P. Leubsdorf is the former Washington bureau chief of the Dallas Morning News.