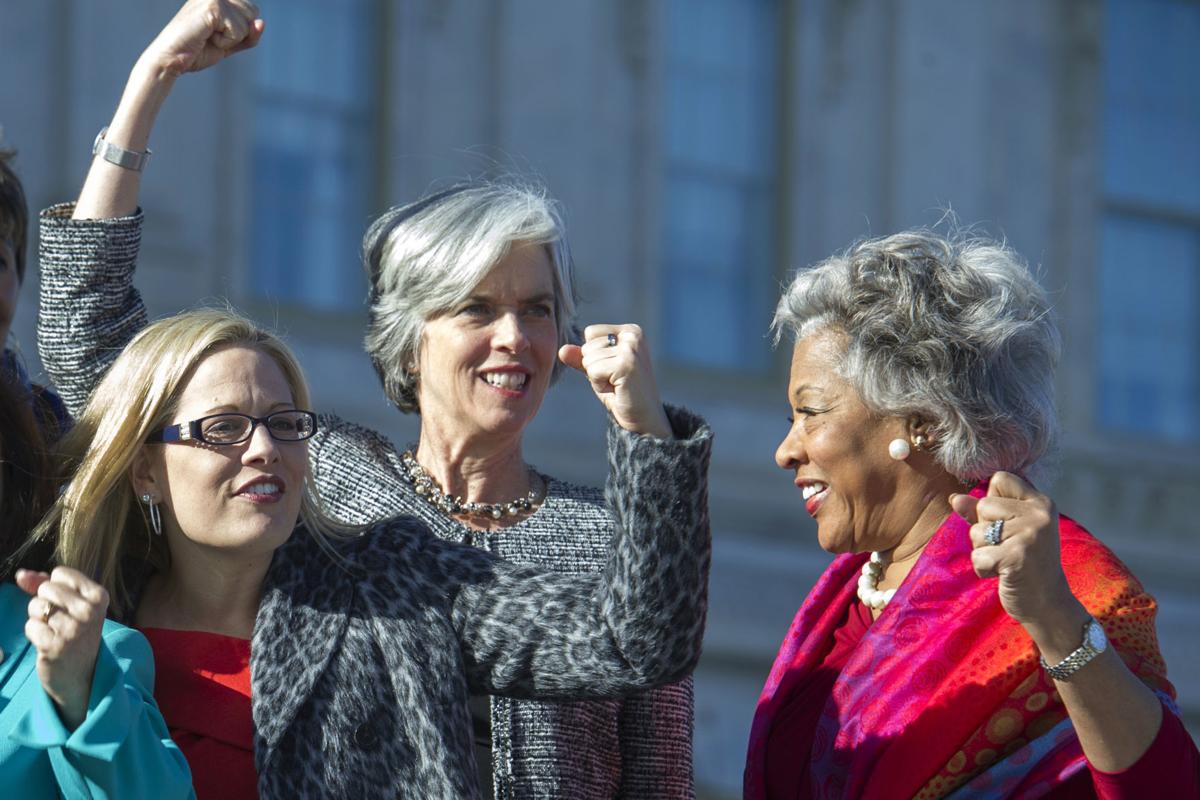 Rep. Kyrsten Sinema, D-Ariz., has announced that she'll be running for Senate next year, challenging Sen. Jeff Flake, who may be the second-most-vulnerable Republican incumbent up for reelection (after Nevada's Dean Heller). Sinema is by some measures the most conservative Democrat in the House, so you might expect liberal Democrats to denounce her and rally around a more liberal candidate.
But that doesn't appear to be happening. Instead, her entry into the race seems to have been greeted with pleasure - which tells us something interesting about the Democratic Party right now, particularly in contrast to its opponents.
It's not that liberal Democrats don't want the most liberal candidate possible in every race, all else being equal. It's that they seem to have a nuanced view of what "all else being equal" means. In a state like Arizona - relatively conservative but getting more purple all the time - a candidate like Sinema might have the best chance to pick up a precious seat. Democrats seem to realize that it's not necessary to make every race an ideological fight to the death within their party.
The contrast with the GOP - which just had a remarkable primary runoff in Alabama, in which the president and the Senate majority leader endorsed a candidate who was vilified by the president's former chief political adviser for not being a true enough embodiment of the president's vision - couldn't be more striking. Just what is making these Democrats so darn pragmatic?
The biggest reason may be that the market for ideological warfare within the Democratic Party just isn't as robust as it is within the Republican Party. And boy, is it ever robust in the GOP. That's what Stephen Bannon has recognized, which is why in the wake of Roy Moore's victory in Alabama he's now planning to promote primaries against other Republican incumbents. On a personal level, it's obvious that Bannon is most comfortable when he's waging a guerrilla war against the powers that be, whether it's in his party or the other party. And there are lots of Republican base voters who feel the same way. They may have particular grievances against the Republican "establishment," but mostly they just like fighting the establishment. The fight itself - a noble rebellion of idealists against hidebound fat cats who have become too comfortable to stand up for what's right - is the whole point.
Are there Democrats who have the same perspective? Yes, there are. Many of them associated themselves with Bernie Sanders's 2016 presidential campaign. But relative to the Republicans, their numbers are much smaller. And at the moment, they seem to be happy to have arguments about substance and tactics - such as what sort of health-care system Democrats should want and how they should advocate for it - in a context more geared to the 2020 presidential election than to House and Senate races in 2018.
That could change between now and next November. But it appears that Democrats are looking at congressional races through a much more pragmatic lens. Another reason is that, unlike Republicans, they actually take governing seriously. If the past decade or so - both the experience Democrats had when they controlled Congress under Barack Obama and what Republicans are going through now - has taught them anything, it's that legislating is hard. Not only do you need to have put in the work to prepare the policies you want to advance; you also need a coalition of members that can be managed and focused to get things accomplished. Promoting internal wars might feel good in the moment, but it can make the the point of the whole exercise - changing laws and solving problems - much more difficult down the road.
That doesn't mean that liberal Democrats are going to eschew strongly liberal candidates and flock to centrists. But it may mean that at certain times, they'll decide to put aside ideological fights for another day. They may look at a race like Arizona and say, "okay, so Sinema is never going to be my favorite senator. But if she's the strongest Democratic candidate in this particular election in this particular state, I'm not going to try to turn the primary into an ideological bloodbath." With 2018 presenting the possibility of a genuine wave election that gives Democrats the House and maybe even the Senate, the stakes of every race become incredibly high.
If it holds, that pragmatic outlook could also be explained by the fact that there's going to be a much better time for that ideological bloodbath: the 2020 presidential primaries. There could be dozens of candidates of a variety of ideological stripes running for president, and the debate will be broad and encompassing, about the damage of the Trump years, the future of the Democratic Party and fundamental questions about where America is and where it should go. It's a lot easier to get worked up about that than about the often-parochial discussions that can dominate a House or even a Senate race.
There's one more factor at work: Not only are the substantive differences among Democrats actually pretty minor, but also the party has been moving left recently in ways that tend to defuse whatever anger the base might feel. Single-payer health care is on its way to becoming a consensus position among Democrats, to take just one example. It takes some effort to vilify candidates who have come around to your position on issue after issue.
I should note that if you're active on social media, you probably think I'm playing down the intensity of the intramural arguments among Democrats. But it's good to remind yourself now and then that Twitter is not America. There will certainly be raging fights in some quarters about this or that 2018 candidate, and there's nothing wrong with that. But when you pull out and look at the broader picture, the Democrats seem polite, cooperative and reasonable in their internal debates - particularly when you contrast them with the Republicans.
Paul Waldman is a contributor to The Plum Line blog, and a senior writer at The American Prospect. He wrote this for The Washington Post.
Catch the latest in Opinion
Get opinion pieces, letters and editorials sent directly to your inbox weekly!