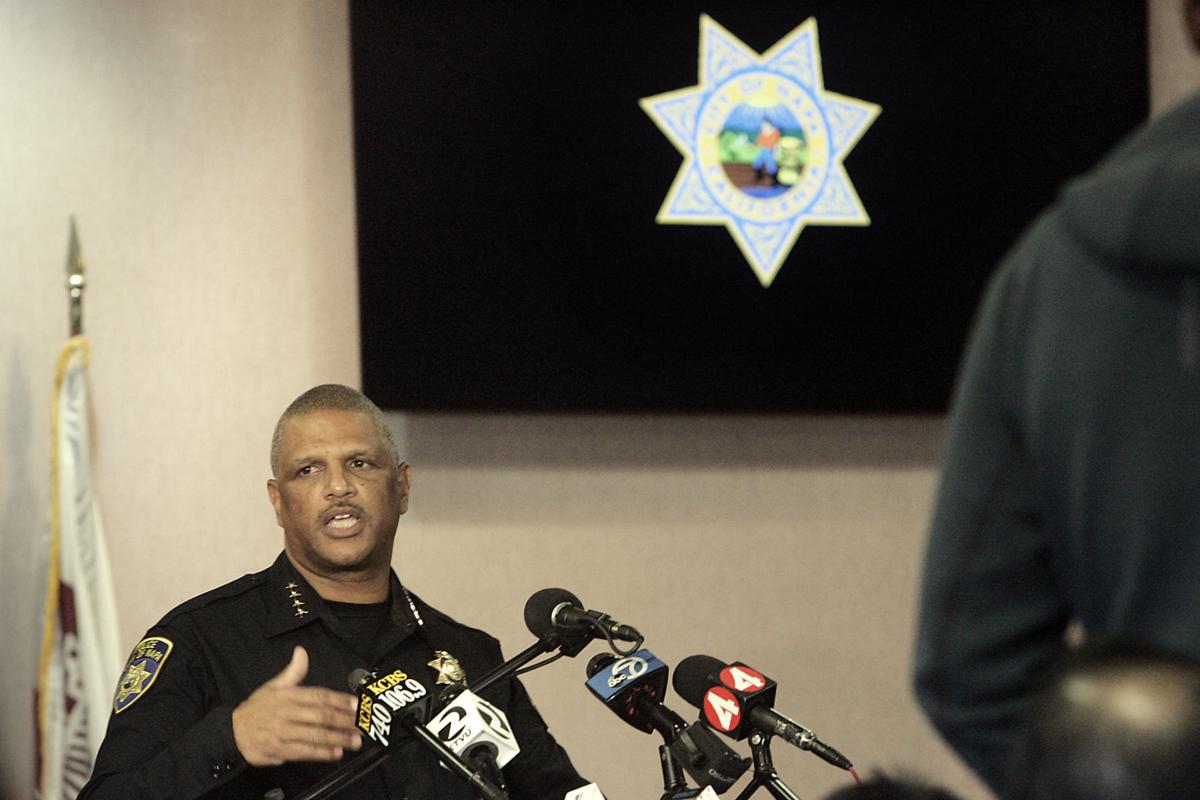 It was a scene like we have not seen before – Napa's police chief standing before the assembled press, painstakingly walking the public through an officer-involved shooting that had happened just days before, using maps, diagrams and lengthy snippets of the officer's body camera footage.
While the presentation didn't completely answer all the questions about the shooting, it made clear that the officer did, in fact, fire after a struggle with an armed man who had been acting erratically. It brought the public into the tense situation, as the officer slowly pursued the man through darkened back yards and wooded trails, and finally confronted him in a marshy ravine.
The press conference was for most Napa residents their first sight of their new police chief, Robert Plummer, who joined the force last summer after a long career with the Las Vegas Police Department.
It was also their first taste of Plummer's style: engaged, transparent, and professional.
Napa has been blessed with a series of good police chiefs over the years, including Plummer's predecessor Steve Potter, now Napa's city manager. In each case, it seems, Napa has been lucky to get the police chief it needed at the time.
We have been watching Plummer since he arrived in July, and this week the Editorial Board finally had the chance to sit down with him in person.
We believe that Napa once more has the right chief at the right moment.
Plummer pledged to make his transparent approach to officer-involved shootings, modeled on the process at the Las Vegas department, the standard for the future in Napa – whether or not the evidence and body cam footage is favorable to the department. Building trust with the community, he told us, depends on consistency and transparency.
Plummer spoke forcefully about building trust and communication with the city's growing Latino population. Previous chiefs have made a concerted effort to reach out to Latino leaders and groups, and Plummer said he plans to expand that by offering a Spanish-language citizens academy, another idea he has seen used successfully at the Las Vegas department.
At first, the academy would attract leaders and influential people in the community, but Plummer said he hopes word would spread in the community and eventually attract young people and potential recruits and allies for the department. That would develop homegrown talent and help demystify the police department for the public, regardless of the language.
Plummer also brings a keen awareness of the stresses that come with being a tourist destination. In that respect, he said, Las Vegas and Napa have much in common. From nuisance crimes and scams to mass shootings such as the 2017 massacre at a country music festival, Plummer has worked on efforts to protect locals and tourists alike and mitigate the disruption that comes with being a world-known destination.
We liked Plummer's vision, and we were impressed with his discussion of the purchase of a new armored vehicle. Previously the department had relied on a military-surplus "MRAP" (Mine-Resistant Ambush Protected), an armored truck developed specifically for operations in Iraq, but that vehicle is huge, cumbersome, and sends an excessively militaristic message to the public, he said.
Instead, he has asked the city council to buy a non-military, police-specific armored truck similar to the one in use by the Sheriff's Office. Not only will it be more efficient and maneuverable, he said, but it will present a less threatening face from the department in an emergency. We applaud Plummer for his approach to his new job. We like how he seems able to translate his big city experience to the quieter, small–town environment of Napa.
We will be watching with interest as he shapes the department to his vision. We believe his tenure chief will live up to the considerable promise he has shown so far.
The Napa Valley Register Editorial Board consists of Publisher Davis Taylor, Editor Sean Scully, and public members Cindy Webber, Ed Shenk, Mary Jean Mclaughlin and Chris Hammaker.