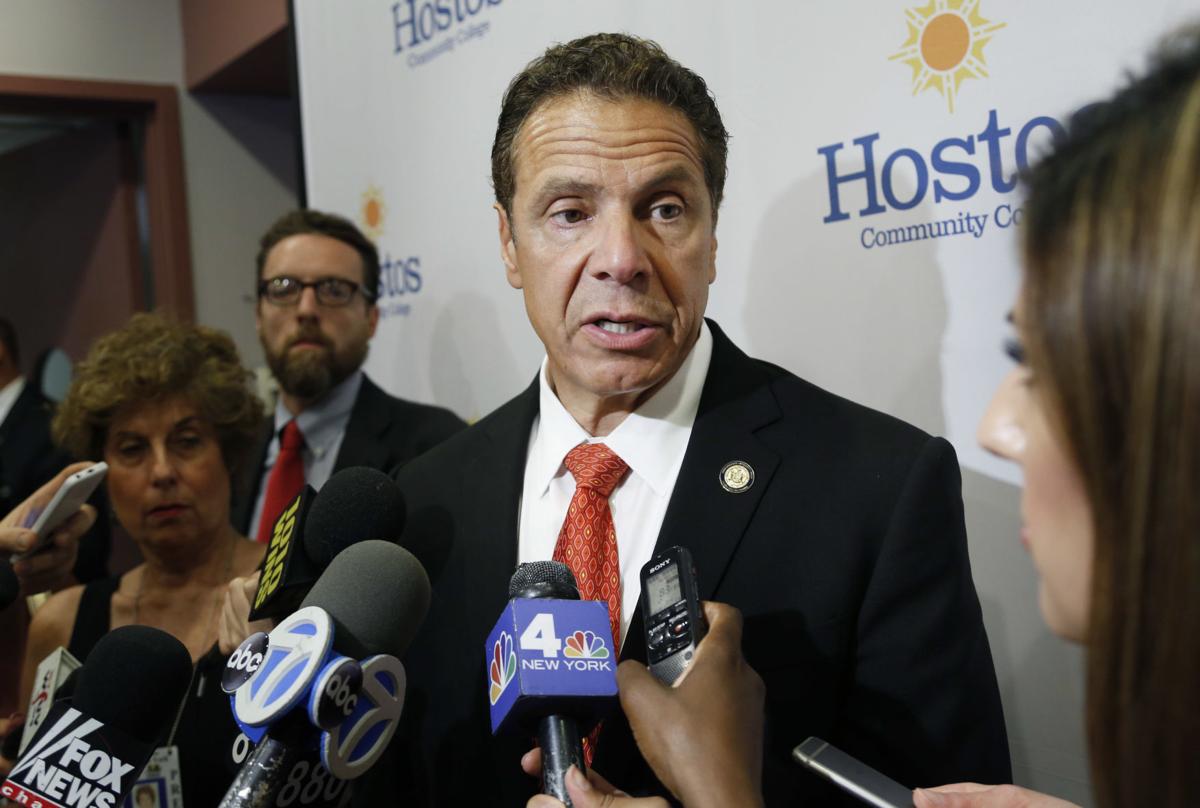 Less than one month before the New York state Democratic Gubernatorial primary, New York Gov. Andrew Cuomo, seeking his third term as New York's governor, is being politically pelted from the Right and the Left, at the same time as Upstate New York is being battered by torrential storms. Yet Cuomo, strong and resolute, is weathering the withering attacks, like his battered fellow Upstaters, just as his father did, decades before.
Cuomo has gotten into court battles with the lawless, amoral Trump administration, almost daily, just the way Mario Cuomo relentlessly resisted Ronald Reagan's attempts to eliminate state and local tax deductions for middle-class homeowners, and to illegally force an unsafe nuclear power plant down the throats of Long Islanders.
Andrew Cuomo has taken dead aim at the financial stability of the NRA, echoing his father's fearless fights with the greedy gun-lobby that couldn't tell the difference between a constitutional right, and their own institutional recklessness, or, today, their sellout to rich Russians out to undermine democracy.
But nowhere has Andrew Cuomo been more articulate in channeling his father, than on the defining issue of our time, immigration and human dignity.
In an impassioned op-ed in the New York Times less than a week after what would have been Mario M. Cuomo's 86th birthday ("A Moral Outrage We Must Not Tolerate", June 21, 2018), Andrew Cuomo, excoriated the Trump administration for its "inhumane treatment of immigrant children."
Cuomo punctuated his well-reasoned legal case against the "complete disregard for parental rights," with a paragraph that could have been written by his father, Mario Cuomo, whose three-terms as governor were devoted to serving the "Family of New York:"
"New York State will not remain silent. Our state has always served as a beacon and opportunity for the world, and the Lady of the Harbor holds her torch high not only to light the way for immigrants, but to light the way forward when our country is lost."
I re-read the paragraph and closed my eyes. The words were familiar to me. I had heard the same sentiments with that same sense of optimism, strength and compassion many times before, having worked for Andrew Cuomo's father when he was governor of New York, and was the ringing voice for people around the country without the power, money or connections to speak for themselves.
I was with Mario Cuomo in June, 1992, when he spoke at New York University's Urban Research Center on Immigration, explaining how his father and mother — immigrants from Southern Italy — battled discrimination each day:
"I thank God the country didn't say to them, 'We can't afford you, you might take someone else's job, or cost us too much.' I'm glad they didn't ask my father if he could speak English, because he couldn't; I'm glad they didn't ask my mother if she could count, because she couldn't…I'm glad they didn't ask my father what special skills he brought to this great and dynamic nation, because there was no special expertise to the way he handled a shovel when he dug trenches for sewer pipe. I'm glad they let him in anyway."
On the day after Andrew Cuomo's Times op-ed echoed his father's eloquence, he traveled to a facility in New York state that housed 15 immigrant children separated from their parents. Later that week, he asked Trump's Secretary of Health and Human Services for information about 345 children kept in New York by the federal government without the knowledge of any New York State officials.
"They are in my state," Andrew Cuomo said. "They are my legal charge."
More importantly, Cuomo's deepest values – the "fundamental right to family integrity" — as taught to him and scrupulously practiced by his father, and mother, Matilda, who devoted herself to the "Decade of the Child" while First Lady of New York State — had been violated. These immigrant children, forcibly taken away from their parents in violation of every religion's teaching, were Andrew Cuomo's children, and he was morally offended by what was being done to them.
I read Andrew's words and was transported back to the Cathedral of St. John the Divine on the Upper West Side of Manhattan, to an electrifying speech his father gave in May, 1990, when racial tensions were near the boiling point in New York, less than a year after the murder of Yusef Hawkins — a 16-year old black child — in heavily Italian Bensonhurst:
"There is hostility, and I don't like it. It makes me cringe. I've seen a lot of it in my time…but we need to refocus our hostility away from one another and onto the government policies that neglect people in need."
Mario Cuomo's words quaked with emotion, shaking the rafters of the huge cathedral:
"Tell me, for God's sake, why are we fighting among ourselves? We must save our strength for the real battles; for fighting the closed-minded people, the skin-heads, the anti-Semites, the racists, the gay-haters…We must save our strength for all the small-minded, shrunken-souled, big-mouthed demagogues who seek to tear us apart."
Cuomo's words resonated with New Yorkers so deeply that the great Pete Hamill, writing in the New York Post, on May 24, 1990, expressed it perfectly:
"Cuomo spoke with the personal authority of a man who had triumphed over stereotypes, over bigotry, over ignorance."
Now 28 years later, when the "shrunken-souled, big- mouth demagogues" are tearing apart this nation, Mario Cuomo's words, personal decency and actions are more urgent than they have ever been.
And, if you listen closely, you can hear him speaking through his son:
"There's a line and it's called basic decency and basic humanity," Andrew Cuomo told NY 1, referring to the Trump administration's policy of rippling immigrant families apart. "And they have stepped over that line."
Steve Villano is a Napa-based blogger. He was a director of Gov. Mario M. Cuomo's New York City press office, and is the author of "Tightrope: Balancing a Life Between Mario Cuomo and My Brother." This originally appeared on his blog.
Catch the latest in Opinion
Get opinion pieces, letters and editorials sent directly to your inbox weekly!