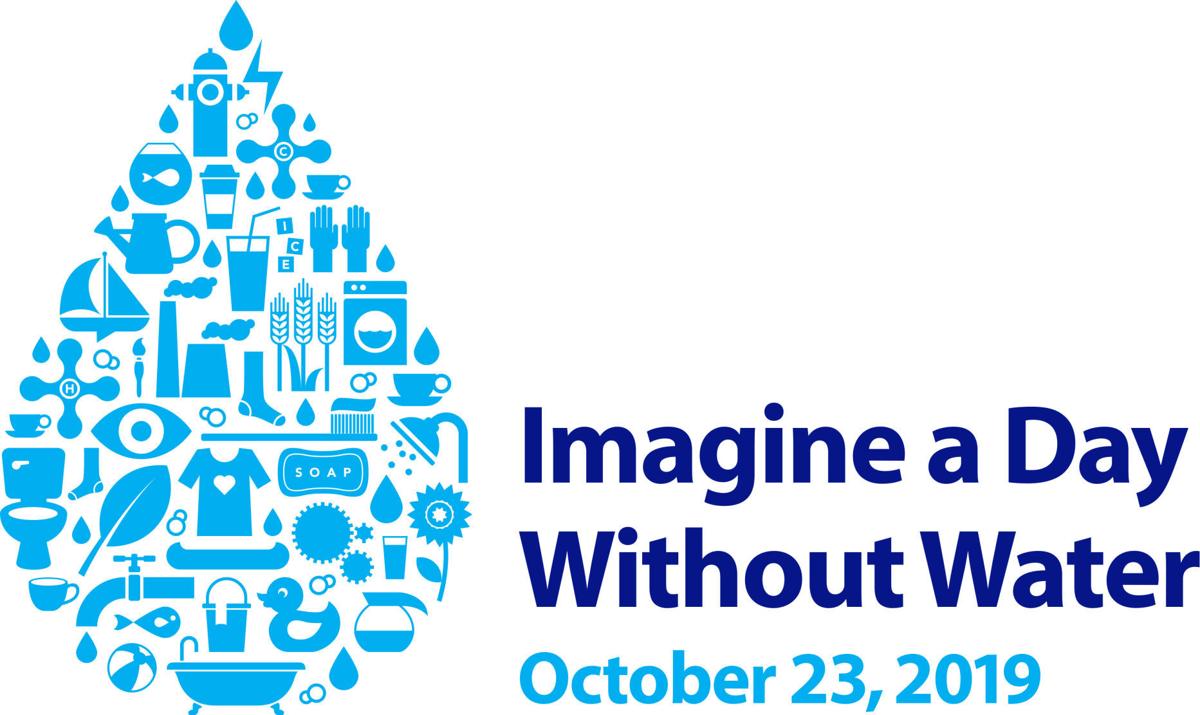 Millions of Americans take water service for granted every day. Turn on the tap, and clean water flows out. Flush the toilet, and dirty water goes away.
With reliable water service, people don't have to think twice about the infrastructure that brings water to their homes, and then safely recycles it or returns it to the environment – but everyone should be concerned with the future of those systems.
Today, October 23, 2019, is the fifth annual Imagine a Day Without Water, a nationwide day of advocacy about the value of water organized by the U.S. Water Alliance. The city of Napa joins more than 1,000 organizations across the country in raising awareness about the crucial need for investment in our water systems. Join us so we can continue to imagine, but not experience, a day without water.
On Imagine a Day Without Water take a moment to think about what would happen if you couldn't turn on the tap and get clean drinking water, or if you flushed the toilet and wastewater didn't go anywhere. What would that day be like? What would firefighters do? Could hospitals be sanitary without clean tap water? Would restaurants and hotels be able to serve guests?
Would farmers be able to water their crops or care for their livestock? Would manufacturing plants that require vast amounts of clean water shut down?
We take for granted that we don't have to ask those questions every day, but America's water infrastructure is aging. Stories of communities with neglected infrastructure and compromised drinking water bubble up regularly. Record rainfalls in the Midwest this spring flooded the Mississippi River with pollution, and this summer toxic algae bloomed in the Great Lakes – a critical source of drinking water for millions of Americans. In the West, drought, wildfires, and earthquakes can threaten critical water supplies.
Americans can't take their water infrastructure for granted.
Water infrastructure is the lifeline of our community. The city of Napa maintains a $480 million network including two local dams and reservoirs, three water treatment plants, nine pump stations, 14 storage tanks, and 360 miles of pipe. Our Utilities Department has 65 trained and dedicated employees to operate and manage this infrastructure 24/7 to ensure high quality, reliable drinking water service for 88,000 people in the city and parts of unincorporated Napa County.
Earlier this month, many residents experienced a day (or several days) without electricity due to a PG&E Public Safety Power Shutoff (PSPS), yet city customers saw no interruption to their water service.
Despite an unprecedented loss of power to all city water facilities, staff were prepared, using generators around-the-clock to ensure the pipes kept flowing.
Expect the same city water reliability during any future PSPS events.
Having endured a 6.0 earthquake in 2014 and wildfires in 2017, city staff are also ready to restore water service quickly in the event of a natural disaster. Full restoration of the underlying infrastructure can take much longer however, and not all costs are fully covered by the Federal government.
Five years after that devastating earthquake, we are nearing completion of repairs to the Highway 29 water main freeway crossings. The crossings were forced to be shut off due to damage and leaks. These repairs will serve to make our system more reliable.
Our water infrastructure supports every facet of our daily lives, but it faces challenges other than power outages and natural disasters. Approximately 140 miles of the city's water mains are 60 years of age or older and will require a prudent investment of capital funds to replace. Thanks to support from our elected officials and our ratepayers, the city's annual capital investment in the water system will increase to $6 million by 2022, while we continue to protect our source water and provide service at some of the lowest water rates in the Bay Area.
Water challenges look different to different communities and will require local solutions, but reinvestment in water systems should be a national priority. Strong leadership on water is key to securing America's future.
Imagine a Day Without Water is an opportunity for everyone to get educated about our local water systems and challenges. We need leadership at every level if we want to secure a better future for the millions of Americans who don't have reliable water service today, and ensure a reliable water future for generations to come. Investing in water is investing in a future where no American will have to imagine a day without water.
Joy Eldredge is Deputy Utilities Director and Pat Costello is Water Resources Analyst for the city of Napa.
Catch the latest in Opinion
Get opinion pieces, letters and editorials sent directly to your inbox weekly!