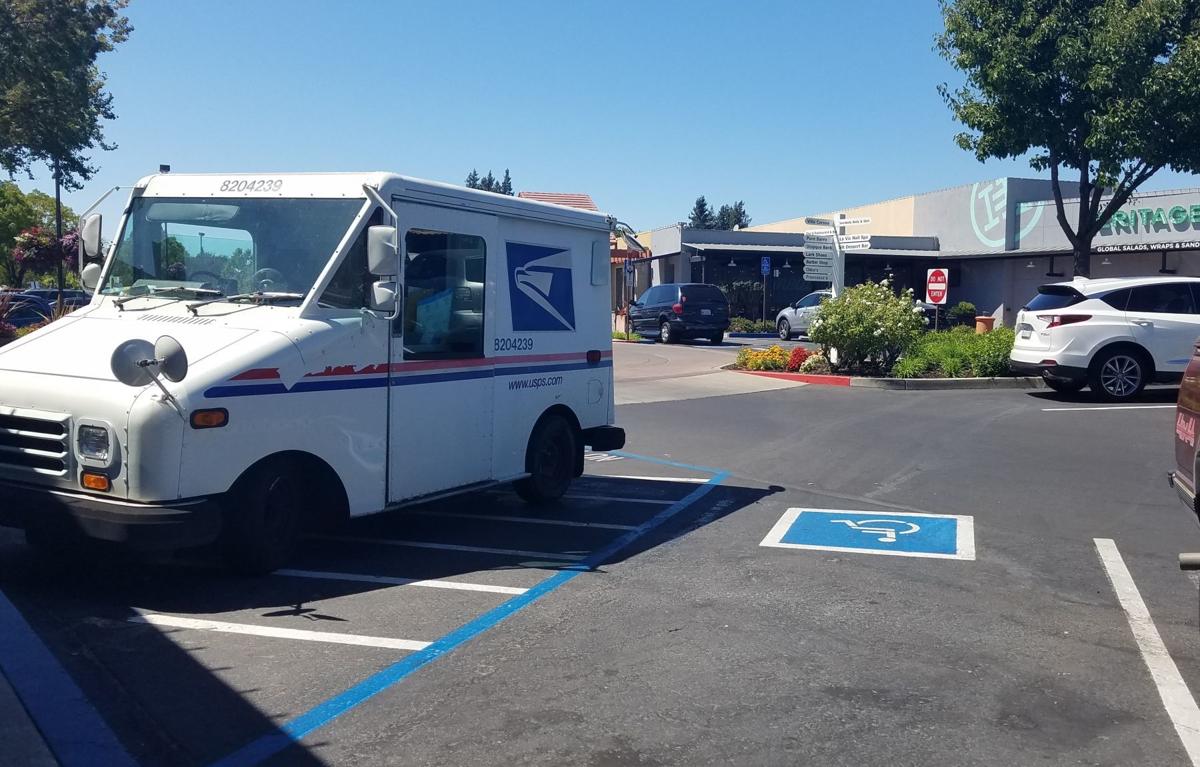 A teaching moment? Perhaps even the United States Postal Service needs educating once in a while.
I have lived here in Napa for over 30 years and have experienced many types and levels or degrees of access for wheelchair users. I think it's time for a little reminder or this is an opportunity to provide some much-needed education on the Americans with Disability Act (ADA) when it comes to parking, especially when it comes to accessible or disabled parking, it's all in your perspective.
I was walking downtown Napa the other day and the sight was seriously depressing—homeless folks begging for money on the streets, littering an…
I see those parking spaces as accessible parking because it gives me the freedom to move about in my community, so that's the term I'm going to use. The accessible/disabled parking places are those spaces that have the universal wheelchair symbol and require the blue parking placard you see hanging on everyone's rearview mirror or license plates that have the wheelchair symbol.
I frequently shop in the Bel Aire plaza, and this is where I had my encounter and "educational opportunity" with a few U.S. postal service drivers. I hope the accompanying pictures are self-explanatory and if they aren't, then we, as a society have a bigger problem than I thought. Human compassion and decency should be a characteristic we want to pass down to our children. Our children learn by our example and adults learn largely by example too. So let's provide the example, and sometimes those teaching moments and examples happen in a parking lot at your local shopping center.
So let's start with spaces that say "Van-accessible." This identifies that space as being able to accommodate a van that has a lift or ramp that deploys/comes out on the right side or passenger side of the van and those diagonal painted lines "hash marks" are there so the ramp or lift will have enough room to deploy/open up and the person can then exit the vehicle. Those parking places are crucial for me in being able to have enough room to get out of my vehicle or for that matter, being able to get back in my car after shopping.
Here is my consistent experience; the van-accessible spaces with the "hash marks" on the passenger side of the car over at Target, this can be either store, South Market Place or Bel Aire Plaza, are always filled with the empty shopping carts. So guess what I have to do if that's the only accessible spot open? I have no choice but to park there and then move those empty shopping carts out of my way because I want to get my shopping done.
After holding seven community meetings and receiving results from the project level traffic analysis, The True Life Companies has put together…
So the next time you see an accessible parking place and think "I'm only going to be here a minute," that might be the minute a person with a disability who needs the van-accessible spot drives by. Or you're pushing that empty shopping cart towards the store and decide to leave it sitting across the diagonal lines/hash marks, you're essentially giving me the middle finger and saying someone else will deal with this, that's what they get paid for and having little regard for those who need this type of parking space.
Please don't think that I'm an angry old woman in a wheelchair. I'm not. I am a mature woman, who uses a wheelchair and takes these opportunities to provide education to those who need educating. I hope you're not one of the people who needs educating. Hopefully, you are being a good parent and teacher to your children and demonstrating through your actions that you have the respect and awareness of the existing ADA laws dictating the rules about those painted lines in a shopping center parking lot.
I thank you, and so does the next person who needs that spot with the hash marks on the passenger side of the parking space. May we all experience and demonstrate compassion and respect for our fellow human beings and neighbors.
Catch the latest in Opinion
Get opinion pieces, letters and editorials sent directly to your inbox weekly!