The Great War
The Great War: American troops excel in Belleau Wood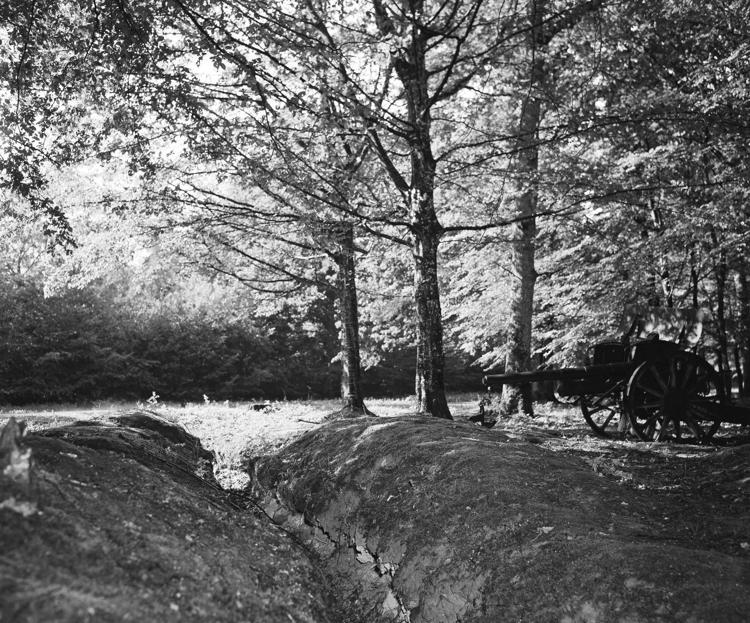 On July 10, 1918, the east perimeter of Belleau Wood near the old river of war, the Marne, was officially secured by American troops.
It was achieved after a month-long attack in June at Belleau Wood by effort of the Army and Marines of the 2nd and 3rd Divisions. An unlikely wedding of the Marines and Army was due to the urging of Marine Corps Commandant George Barnett in prevailing upon both Navy Secretary Josephus Daniels and War Secretary Newton Baker to include the "fighting Marines" in the Army's order of battle.
Although Army General John J. Pershing belatedly protested, "No Marines in France," the "marriage" was an already pre-arranged fait accompli.
Altogether, the Marines would send over a "miniscule" two brigades. The 4th Brigade especially, attached to the Army's 2nd Division, had a role in partaking in the liberation of German-held Belleau Wood and saving Paris, just 50 miles west.
Known as the "Marine Brigade," it escaped the ignominy of being stevedores (unlike other Marines) on unloading docks in French AEF supply ports. The urgency of removing the "thorn" of Belleau Wood by late May 1918, caused Pershing to throw the Marines into the breach, in continental land combat. They would either prove their motto of "First to Fight," or be first to perish in Belleau Wood's depths.
Pershing pandered to 2nd Division commander Army General James Harbord that he was getting "the best infantry brigade" in the AEF. Enthralled with the Marines' spirit, Harbord sported their Corps' anchor and globe insignia badge on his helmet.
For up to 19 hours on the road from May 30-31 , tired but anxious Marines were transported, 25 at a time, in bouncy, careening camion motor trucks, recklessly driven by stoic, sleepy-eyed Vietnamese and Madagascarian French colonial troops.
As they de-trucked, the Marines were accosted by retreating poilus, saying "Le guerre est fini." When a French officer told the Marines to fall in with the retreat, defiant Marine Captain Lloyd Williams replied: "Retreat hell — we just got here!"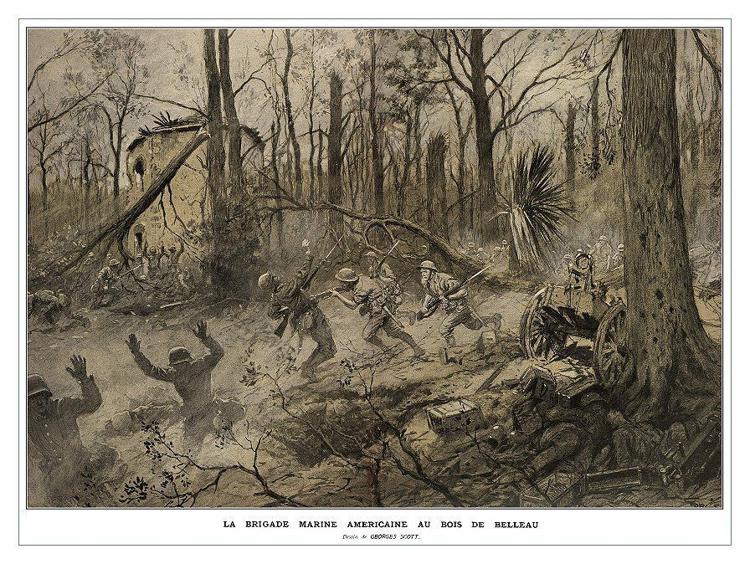 Rather than fully entrenching upon reaching the periphery of Belleau Wood, they dug small pits about 6 feet long, 3 feet wide, and 2 1/2 feet deep, using mess pans and bayonets. An accompanying news reporter, seeing the Marines jumping into their improvised cubbies, called them "foxholes."
The Marines referred to them as "our graves," for they dared pop out only at night to stretch, unseen by the enemy.
Although French Army intel stated there were no Germans inside Belleau Wood , on June 4, German troops sortied toward Les Mares Farm from this wood they had occupied on June 2-3. Wading through chest-high green wheat, "starred with blood- red poppies," they confidently strode toward the "always ready" Marines on June 4.
They were met by superb individual Marine marksmanship—not seen before on the Western Front by any European soldiers. As Marine Pvt. Elton E. Mackin related, he "raised [and fired] his ['03] Springfield Rifle [at] the targets of figures of men, their heads and shoulders rising above the moving grain, [who] suddenly staggered wearily, so close, that one could see the shock of surprise. A hand flung out to ease the fall, then the figures settled limp, pillowed in the broken grain."
They fled to Hill 142, near the western edge of Belleau Wood. Two days later, at 5 a.m., June 6, the Marines launched a major counterattack on the enemy-held hill.
Seizing Hill 142, America's "Soldiers of the Sea" at 5 p.m. moved onward through waves of green wheat to the "atoll" of the raised "shore" of one-half-square-mile irregularly shaped Belleau Wood. To overcome their hesitancy, 19-year Marine veteran, Gunnery Sergeant Dan Daly, upbraided them to move forward toward the forbidding wood.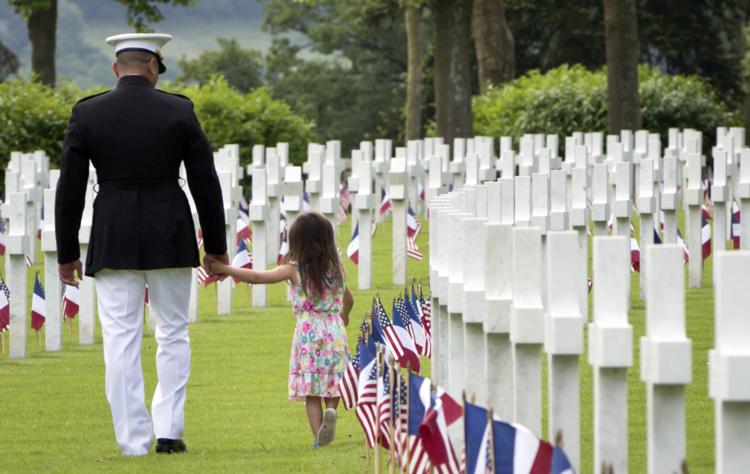 Brandishing a bayoneted rifle over his head he exhorted (in one sanitized version), "Come on, men—do you want to live forever?"
Rising, they strode 400 yards, alternately lying prone, under fire, then entering the wood's abyss. (On June 6, the Marines had an unprecedented 1,087 casualties, not exceeded until landing day at Tarawa atoll, Nov. 20, 1943, costing about 1,500 Marines.)
A genteel hunting preserve in an earlier age, Bois de Belleau, had become a savage redoubt, wherein Marines and Germans hunted each other, often giving no quarter.
Belleau Wood was an abattoir of thickets, splintered trees, and rocky ravines, over which presided taller, 6-inch-diameter oaks, in the aftermath called the "Veterans."
Visibility was 20 feet; if a trooper "turned around twice" he was disoriented. Both Marines and Germans wore "forest green" uniforms (Marines later wore olive drab), easily mistaken, causing fatal friendly fire. German machine guns were well concealed in gullies, brush, trees, angular rocks, and behind very large boulders.
The Germans said the Marines were "savages [who] killed everything that moved."
German cunning in feigning surrender or death, and in falsely wearing Red Cross armbands infuriated the Marines.
"Yellowlegs," (for buff leggings) was the German nickname for Marines; Marines called Germans, "Fritz." "Devil Dogs" emanated from Charles Falls' circa April 1918, "Teufel-Hunden" recruiting poster, illustrating a big, helmeted Marine bulldog chasing a spike-helmeted Dachshund, tail between its legs.
Famished, both sides raided each other's knapsacks, as well as those of their dead comrades, for food—in short supply – within the cramped and tangled wood. Canned food came to the fore. "Willy Corn," "Bully Beef," and "Goldfish" (salmon) in cans—cold or heated—helped nourish both hungry Marines and soldaten in Belleau Wood .
From June 16 to 21, 3rd Division's 7th Infantry relieved the exhausted Marines. Harbord called in artillery support, but the Army troops could not make headway. Tenaciously, the Germans clung to the northern third of contested Belleau Wood. Revived Marines relieved the 7th Infantry on June 22.
With renewed ferocity they fought, firing accurately at machine gun crews, lobbing in grenades, and roaring in upon the survivors, bayoneting resisters, and taking willing prisoners.
Coining it "Hell Wood," individual Marine's "brains and brawn," plus earlier "tough as nails" training, were decisive. (60 percent or more college men comprised Marine regiments.)
Bayonet wounds accounted for many German casualties. Ironically, Pershing's advocacy of the supremacy of rifle-and-bayonet was borne out in close-quarters combat of "Every Man's Land" in Belleau Wood , but not in the more open spaces of "No Man's Land," between the trenches. (Bayonet wound-types were just 3 percent in the Civil War.)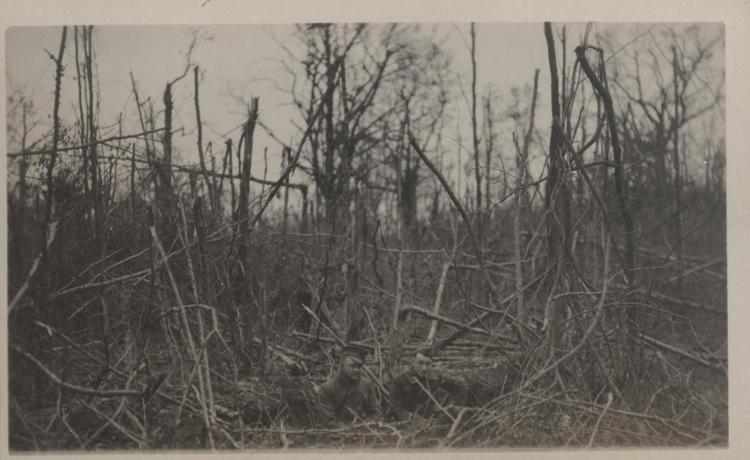 At 3 a.m., June 25, a 14-hour French barrage disrupted the last enemy hangers-on at the northern tip of Belleau Wood. On June 26, USMC Major Maurice Shearer signaled, "Woods now entirely U.S. Marine Corps."
On June 30, French General Jean Degoutte formally renamed Belleau Wood as "Bois de la Brigade de Marine" in thanks.
Ubiquitous Chicago Tribune reporter, Floyd Gibbons—who lost a left eye with the Marines at Belleau Wood — outflanked Army censors.
His news dispatches glorified the Marines at Belleau Wood. Omitted were the sacrifices of Army 2nd Division's 9th and 23rd Infantry, and 3rd Division's 7th Infantry.
Abruptly to be replaced by an ongoing rivalry, the brief Army-Marine marriage foundered on the rocks of Belleau Wood.
Futini is a Napa-based history enthusiast. This is the latest in an occasional series marking the 100th anniversary of the First World War.