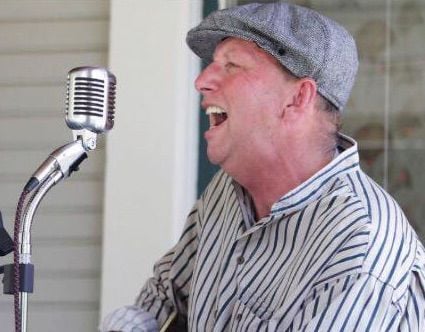 A musician friend of my father, named Wistful Willie, was really my first introduction to traditions of our musician's world. He could play: "Barrel House Blues" that would rival even the Queen Of Swamp Katie Webster.
Wistful rained blues on my daddy's piano, which was a jazz piano, like we was in New Orleans. Commenting musicians' sayings and stories in between his songs, I remember he told me once that there were musicians and then there were musicians. I was 14 years old trying to keep up with him on my guitar as he banged out rocking blues.
Sometimes I have the best of the dumbest luck. For at a non-profit gig in Laytonville, waiting to perform I am backstage ripping slide licks on the dobro guitar, flawlessly ripping Roy Roger triplets and Carl Verheyen, whom I do not know, walks up to me, points at the guitar and says "can you show me that riff please?" I said here is my cell number, give me a call and we can hook up. He says I got my guitar right here, then Carl stands before me guitar in hand and ready to learn that riff. What fun.
The musician's musician standing before me is a kat, and I have no clue who he is. At that time I did not know these facts from Carl's bio:
1. One of the Top 10 guitar players in the world, Guitar Magazine.
2. One of the Top 100 guitarists of all time, Classic Rock Magazine.
In his more than 50 years of playing the instrument, he is a critically acclaimed musician, vocalist, songwriter, arranger, producer and educator with 15 albums and two live DVDs released worldwide.
Carl is commonly regarded as a guitar virtuoso capable of playing any style of music with remarkable mastery and conviction. He is one of L.A.'s elite first-call session players for the past 38 years, playing on hundreds of records, movie soundtracks and television shows.
As a solo artist, Carl has graced the pages of countless industry publications and is the subject of numerous articles chronicling his rise to the forefront of the modern-day guitar scene. A member of the British rock group Supertramp since 1985, Carl has played to millions of enthusiastic fans in sold-out arenas worldwide. As the creative force behind the Carl Verheyen Band, he has released an impressive and eclectic discography.
Carl shares camaraderie and praises from Steve Morse, Joe Bonamassa, Steve Lukather, Brad Paisley, Robin Ford, John Fogerty, Steve Travato, Albert Lee, Jennifer Batten, Scott Henderson, Laurence Juber, Jude Gold, Wolf Marshall, Beth Marlis, John Jorgensen and many others.
Carl's association with Guitar Institute Of Technology (GIT) began at age 24. GIT began operation in the late '70s. Carl used to sneak in for the master classes and split before getting busted. In 1987 he began doing yearly master classes and concerts at the school, some of which are on YouTube. He went on to USC with his studies course; two years ago he retired as Open Counselor at GIT.
As well I say, Carl's legacy can be found in the many guitarists that have adopted his unique style of intervallic performance to their style of playing.
Carl brings style and master skill to his 2017 release, "Essential Blues." Recorded in three days at Sweetwater Studios. The song performances are not only performed with skill and precise form they are (in Latin as I say,) Magnifico, maxime illustre, absolutum perfectum.
My Pioneer PL41 hot-rodded turntable plays the LP version filling my home with exquisite guitar, drums, keyboards, bass and vocals smoothly performing traditional and original compositions. And importantly a finely produced and recorded 10 tracks of high-resolution audio media art riding the high-fidelity bandwidth using today's cutting- edge digital audio equipment in the hands of a seasoned studio musician.
And just to mention the vinyl is killer. Tracks: "I Take What I Want," "Someday After a While," "Stealing Gasoline," "Dodging The Blues," "Good Morning, Judge," "You Don't Love Me," "Stardust Blues," "I May Be Wrong," "Closing Time Jazz," "Oh Well and Hard Times." Create an interesting and imaginative carnival of colorful blues.
My dumb luck brought to me Carl, my second introduction to traditions of our musician's world. Am I singing the praises of a guitar pal? You bet I am. Because it is all about the music and what you can deliver. Carl delivers a landmark blues album. With that said you can find it at: carlverheyen.com, itunes.com and other online sources.
Now the question I ask is: why don't we see Carl perform at Blue Note Napa Valley?
Dalton J. Piercey is a professional musician living in Napa.