On Nov. 11,1918, a so-called "All Quiet on the Western Front" trenches began with the 11 a.m. Armistice. Some 2000 miles away, the Battle of Tulgas in North Russia occurred, pitting invading American, British, and Canadian soldiers against Red Bolshevik troops in frozen snows near the Arctic Circle.
On that day, the first U.S. casualties on Russia's soil were seven killed and 14 wounded. Politically pressured by Britain and France, on July 17, 1918 President Woodrow Wilson had ordered American troops to be dispatched to Russia to, "guard military supplies," protect the lost "Czechoslovak Legion," and "render aid to the Russians in their self-defense."
However, for and against "which" Russians, President Wilson's directive tragically had not clarified.
Shunned by the West as a pariah, the Red revolutionary government in Petrograd unilaterally bailed out of the Great War by arranging a giveaway peace of one-third of both its population and territory to Imperial Germany on March 3, 1918, at Brest Litovsk.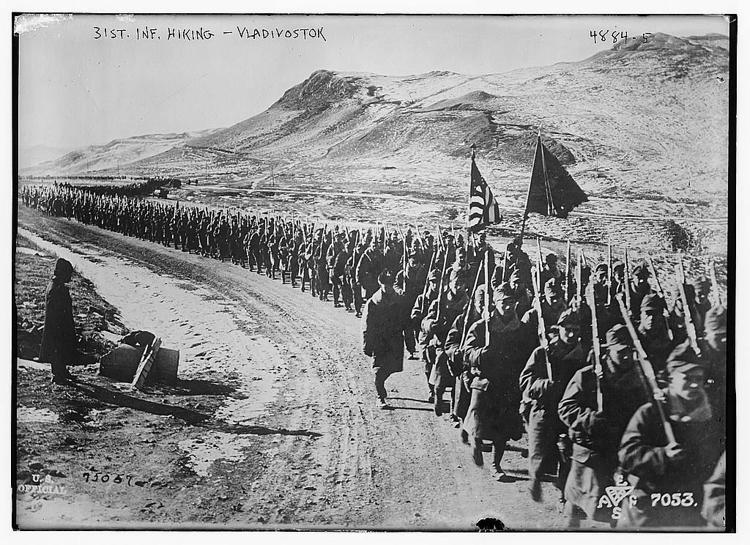 A vast ongoing civil war between Bolshevik Reds and pro-Tsarist Whites across the breadth and length of Russia had erupted. Alexander Kerensky's provisional democratic government, from March-November 1917 was overthrown by Vladimir lllyitch Lenin.
Sidelined from the Paris Peace Conference, a temporarily ignored Bolshevik Russia was seemingly left to its self-determination.
Ultimately, however, about 140,000 Allied, U.S., and Chinese troops were sent to war-torn Russia from 1918-1922 as an "Intervention."
World War I opened wide opportunities for America's women, and eventually helped them gain the right to vote.
French, British, Canadians, Italians, Greeks, Serbs, Czechs, Slovaks, Hungarians, and Japanese all composed the Allied alliance. America and China were "Associates." (Japan's imperial Siberian army intended to annex Siberia to its empire as its buffer against possible Bolshevik aggression.)
Two separate American troop expeditions landed in key Russian ports, one at Archangel on Sept. 4, 1918, and the other at Vladivostok commencing on Aug. 15,1918.
Depicting an impending "super-Cannae" by the surrounding White armies about to annihilate the Bolshevik pocket—roughly centered on Moscow —the strategic map of Russia, was illusory.
Skillfully led by ardent Comrade General Leon Trotsky on a fluid, trenchless front, by Oct. 25,1922 the Reds were victorious.
Commanded by U.S. Lieutenant-Colonel George Ste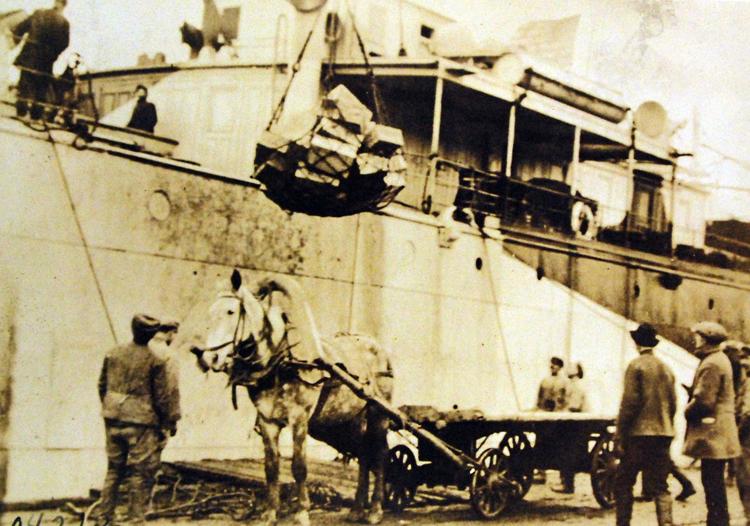 wart, the North Russian AEF element, the 339th Infantry Regiment, was largely composed of Michigan automobile workers (500 were Wisconsinites), nicknamed "Detroit's Own" by the mayor. U.S. planners felt they would be acclimated to the cold, thus their deployment to Russia.
Upon landing, the 339th was immediately ordered to march into battle against the Bolsheviks by ranking commander, British Major Gen. Frederick Poole. To his men's disgust, Stewart remained in Archangel, whose supplies were earlier seized by the Bolsheviks.
Although outnumbered by the "Bolos," the Americans' sobriquet for the Red troops, the doughboys were very tenacious defenders. An attached U.S. engineer unit eagerly constructed hundreds of heavy log blockhouses so stout they could withstand everything except a direct hit from the Bolos' big field artillery.
It was harder for a U.S. presence to inspire White Army soldiers into combat against the Reds. White gunners were cajoled by doughboys to man their support artillery. Disheartening was the dour local villagers' indifference about rallying to the North Russia, American and Allied effort to liberate them.
One hundred years ago, on June 28,1919, a "peace to end all peace" was signed as a treaty ending World War I in the great Hall of Mirrors in the Versailles Palace in France.
Typically beheld was "a cluster of dirty huts, dominated by a serene white steeple church in the terrible grasp of devastating Arctic cold [under] grief-laden skies."
Religion rather than democracy was the "opium" of the peasants.
Presently, the "northern horror," a despair of their mission's utter purposelessness, seized upon the U.S. interventionist troops' spirits. Ignorant of the November 1918 Armistice, they had not been apprised of it until late January 1919. (Ordered to defeat the Reds, Allied troops felt some purpose.}
Depression, frostbite, malnutrition, lice, pneumonia, and mutiny soared, as U.S. morale plummeted with the thermometer — which, recorded, in the range of 40 to 60 below zero. Perhaps the nearly sunless cold's capability to instantly coagulate external combat bleeds, preventing massive hemorrhages, was a partial consolation.
In 1918 and 1919, the tiny influenza virus proved more powerful than the might of all the world's nations combined.
Bitter Russian-American immigrants in the U.S., who protested the Intervention by distributing pro-Bolshevik leaflets were incarcerated in the Tombs "dungeon" on Manhattan Island for being in violation of the Sedition Act of May 1918. President Wilson had admonished America, its most dangerous traitor was the "hyphenate." Ever on the defensive, not receiving reinforcements or adequate supplies, Detroit's Own were in a "semi-paralytic" limbo.
Rising to voice dissent for its sons — isolated in a distant undeclared overseas war — the Wolverine State spoke up. Assailed by a, 110,000-signatures petition to bring home the 339th, U.S. Secretary of War Newton Baker (himself not enthusiastic to U.S. intervention in Russia), went to Detroit and reassured they would return.
On Feb. 17, 1919, he authorized the withdrawal.
Embellished as the "Polar Bears," of the original 5,500, 4,500 returned to Hoboken port by late June 1919-after Archangel and Murmansk became thawed-out and ice-free, in time to celebrate July Fourth on Belle Isle with thankful family and friends.
Belatedly too, returned the bodies of 212 Polar Bears, shipped back home in stages, from 1919 to 1934, the United States having recognized Soviet Russia on Nov. 16, 1933.
In an area the size of Maryland and Delaware, the Rhenish numbered 7 million, or 11 percent of Germany's total population. Doughboys and residents had to win each other over.
Thirty remained where they died within the embrace of Mother Russia. At Russia's opposite end, 5,000 miles east, U.S. Major Gen. William Graves led an American Expeditionary Force of one California and two Philippine regiments, to safeguard Vladivostok port for the succor of the Czech Legion.
They were also a deterrent to a large Japanese Imperial army of 70,000 — far in excess of the agreed-upon cap of 12,000 troops per Allied or Associate power in Eastern Siberia during 1918-1920.
(Japan claimed that a 2,000-member U.S. civilian support team, attached to the Siberian AEF, already "violated" this limit, providing it an excuse for its larger force.)
About 50,000 Czechs, Slovaks, and Hungarians were all members of the stranded Czech Legion — actually, a corps — whose name was derived from the French Foreign Legion, which had included Czech troops on the Western Front. They were stranded in Russia when the Soviets withdrew from the war.
Lenin's government at first allowed the Czech Legion free passage from the defunct Eastern Front via the Trans-Siberian Railway. A clash between the Czechs and Magyars (i.e., Hungarians) while en route made the local commissars demand their disarmament for continued safe travel, which the indomitable Czechs refused to obey. Idyllic champion of a self-determined post-war Czechoslovakia in Eastern Europe, Wilson prioritized the Czechoslovak Legion's deliverance.
One hundred years ago, on his lucky day, Friday the 13th, December 1918, arriving in Brest, France, Woodrow Wilson (1856-1924) made history as the first American president to visit Europe.
The AEF guarded the Trans-Siberian Railway. Wisely, Graves did not get ensconced in the Entente-Japan-China military actions against the Bolshevik Reds — nor in the political intrigues of the Whites — in spite of much pressure upon him to help crush Bolshevism in its cradle. (To protect Chinese worker settlements in Siberia, China had sent 2,300 troops.)
American ambassador to Russia David Francis,appealed to Wilson to additionally send 100,000 U.S. troops to "bury the putrid corpse" of Bolshevism.
Cannily, a well-informed Wilson realized that escalated U.S. intervention in Russia would not be tolerated by an America now wanting renewed home prosperity, especially with the June 28, 1919 signing of the Versailles Treaty.
April 1,1920, saw the last Americans of the Siberian AEF depart, losing 189 men in nine months while saving the Czech Legion and Eastern Siberia.
Futini is a Napa-based history enthusiast. This is the latest in an occasional series marking the 100th anniversary of the First World War and its world-shaping aftermath. He will give a presentation to the Napa Evening Rotary Club, Tuesday, March 17, 2020, at 6:30 p.m., on the topic of "The Versailles Treaty at 101, 1919-2020."
Catch the latest in Opinion
Get opinion pieces, letters and editorials sent directly to your inbox weekly!