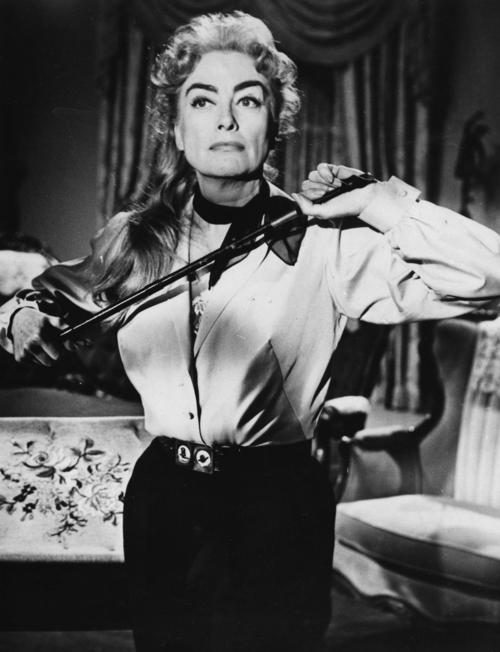 The legendary screen actress Joan Crawford was cast in one of the three horror segments in the 1969 television pilot movie Rod Serling's "Night Gallery." She'd play a blind wealthy lady who regains her eyesight for only a few hours during a New York City blackout and doesn't realize the circumstances.
Since the silent motion picture age, the veteran actress demanded she give the best performance of herself and depended on the director's sole approval. She was somewhat concerned with the phony, unrealistic dialogue in the "Night Gallery" script and arranged to meet the Universal Picture director at her Hollywood apartment.
She'd never met Steven Spielberg before that afternoon and expected him to be a mature man in his fifties. Unknown to her, Spielberg was nervous about meeting Miss Crawford. He bought the book, "The Films of Joan Crawford" and studied it.
Preparing for the role of a blind woman, Joan Crawford blindfolded herself and stumbled around furniture inside her apartment that afternoon. When Spielberg knocked on the door, she called to him from the living room with her throaty voice, "Come in, Steven."
As he walked into the living room, she told him that she was preparing for the role. She suggested she walk around the studio set blindfolded to become familiar with area.
Removing the blindfold, she blinked her bewildered eyes as they adjusted to the sight of the young man with a baby face. He was barely 21. As they shook hands, she marveled and said, "You must've done something really important to get to where you're at so quickly. What films have you directed?"
Shrugging his shoulders, he admitted that he hadn't directed any films for Universal Pictures yet.
Then, he told her that Universal heads were impressed by a 21-minute short that he directed while still a film student at Cal State.
On the "Night Gallery" set, crew members were surprised at the youthful appearance of Steven Spielberg. Joan Crawford covered for him and told the crew a lie that she'd worked previously with Spielberg on another film set. They accepted her story. However, the first day of shooting went badly.
Barry Sullivan and Tom Bosley ("Happy Days") both experienced TV actors had difficulty with Serling's lines. As for Joan Crawford, the dialogue was an ordeal for her.
She had trouble remembering her lines. After two days of shooting, Joan became more comfortable with the dialogue. Nevertheless, Spielberg was behind schedule.
Although Spielberg was behind schedule, he especially enjoyed directing Joan. He liked the way she moved before the camera. She had cool calculation of walk—legs straight, back stiffly erect, and shoulders back. Instead of pushing the camera on her, he sought the effect that she was drawing the camera towards her.
Despite the difference in their age, Joan treated Spielberg with professionalism. She sought his advice on how to play the scenes. He listened to her concern, and made suggestions on how best to play out each scene. They developed a good working rapport, and were keeping on schedule with each shot.
Then, one day, Joan fainted on the set.
Later, Spielberg learned that the actress had an inner ear infection and was prescribed one day of bed rest by her physician. Once again, the first-time director was behind in his shooting schedule and worried that he might not get future filming assignments from Universal. Back at the studio office, big wigs were coming unglued about the delay in shooting. They badgered Spielberg to complete the project.
More concerned about completing the filming schedule, he ignored Joan's request for help with the newer scenes. She felt hurt and betrayed by his refusal to meet with her. She needed the reassurance of the young director just as she had with previous other directors.
On the last day of filming, Spielberg came to the movie queen's dressing room. She expressed her frustrations by telling him that he let her down. Spielberg apologized to her and explained that he got caught up in production demands. That day, he sent the film crew away and spent all day listening to her concerns about the scene. The next day, they spent most of the morning and afternoon filming the last scene until Joan felt her take was right.
Joan Crawford and Steven Spielberg never worked on another film project again. The following year, the movie queen starred in the low-budget sci-fi flop "Trog" and made her final film appearance in on the 1972 TV episode of "The Sixth Sense."
Spielberg went onto direct "The Sugarland Express," "Jaws," and other blockbuster movies.
Carl G. White lives in Napa