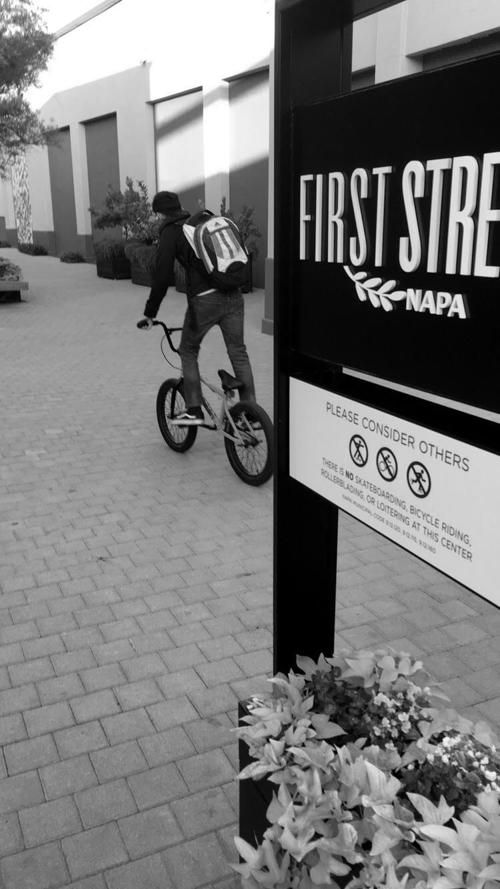 The feeling of being watched all day every day and being controlled like the channels on the radio is what leads us teenagers to rebel against rules, as we feel the need to assert our own power.
My photo represents the rebellious side of teenagers. By sometimes breaking rules, we get the feeling of power and freedom back.
The pressure of fixing what is left and the struggles of having a future is like the crammed layers of sediment being compacted down until they finally try to break free from their confines.
The black and white background shows the pressure of our damaged planet that our generation is left to fix, such as having to cut back water usage that was caused from years of reckless usage.
The plants in the pots represent our precious trees that are valuable for our planet and are being cut down or burned at a malicious rate.
With all the toxic gasses being released every day, the grey sky in the background shows the toxicity-filled atmosphere.
As reported in the Napa Valley Register on Nov. 5. this year, New Delhi is being suffocated in the smog-polluted air and the world does not have enough trees to compete with our over-production of carbon dioxide. Although some believe that planting 1.2 trillion trees might be a solution, do we even have the money or the will to do that?
The part of the sign that says "please consider others" is included in the photo, for older generations to reflect on what they have done to our planet. Do they consider others when economics is placed above the environment that we inherit from them? Why aren't these signs on the road for people driving gas-guzzling cars?
Perhaps my photo makes people think that Gen Z is merely reckless.
But if older generations looked back and reflected on some actions they did as kids, we do the same things, just differently.
Older generations rebelled against a lack of rights and broke rules in protest.
So instead of focusing on every bad decision Gen Z does, older generations should reflect on what we all want in common: freedom.
Julio Venegas is a ninth- grade student at New Technology High School in Napa.