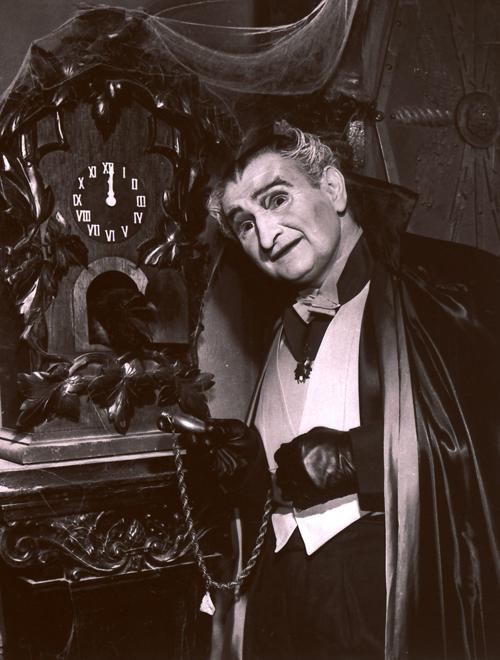 Beverly Owen, a New York City actress, came out to the Coast to film the pilot for an unusual new TV sitcom, "The Munsters." She was awarded the part of Marilyn Munster, the beautiful college niece of the ghoulish family that lived in an old crumbling mansion at 1313 Mockingbird Lane in the make-believe town of Mockingbird Heights.
The young woman was told by the production company that pilot wouldn't sell, and make the 1964 fall schedule. She was going with a young man and didn't want to be faraway from him for a lengthy filming duration.
A 15-minute colored episode, "My Fair Munster," was filmed to pitch to the CBS Network producers. It opens up with Marilyn Munster being driven home by her date. She takes him up to the door to meet her relatives, but doesn't have her key.
She knocks on the door. When the door opens, out steps a Frankenstein creature. Her date gets one look at Herman Munster (Fred Gwynne) and takes off running and jumps over the brick wall. He quickly speeds off in his convertible. Marilyn falls into the Mary Shelley creature's big arms, crying, "What's the matter with me, Uncle Herman?"
She blames herself for not being attractive, not realizing she is a beautiful young lady.
Later, Herman complains to his vampire wife Phoebe (Joan Marshall) about being stuck with Marilyn, and nobody on his side of the family looks like her. Meanwhile, Happy Derman, who plays Eddie Munster, is acting bratty and climbing the walls.
And, of course, Grandpa (Al Lewis) is down in the basement in his laboratory. He was the 350-year-old Count Dracula.
CBS executives like the bold concept. However, they see problems with using Joan Marshall as Phoebe Munster. She reminded them of The Addams Family's Morticia (Carolyn Jones.) They replaced her with movie actress Yvonne DeCarlo.
Happy Derman is also replaced in playing the television role of Eddie Munster. Butch Patrick takes over. He plays a more likable, ordinary boy.
Fred Gwynne and Al Lewis are happy to be working together again. The previous year they starred in NBC TV sitcom, "Car 54, Where Are You?" However, they object to movie actress Yvonne DeCarlo replacing Joan Marshall. They share their concerns with the producer that Miss DeCarlo might be difficult to work with on the set and want movie star treatment. Their concerns aren't taken seriously by the big suits.
DeCarlo proves to be an asset in the role of Lily Munster. Both televisions actors are pleased with her comical performance.
The sitcom spoofed popular domestic sitcoms like "Leave It To Beaver," "Father Knows Best," and "The Donna Reed Show."
Also, it's filmed in black and white.
Meanwhile, Beverly Owen became more and more depressed. She misses her young man and wants to return to New York to be with him. However, she couldn't get out of her seven-year contract with the studio.
Lewis and Gwynne noticed Beverly crying all the time. They went to the studio heads and demanded for them to let her out of her contract. If the studio heads won't let her go, the two men plan to quit the show. She's released from her contract after appearing in 13 episodes and returned home to get married.
Pat Priest, daughter of U.S. Treasurer Ivy Baker Priest, took over the role of Marilyn Munster.
She bears a striking resemblances to Beverly Owen and fit perfectly in her costumes. The television viewing audience didn't notice the change in actresses.
"The Munsters" continued for a second season. However, color programs made it hard for "The Munsters" to go for a third season. The show was cancelled.
In order not to disappear completely from the heart of viewers, a Technicolor theatrical movie, "Munsters, Go Home" was going to be made by Universal. Pat Priest was immediately replaced in the role of Marilyn Munster by 17-year-old Debbie Watson.
She's absolutely crushed when she learned she won't be in the movie role.
After "Munsters, Go Home" was filmed in England, Gwynne, DeCarlo, Lewis and Patrick departed from their television roles. However, the three adult actors return to their roles in the 1981 television movie "The Munsters Revenge." New younger actors play the roles of Marilyn and Eddie Munster.
"The Munsters Revenge" was supposed to bring a new interest and attempt to make a new sitcom for the early 1980s. Sadly, it was shown the same night as "The Wizard of Oz" and fails to attract a new fan base.
Carl G. White lives in Napa.
Catch the latest in Opinion
Get opinion pieces, letters and editorials sent directly to your inbox weekly!