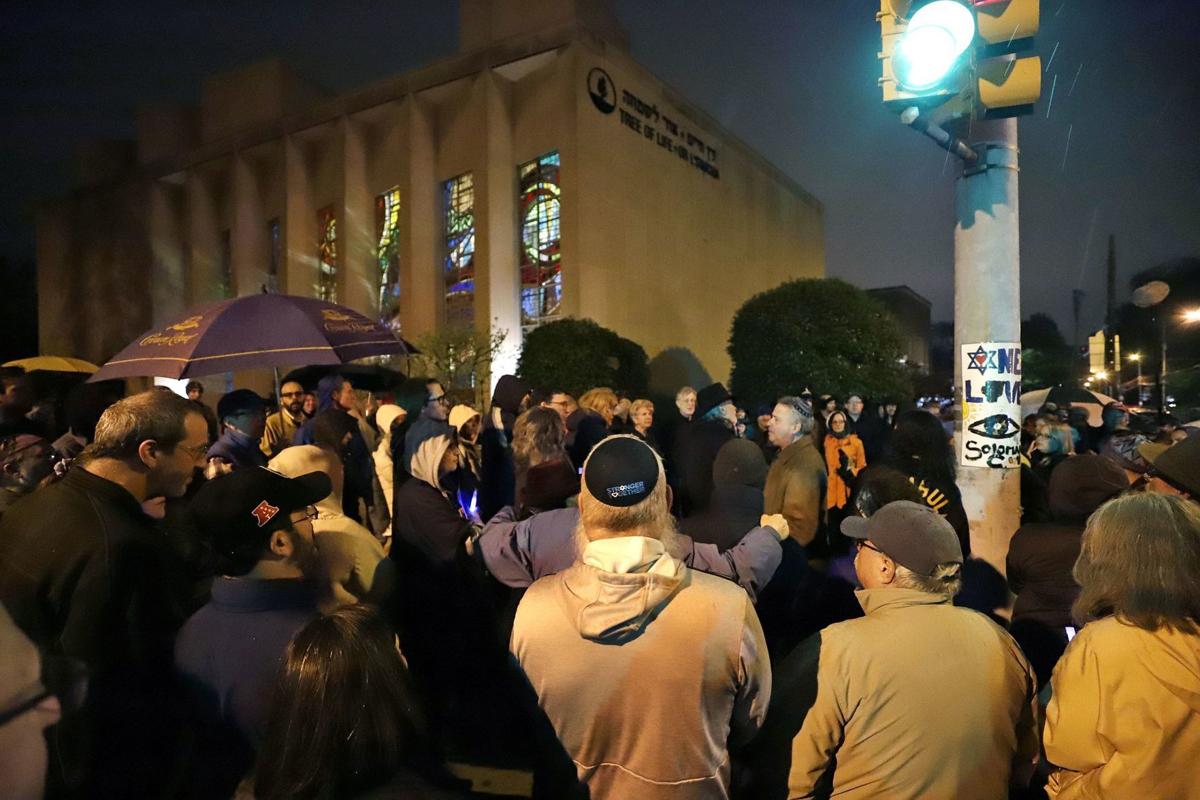 You don't have to look very hard.
In 2017, when white nationalists marched in Charlottesville, Virginia, many of them held torches in the air and chanted the refrain, "Jews will not replace us!" It was disturbingly reminiscent, in both tone and visual appearance, of one of the Nuremberg rallies in Nazi Germany.
In 2018, a white nationalist stormed Tree of Life Congregation in Pittsburgh, Pennsylvania, and murdered 11 Jews who were in the middle of their Sabbath prayers.
In April of this year, another white nationalist burst into a synagogue in Poway, California and shot a Jewish woman dead, also in the middle of prayer on a Jewish holy day.
Examples of hateful, violent and often lethal anti-Semitism are all around us.
There is a larger context for all of this hatred and violence. We live in a time when white nationalism has reared its head in a much more brazen fashion than it has in the past, tolerated if not quietly encouraged by some of our political leaders.
In 2015, a young white nationalist entered the Emanuel AME Church in Charleston, South Carolina and slaughtered nine African American men and women during Bible study.
This is a worldwide phenomenon. In March, another white nationalist drove to two different mosques in Christchurch, New Zealand, and killed 51 Muslims at prayer.
Other instances of violent white nationalism in Europe and elsewhere are common.
There is no question that these hate crimes are real and growing, and that they must be stopped at all cost. Racial and religious minority groups should not have to live with the anxiety and dread about when the next eruption of violence is going to surface.
But anti-Semitism has its own particular niche within the universe of hate, and it has been around for a very long time.
Jews were persecuted and murdered over the centuries by the Catholic church, through crusades, inquisitions, expulsions and pogroms.
Jews were tolerated, but often oppressed and treated as second-class citizens, in Muslim lands.
And anti-Semitism reached its horrific apotheosis during the Holocaust, led by the Nazis but with the participation, and complicity, of countless non-Germans.
While many academics have studied the history of anti-Semitism, no one has really been able to come up with a clear answer that explains its widespread and ubiquitous presence. Still, it is a dark reality, and it is with us again today. What matters to me, as a Jew and as a rabbi, is not its roots but how we bring it out into the light, confront it as a society and ultimately defeat it.
There are glimmers of hope.
After the Pittsburgh shooting last year, my synagogue held an interfaith memorial service for the victims. Hundreds of people from around Napa Valley came to pray, offer solidarity and engage in dialogue. Several colleagues of mine from Napa's interfaith clergy council spoke movingly and eloquently. Police chief Robert Plummer and Mayor Jill Techel offered their unconditional support.
This coming Thursday, Congregation Beth Shalom is hosting a Jewish-Muslim solidarity dinner with members of Napa Valley's Muslim community, an initiative through which we hope to build bridges, and friendships, with a fellow religious minority group.
There is much work left to be done.
We need to educate one another about our differences as well as our similarities, and we need to do it in a way that is civil and dignified.
We need to break out of our communal and social media silos and start talking to each other, respectfully, despite our sometimes divergent views and backgrounds.
And we need to call our political leaders to account for inflaming racial and religious division and bigotry, and for encouraging—whether directly or not—the scourge of white nationalism and anti-Semitism.
If we do these things, and if we do them with a sense of moral clarity and common purpose, then we will make it through this troubling chapter in our history and come out stronger and more enlightened, and even more ennobled, than ever before.
Rabbi Niles Elliot Goldstein is the spiritual leader of Congregation Beth Shalom of Napa Valley. He is the founder of The New Shul in New York City and the award-winning author or editor of 10 books, including "Gonzo Judaism" and "God at the Edge."
Catch the latest in Opinion
Get opinion pieces, letters and editorials sent directly to your inbox weekly!