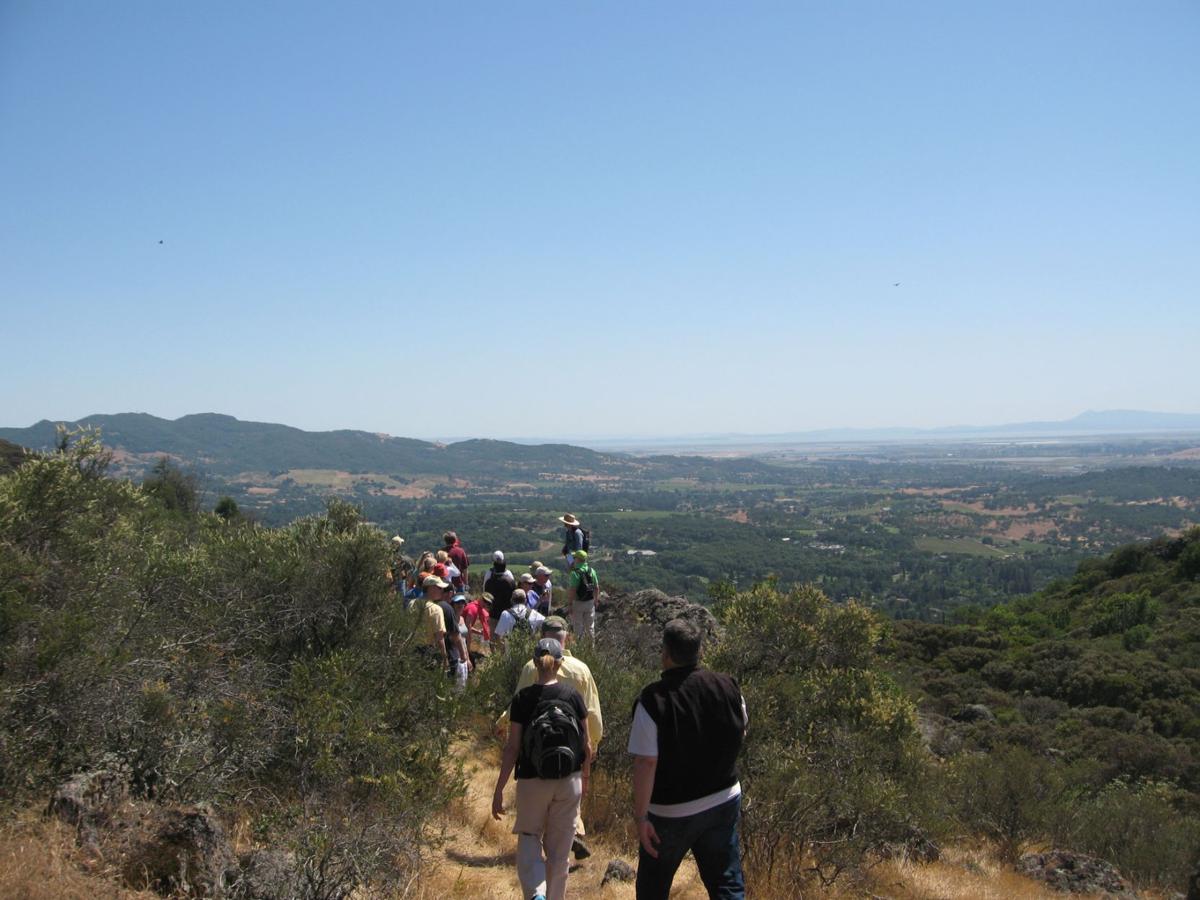 For those who enjoy the sound of fallen maple leaves crunching underfoot while hiking scenic trails during Napa's gorgeous fall and winter months, the Land Trust of Napa County's field trip program is able to offer just that.
The program hosts an array of guided hikes, walks, paddles, and talks which serve to connect the Napa County and other Bay Area cities with our permanently protected lands.
Not only do these outings provide recreational opportunities for the public on these cherished places, but they also provide a means to share the stories of how and why these lands have been protected, while also teaching about the ecological values that they provide.
For instance, a hike on the Foote Botanical Preserve on Mount George explores the historic wagon trails that served as the main route of travel from Napa to Berryessa in the 1800s, including former homestead sites, while sharing stories of the stages of the Preserve's formation dating to 1977.
A hike focused on the highlights of the Dunn-Wildlake Ranch Preserve will wind through watershed vistas and a myriad plant communities to admire, from Douglas fir and canyon live oak forest to McNab cypress woodland to chamise chaparral.
Geology-themed hikes provide information on the fascinating formations of Napa's distinct landscape. With the wide spectrum of themes covered, there are outings available for all interests.
Field trips take place on properties that the Land Trust helped to protect. Many of the field trips take place on lands that have been donated to the Land Trust as permanent preserves that we own and manage in perpetuity, like Linda Falls in Angwin or the Archer Taylor Preserve northwest of Napa.
Other outings may visit conservation easement properties, like the Mead or Henry Ranches, where the Land Trust and individual landowners develop the optimal conservation plan toward preserving their land forever.
Additionally, the Land Trust leads outings on open space, parks and wildlife refuges that we helped protect initially, such as the Stanly Ranch Wetlands, the Oat Hill Mine Trail, and other parts of Robert Louis Stevenson State Park, which are managed by partner organizations and agencies (like California Department of Fish and Wildlife,, State Parks, Napa County Regional Park and Open Space District, and City Parks).
Our field trips visit a range of properties throughout the county that you otherwise may not hear about, and allows the opportunity to become familiar with these incredible places.
Composed of more than 20 dedicated and knowledgeable volunteers, our group of team leaders makes each outing interesting and unique. This program would not be possible without the leadership of the volunteers who guide these events. Many of our current leaders began has field trip participants years ago and became more involved over time. This program is one of the Land Trust's largest areas of volunteer involvement.
Within the field trip program are ongoing stewardship workdays, which invite local residents to become involved in hands-on projects throughout our Preserve lands. Projects consist of invasive species removal, native plantings, trail maintenance and more. We are fortunate to have volunteer stewardship leaders and participants working together to improve habitat and watershed values on these lands. For those who enjoy physical challenges, and who like to see the steady improvements that result from ongoing stewardship efforts, these workdays are very rewarding.
To find out more information about this program, or to register for an event, visit www.napalandtrust.org, or call us at (707) 261-6329. We hope to have you out with us soon.