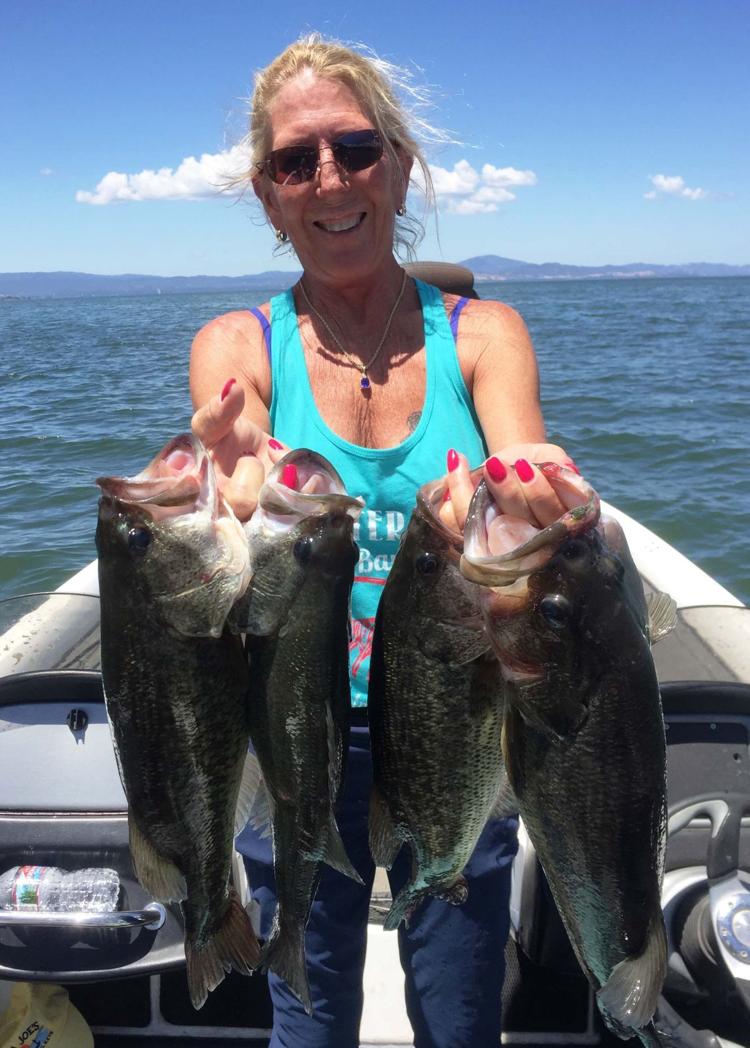 I Said, "Stay Tuned"… for a Clear Lake bass report in my June 15 weekly fishing report. I'm glad you did; got lots of stuff on that subject for you after my favorite fishing partner, Lora Trinchero, and I fished with pro guide Jeremy Taylor on Monday.As usual, Lora was out of the box fast at 5:45 a.m. – and didn't give me any running room till late in the day. Look: She caught the first four fish! Then she caught the most; then the last. I had a slight redemption with the largest, a fat 5-pounder. Our stop at Horseshoe Bay was a new high for her – she led the way fish after fish, with a grin for each. It's a good thing she sneaks into Lakeport before dawn. If those bass knew she was coming, they would certainly stay home that day.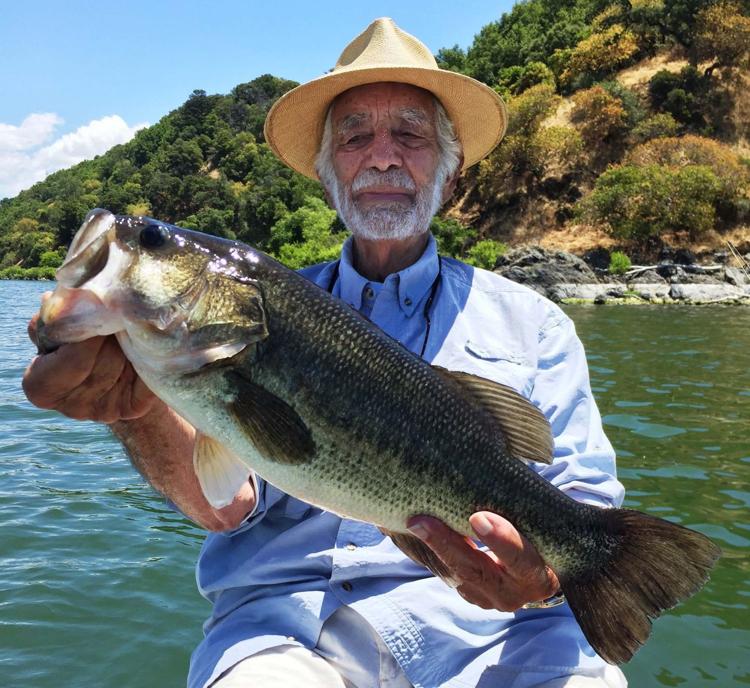 We boated and released 66 largemouth bass on Monday. It is the largest one-day take Jeremy has had on his boat so far in the first half of 2018. They were all fat and healthy at 3-4 pounds, just a year or two from being 5-pounders. We caught most of them in shallow water on a natural-colored Baby Brush Hog.
Jeremy rigged them drop-shot style and told us not to wiggle them when they were on the bottom. They work best "do nothing" style. While it is a classic approach, drop-shotting is always a renewed lesson for me. You must be sure the bait is on the bottom; it is essential that you keep a tight line to the bait – without taking it off the bottom.
That light bite could happen to you and me all day long if your rod can't feel that little wiggle when a bass mouths the bait. The only way it can is by keeping the line tight enough to feel that little peck on the hook. The good news is that the bass wanted to hang on when they bit, giving us a chance to stick 'em good with a short swift hook-set.
Keep that line tight when fighting the fish; let the flex-bend in the rod be your best friend by keeping your rod tip high. Take care as your fish comes up close where the guide can net it. The shorter the line, the lower the amount of elasticity you have that lets big fish motor away without a break off. Call Jeremy at 349-6797 and tell him you want to fool a bunch of bass.
More Clear Lake Bass? … Yep, I fished solo with pro guide Bob Myskey on Tuesday. Some interesting comparisons—and differences – showed up. The target water depth was 13 feet instead of Monday's shallow bass concentrations. The same color brush hog worked, but we had some good success with the Ned rig. This is a silly looking piece of plastic and a silly square weight, and it catches bass. Those subtle differences are why I fish with a guide; nobody else can put enough time on the water to be able to figure these things out. I know they have diaries that let them look at the action on the same days of previous years.
We caught and released 39 largemouth bass on Tuesday, a combined 105 total for the two days. That's just a bit shy of nine bass an hour. We had four or five "doubles" that are always fun when the guide swings that net to get both of them on one swoosh. Bob has fished three generations of the Ryans, and put me on my biggest bass ever – it weighed 10.1 pounds. You can call him at 349-4460.
June Newsletter… from the Best Bass Tournament folks. I'm pleased to follow this organization's very professional tournament schedule. One reason is that many of their tournaments are fished on local water close to home – perfect for our local bass tournament anglers as well as budding bass fishers, who can get up close and personal at the tournaments and ask lots of questions. They include "How can I join BBT?" Their neat tag line is "Bringing the fun back to tournament bass fishing – now let's get on those fish!"
Local waters include Lake Berryessa, the Delta and Clear Lake. Some of the most interesting and exciting events still to come as the season winds down are the Angler of the Year award and the season-ending Tournament of Champions. You can follow the action by going online to bestbasstournaments.com at Best Bass Tournaments.
Salmon Season Starts Fast… for the Bodega Bay fleet. Look at captain Rick Powers' (875-3344) activity report for Day 1 – just off Tomales Point. His 31 clients brought home a total of 57 salmon to 28 pounds, with a dandy dividend of192 crabs.
And the Golden Gate reports were similar: Hog Heaven (415-382-7891) posted 18 limits within an hour. The Lovely Martha (650-619-6629) at 25 limits before 10 a.m. The Outer Limits (415-454-3191) scored 24 limits to 16 pounds in two hours. What a happy start; the salmon fleet and their clients deserved this opener – and look forward to more.
Yep, I did tell you to wait a couple of weeks till the situation stabilized. I still believe that is the best way to be sure of a good trip. As always, thanks to Dave Hurley's Monday Hot Sheet for these late-breaking events.