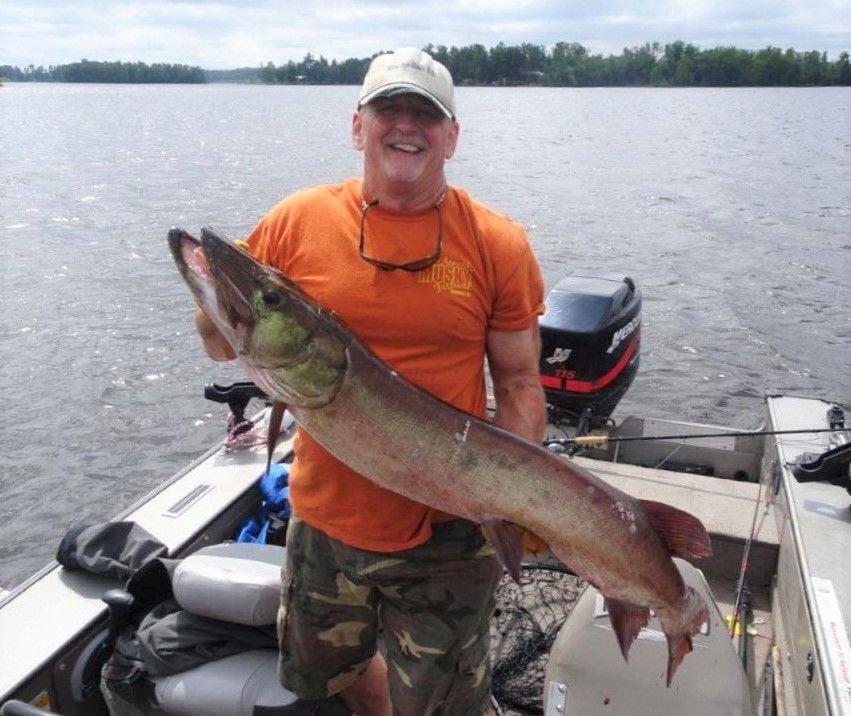 Greg Clefisch Updates Us… on Wisconsin's state fish. It's the muskellunge, or musky for short. Look at his 49-inch, 28-pound moose. Greg told us it is considered a trophy fish, so catch and release is practiced. The first part is the difficult one. Muskies are smart, wary and tough to hook — even tougher to net. That's why anglers like Greg go back for more.
And, those Wisconsin lakes are beautiful. I was lucky enough to fish the Boundary Waters Wilderness up on the top of Wisconsin bordering Canada. In one short portage across a spit of land, we passed a tiny Canadian customs booth closed up tight – but still showing their flag.
Berryessa Kokanee… to 19.5 inches. That is good news close by from Roy Barr of T-Roy's Guide Service. Alan Fong out of the Fishermen's Warehouse in Sacramento told the Hot Sheet that the best depths ranged from 48 feet in the morning down to 60 or 70 feet later in the day.
Salmon, Salmon, Salmon… lead the way to some "full bag" combo trips at Bodega Bay. The Monday Hot Sheet told us that Captain Rick Powers out of Bodega Bay Sport Fishing was back at the dock by 2 p.m. after scoring 20 limits of king salmon and 20 limits of rockfish, with a dividend of two ling cod. That's 242 fish, and still home in time for cocktails. If you want to go salmon fishing, you better make a weekday reservation soon. Calendars are filling up quickly, with weekends mostly full already.
Halibut, Halibut, Halibut… on the Bars offered up limits all around. Berkeley's Happy Hooker had 20 limits by noon on Sunday to bookend a weekend where he had 18 limits by 12:30 p.m. the day before.
The California Dawn went to the Bars on Saturday and put a client on to a 31-pound flattie. You can't imagine how strong that size halibut is. When he dogs it down, your rod is pinned right to the gunnel and it's a serious struggle to start pumping it in.
Striper, Striper, Stripers… making their migration into the Sacramento Delta. They may be a bit early because they usually follow the salmon migration. You can start river fishing for salmon on July 16. But we don't rush to fish for them too early. Those first fish are running fast and looking for cooler water, so it is difficult to get them interested in stopping to eat.
Best Bass Tournament… update for June and July. You can imagine that running a bass tournament series with five regions stretching from Oroville to Nacimiento during a stay-at-home pandemic is tough. But BBT is getting it done. Look at some of the winning weights from recent outings close to us:
At the Mother Lode Region's June 20 event, it took just 12.56 pounds to win for Trey and Shane Hawkins. Big fish was 5.75 pounds.
Delta/Wine Region's June 27 tourney was won by Jared Dominici and Jason Coslovich with 22.34 pounds. The tourney "big fish" went 8.24 pounds, caught by Sean and Denis O'Riordan.
Next up will be Clear Lake (out of Red Bud) on July 25. That will be a big weight day. We're fishing Clear Lake just two days later; hope they leave some big bass for us.
Set yourself up to follow this close by tournament series. Click on bestbasstournaments.com. Better still, bring your kids to the weigh-ins. It is a thrill to see the winners be honored and might start young anglers on a path to tournament fishing.
Save The Date… Thursday, Aug. 6, to "Light The Fires for Bristol Bay." The Wild goes live at 5 p.m. Pacific time. It's time to mobilize to save Bristol Bay from those rich old white guys who want to build the Pebble Mine there. Just one catastrophic weather event could cause that mine to pollute Alaska's pristine Bristol Bay. That could cut the world's supply of sockeye salmon in half; 59 million salmon were born in Bristol Bay last year. Go to evaswild.com/action to join the battle and make a contribution. Ask our Representative Mike Thompson to weigh in on this critical issue before it is too late.
And, Back Home… our constant battle to "Restore The Delta" continues. In her latest message, Barbara Barrigan-Parrila , executive director and co-founder of "Restore The Delta," highlights the evils of algal blooms that soak up oxygen and slime up waters. It seems to be worse this year, so it needs more attention. Please help by asking our own political team in Sacramento to get active in the fight to "Restore the Delta." You can reach Assemblymember Cecilia Aguiar-Curry at aguiar-curry@assembly.ca.gov and Senator Bill Dodd at senator.dodd@senate.ca.gov.
Be the first to know
Get local news delivered to your inbox!