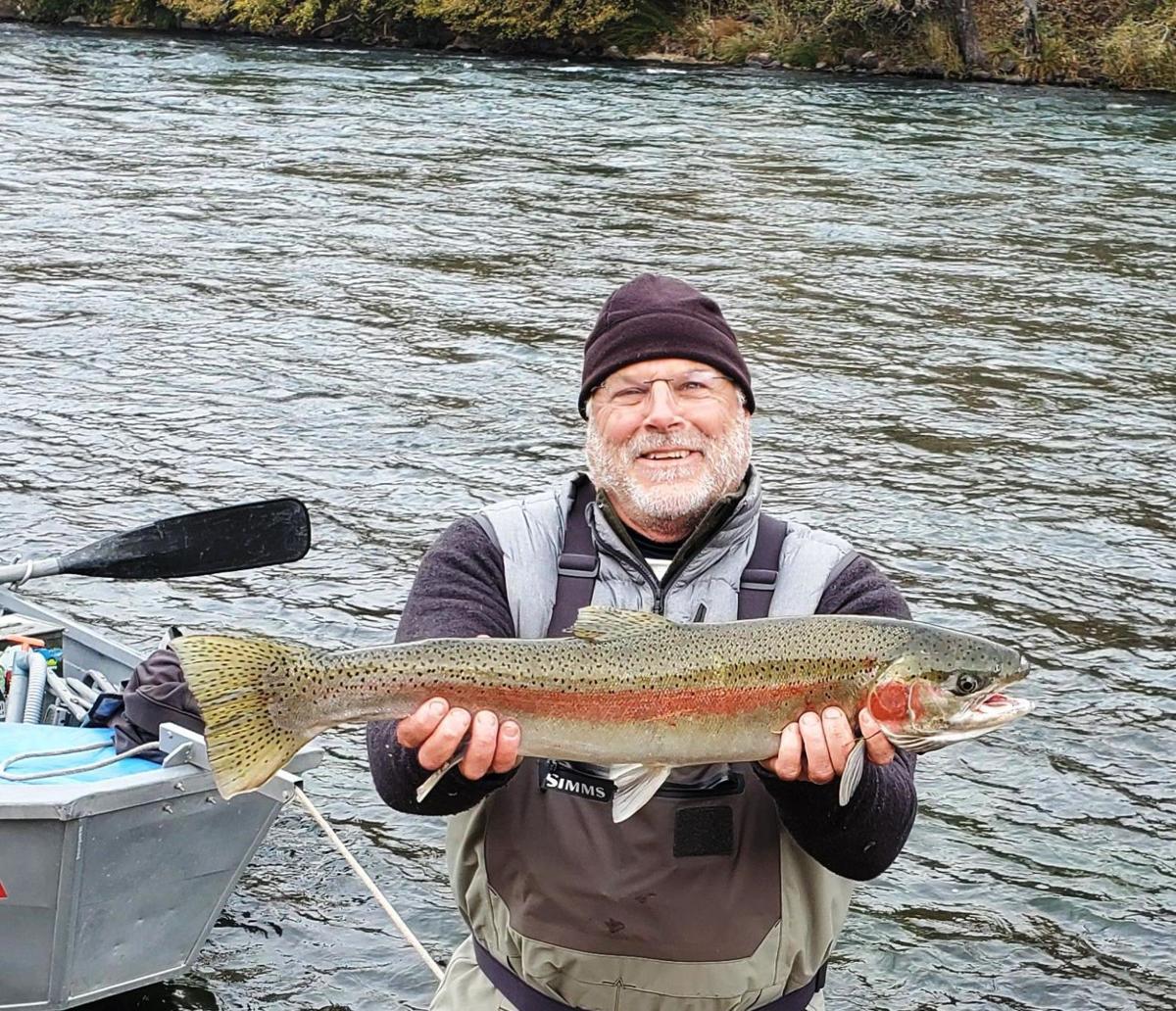 Eric Titus… leads us off today with this beautiful Deschutes River steelie caught near Maupin, Oregon. Eric fooled him while nymphing with a rubber leg pattern on top and a basic fly on the bottom. The fish hit the rubber leg. This is beautiful country on the Deschutes with plenty of virgin runs.
I remember, years ago, fishing in Oregon with white rubber leg flies. My guide said, "When you can't see the bug, strike — it's in his mouth!" Put this trip on your bucket list.
And Another St. Helena Angler… Steve Sherwin caught this 40-pound halibut on the north bar outside the Golden Gate. Steve told me that it barely fit the net and bent up the handle during the tussle to bring this 42-inch beauty aboard.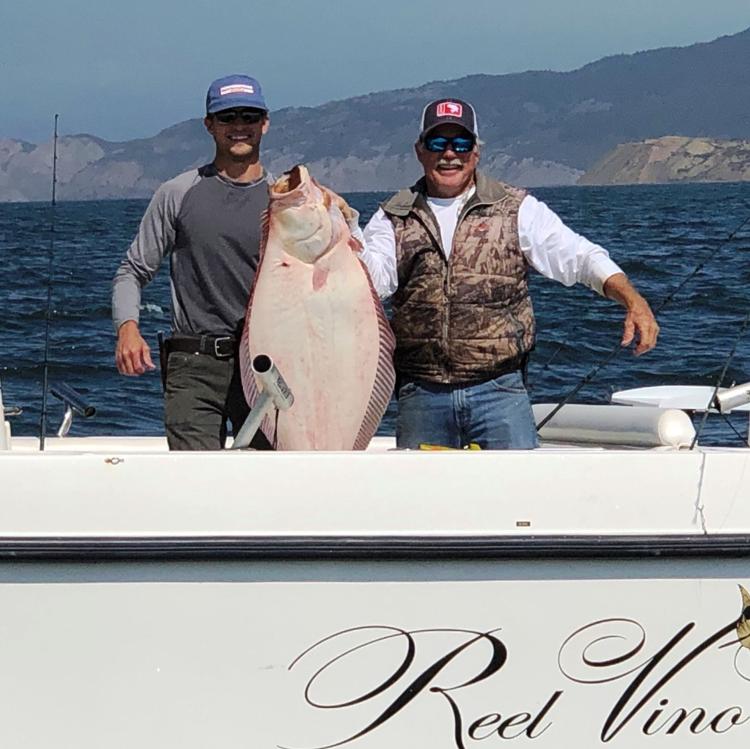 You can't believe how strong these big flatties are. When they dog it down, they pin your rod right to the gunnel and it's hard to gain some leverage on them.
Current Updates… on fishing in our region:
Fresh Water — Bob Myskey up at Clear Lake said the bite was tough and with some bad weather coming up he was planning to stay off the water for a while. I can tell you that his spring bookings always start to fill in around Turkey Day. You might want to get yours while they are available. Call Bob at 349-4460.
Traditional Dungeness crab for our winter holidays is still on tap for recreational anglers in the salt but some difficult weather conditions might keep the boats at the dock. You should call your favorite party boat or six-pack that targets crabs on combo trips to see what's available. Two that I follow are big boats, the New Sea Angler out of the Bodega Bay Sportfishing Center (875-3495) and Bodega Bay's six-pack, Reel Magic (875-2628).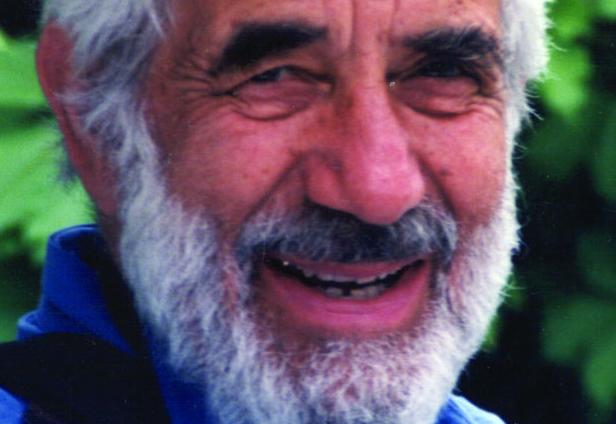 Doesn't look like you'll be able to buy fresh local crab in the market yet. The commercial season has been delayed. Stay tuned and I'll try to give you those opening dates.
Delta Sturgeon Report… Look at this two-day charter report to the Hot Sheet by Captain Steve Mitchell out of Hook'd Up Sport Fishing: "Slot limit (legal) at 59.75, 59.75, 59, 55 and 48 inches along with releasing a 62-inch oversized fish and a number of undersized sturgeon." Steve said the best tide has been at night and roe or eel were the go-to baits.
There also was some evidence of a sturgeon movement transitioning further upriver. Get ready for the time when our Napa River gets muddied up from early rains; that rings the sturgeon's dinner bell. I'd call local guide Brandon Abernathy of Rod Down Guide Service (927-6745) before he gets booked up.
Big Striped Bass, in the Delta?… How about Yuba City's Gracie Marran catching a monster 60-inch striper on salmon roe near Buoy 31 close to Pittsburg on an incoming tide! Stretch your tape measure out to FIVE FEET — that will give you a sense of the size of Gracie's fish.
Look for a solid striper bite to continue during the end of November into December until the water temperature falls below 50 degrees. Please release all of those big hens so they can continue to spawn more stripers to catch — and eat.
Tom Stienstra… the SF Chronicle's Outdoor Writer, reported that after a long, deep dip, California recreational fishing license sales are tilting up. Once the young folks in your family find out about fishing, it's less and less electronic gadgeting. As you can see in the stories above, we are lucky to be in God's Country fish-wise. We have selections of waters, fish species, fishing methods, fishing seasons — and bragging sessions.
Shop At Home… for the holidays. We have fine shops and top services in every one of our Napa County towns. Those merchants know their merchandise and stand ready to provide the local, personal service you need to be sure your gifts are just right.
For those beginning anglers, a base gift could be a 2021 California Fishing License — available at Steves Hardware in St. Helena and Sweeney's Sports on Imola in Napa. Go for it all — buy a lifetime license for those you love most. My son bought me one more than 15 years ago. It's a kick to just walk into Steves and have them print out my new one every December.
Wrap some nice angling gifts around that license. Rods and reels, line, flies, lures and tackle. Rain gear, warm jackets and insulated boots. 2021 guide trips on both fresh and salt water. Ratchet up a notch for a tricked out fishing kayak. They are the latest angling platform to provide big fish thrills. I'm sure you can think of lots more.
Hate To End… on a sour but cautionary note, but an angler near the boat dock at Kennedy Park was threatened and robbed. So, be careful out there. Thanks to the Napa Police, the robber is in jail.
WATCH NOW: NOV. 25 IN SPORTS HISTORY