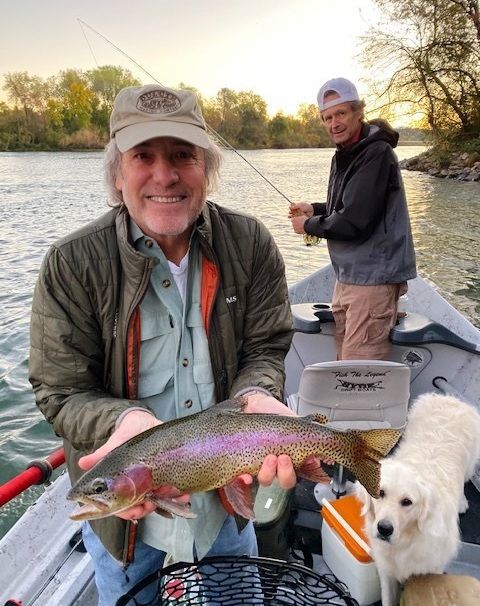 Fall Trouting… on the Sac was productive for St. Helena fly fisherman Scott Snowden. Look at this tally: three anglers each caught five wild rainbow trout on wet flies this past October … Joining Scott were St. Helena angler Barry Brown and his son-in-law, Justin Velasquez, who also manned the net.
Heads Up… Ocean salmon recreational season opener has been delayed from April 5 till May 1. In an abundance of caution, this is the right idea. It would be difficult, if not impossible, to have a social separation of 6 feet in a party boat full of clients and deck hands fighting big fresh king salmon. Not a good idea to have many anglers traveling from around the bay to the tiny towns and areas where fishing boats launch.
Let's all continue to stay safe until we get an official "all clear" to go fishing again. I'll try to keep you advised. Thanks, Dave Hurley at the Monday Hot Sheet for this key announcement.
"Rice fields Aid Salmon"… caught my eye. If we can't fish them right now; let's grow more of them in rice paddies. Cal Rice and a whole host of partners, including Cal Trout and UC Davis, are rearing 9,000 baby salmon in eight specially-prepared test plots in a living scientific experiment designed to determine if any unique extra treatments can create better habitat for these young salmon. In California Rice News' Feb. 13 release (bit.ly/2R5Zcv4), they went on to say that they already know that the young salmon grow very fast in these fields.
And on March 27, as part of the Year 2 program, UC Davis researchers took 9,000 juvenile salmon that were raised in rice field test plots and released them into the Sacramento River. Nearly 350 salmon were equipped with special transmitters, so their progress to the Pacific could be monitored. That is exciting stuff. Check out this blog at bit.ly/2URQsto by their Manager of Environmental Affairs, Paul Buttner.
$20 or $6,000?... No you don't have to choose. Spend them both in that order. For only $20, buy Steve Orndorf's new book, "Jungle Fishing Misadventures" (xlibris.com) covering a time period of 1974-2019. That comes out to about 45 cents a year.
They cover Steve and his brother Dave's 23 jungle fishing trips to 14 different locations in seven countries. That's all I needed to wade right in. You'll get a good grip on the stories starting on page 8, where you can take a close look at some piranha teeth.
Stop again at page 59 for Dave and Steve with big beautiful peacock bass. The peacock bass is my all-time favorite fish to catch. Scott Snowden and I caught a bunch of them in Venezuela a long time ago.
Once you have finished the book and are all tuned up for your own fishing adventure of a lifetime, contact local outfitter Don Muelrath at 888-347-4896 or flyfishingadventures.org. Don tells me he can craft a very nice fishing trip to the Amazon in Northern Brazil for you for $5,000 to $6,000, not including international air fare, tips and special requests. It's a great way to put together your fishing trip of a lifetime – by sitting with the outfitter in your own home town.
Defend Our Delta… every day. You can start by clicking over to Barbara Barrigan-Parrilla's newest email from Restore the Delta (barbara@restorethedelta.org). The short story is that fake, Wall Street farmers down in Southern California are in full attack mode to get the government to send them more cheap water from our own supplies.
It all started when we did send them some discounted water – now they want more and more. Enter Donald Trump and we've got bigger problems. He's trying to fiddle with the rules and regs that help protect us now, and weaken them. Our Sacramento team is on our side, but is truly busy guiding us through the coronavirus pandemic.
But, we can chew gum and walk at the same time. Please join me in asking our political leaders to stay strong in our defense. The water we save will be our own. I'm going to write to Mike Thompson, Bill Dodd, Cecilia Aguiar-Curry, Dianne Feinstein and Kamala Harris to ask them to stop any dark night water decisions that could harm us up here permanently.
Remember, we live for our Delta – we farm it, we recreate in it, we need it for life. Here's one that fascinates me: I'll bet the Delta flows contribute directly to the depth of the San Francisco Bay. I'll also bet no politician wants to be in the saddle when that bay can't handle deepwater vessels anymore.
Be the first to know
Get local news delivered to your inbox!