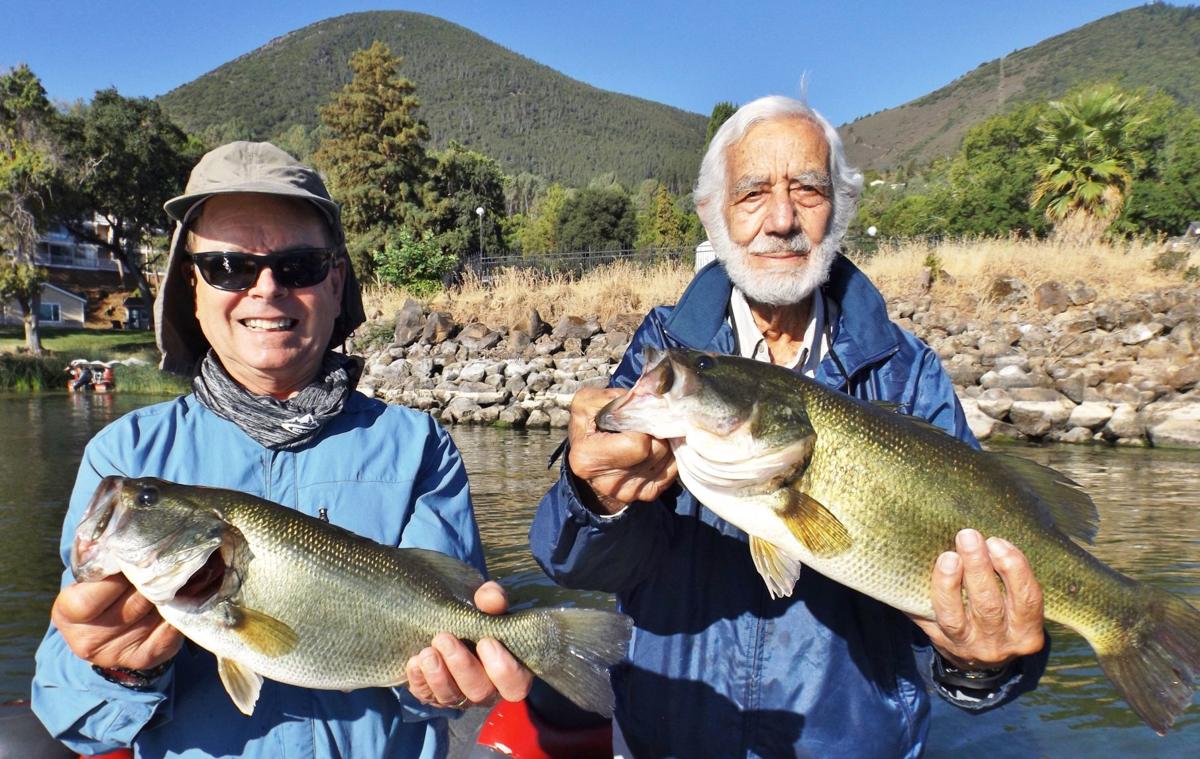 Our Clear Lake Bogie Number Was 90… Alas we scored only 35. My good friend and longtime fishing partner, Doug Roberts, and I fished for largemouth bass on Clear Lake for two days last week with pro guide Bob Myskey (349-4460).
The day before our trip commenced, Bob had a father-and-son team that caught and released 45 bass in one day. So, my target number for us was 90 bass. We worked hard for our 35, with Bob finding us new spots and new systems to try. But after fishing my whole life, since I was 6 years old, once again we learned that those fish — with a brain the size of a pea — decide the outcome of most fishing days.
Both Doug and I have fished Clear Lake many times over the years, learning the pattern that a top pro guide establishes on a trip. Bob gave us the whole package, and more. As you can guess, guides hate not catching fish more than their clients. But, not to worry: I'll be back on the water with Bob again Monday and Tuesday. I'm hoping that water temperature that has been close to 80 degrees holds up there, and promotes a robust top water bite. Stay tuned.
Be Careful Out There… We're still in a period of unsettled weather here. Look at this combination of strange weather conditions: high humidity, triple-digit temperatures, lightning, thunder, rain and wind. You do not want to be out on the lake holding an 8-foot graphite rod up high in a thunderstorm!
Berryessa Drownings… sadden us all. I have lived here for 44 years, fishing Lake Berryessa most of them, and I can't remember this many drownings in a year — or total.
Swimming is a very personal thing. When, where, and under what conditions can you, or should you, swim? Have you had lessons? Do you know some emergency moves to save your life?
Let's paraphrase an old saying: Friends don't let friends swim unsafely. Step up and suggest that your buddy not swim in an unsafe place. Offer to swim with your friends as they get acclimated to a particular water. Point out signs that call attention to dangerous circumstances. Be ready to call for emergency help if things start to go wrong. Suggest flotation devices to novices.
Please be careful if you have to try to rescue someone yourself: The victim can often flail around in a panic, grab you, and put both of you in serious danger. Swimming lessons and rescue lessons save lives, and make your day at the lake more enjoyable.
You Know That I Love Fishing… and all of its parts, including eating wonderful freshly caught natural protein. But let's be smart as we harvest fish, to be sure we leave that fishery sustainable and productive for our grandchildren. Just recently, there have been exciting stories about catching huge bluefin tuna down near Half Moon Bay. Water temperature and sea conditions have brought them up north and right in close to shore where many of these 150-pound fish have been caught.
In my limited research, I found that all three bluefin families are endangered to some degree. The Atlantic bluefin is endangered with its population declining, the Southern bluefin is critically endangered with its population declining, and the Pacific bluefin is vulnerable with its population increasing.
I love sushi, but it uses huge amounts of bluefin tuna. So I have taken Maguro (bluefin) off of my favorites list. Not to worry. I'll always be happy with a platter of Unagi (freshwater eel) and Hamachi (yellowtail).
We Need All The Help We Can Get… Here's what Barbara Barrigan-Parrilla, executive director of Restore the Delta said about Kamala: "Senator Harris is a very smart and fair leader … She will work productively with all parties to help solve California's water challenges."
My take on this issue is pretty simple. Rich old white guys who farm big spreads in Southern California want more and more of our water from the Delta, at a discount, so they can continue to ignore modern irrigation systems that save water and create better crops. This has been going on for years because we gave water to them cheap. Therefore, they never valued it — and just want more. They got Trump to try to help them out.
Let's play our hole cards now to save Delta water for ourselves. Ask Rep. Mike Thompson, State Senator Bill Dodd and Assemblymember Cecilia Aguiar-Curry, as well as Senator Kamala Harris, to help us out in the big fight. By the way, I saw how badly water was treated down there when we lived in Modesto. Orchardists just pulled a board out of the side of the canal, and filled their orchards with water. No metering, no modern agricultural use of up-dated crop irrigation. It's time to call their bluff.