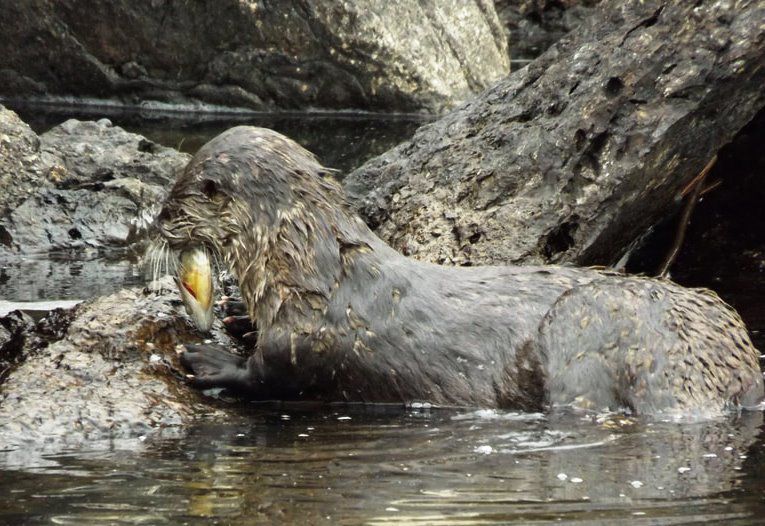 Otter The Way… up in Clear Lake. Mother Nature's best camouflage can't keep this big river otter hidden in the shoreline rocks.
By now, you probably know that I haven't met an otter that I liked. Here's just one reason: According to Google, as a tertiary consumer in the Trophic Levels, otters are at the top of their food chain. So, they kill and eat many critters that we might need to eat or enjoy in outdoor sports. Or, other animals need to eat. At the top of their food chain, otters don't provide sustenance to any other living thing. Bad news, indeed.
On another note, though, otters are just one of the magnificent kaleidoscope of wild birds and critters on tap at Clear Lake year-round. Go for the bass fishing and get those dividends, too. Guides' spring calendars are filling up right now. Call your favorite today. Mine is Bob Myskey at (707) 349-4460.
Berryessa Lake Level… has been stuck at just below 418 feet above sea level since December. That's 22 feet below the Glory Hole (thanks Peter Kilkus, publisher of the Lake Berryessa News). Time is running out on good water producing months so "let us pray." I remember during a long ago dry period, April produced a five-inch gully-washer of a rainstorm that fixed our drought in three days. I'd be happier if Mother Nature would spilt that into two three-inch rains a week apart.
Delta Sturgeon Continue to Call… mostly from those well-known deep water locations near Pittsburg. Even after that big count of over 900 boats fishing in last week's Super Bowl Sturgeon Derby, the diamond backs are still on the chew. The Tuesday Hot Sheet noted that "with the relative lack of freshwater flow down the Sacramento River this year, there hasn't been much incentive to draw the diamondbacks upstream."
That leaves us with plenty of sturgeon close to Pittsburg, down in Little Cut and some fish moving towards the Benicia/Martinez Bridge and the area around the Mothball Fleet. Fishing will be easier as these moves spread out the boats. Your guide will know what to do. I just punched up "sturgeon guides in the California Delta" on Google and got a quick list of 17. Get out there for this bonanza and send me pix of your big ones. Remember, sturgeon are mostly meat, so just one 100-pounder can light up every BBQ grille on your block.
The "Sportsmen's Voice" Of Northern California… sure catches your eye. Come along with me to read about the "Nor-Cal Guides & Sportsmen's Association" (NCGASA).
I always like to start with NCGASA's mission statement: "Our organization brings guides and sportsmen together to protect and increase hunting and fishing opportunities in Northern California. We work closely with other conservation organizations to make sure our children and grandchildren have more fish and animals. NCGASA is a powerful voice to represent all those who use Northern California's waterways and lands. Fishermen who use our rivers have the most experience and knowledge on what's truly happening to our rivers and lakes. Hunters who use our lands daily have the most knowledge on our land and it needs. Together, we are the Sportsmen's Voice!"
I signed on three years ago because it was clear to me that my voice needs to be heard in the places where rules and regulations are made and imposed. I tried going to a California Fish & Game Commission meeting — where I spoke, but I don't think anybody that mattered listened — and nothing happened. I have been pleased and excited to be a member and watch NCGASA's progress in advocating for me. The "pols" are listening!
Nothing is free, so I joined as a business member. My pro river guide, Kevin Brock, is a member of the board and invited me to sit at his table for their annual banquet-raffle-fundraiser at the fairgrounds in Yuba City. It has the biggest space in town and holds 800 visitors. NCGASA sells it out every year at $100 a ticket. That's impressive.
Roger Trinchero at Sutter Home and Alex Ryan at Duckhorn have contributed wines each year to be sure Napa Valley is on the table. My hope is that lots of local guides and outdoor sports enthusiasts will join to broaden the association's scope and impact to include us.
Go online to ncgasa.org to learn more; join and get involved. I'll be glad to bring additional Napa Valley wines up to their November 2021 banquet-fundraiser. Better still, bring them up with you to the banquet.
America's First Conservationists… and preservationists were its native Americans who tread lightly on the land. They knew they had to bring another trout and rabbit back home to the campfire tomorrow night, too. Hundreds of years later, NCGASA is fulfilling that classic role.