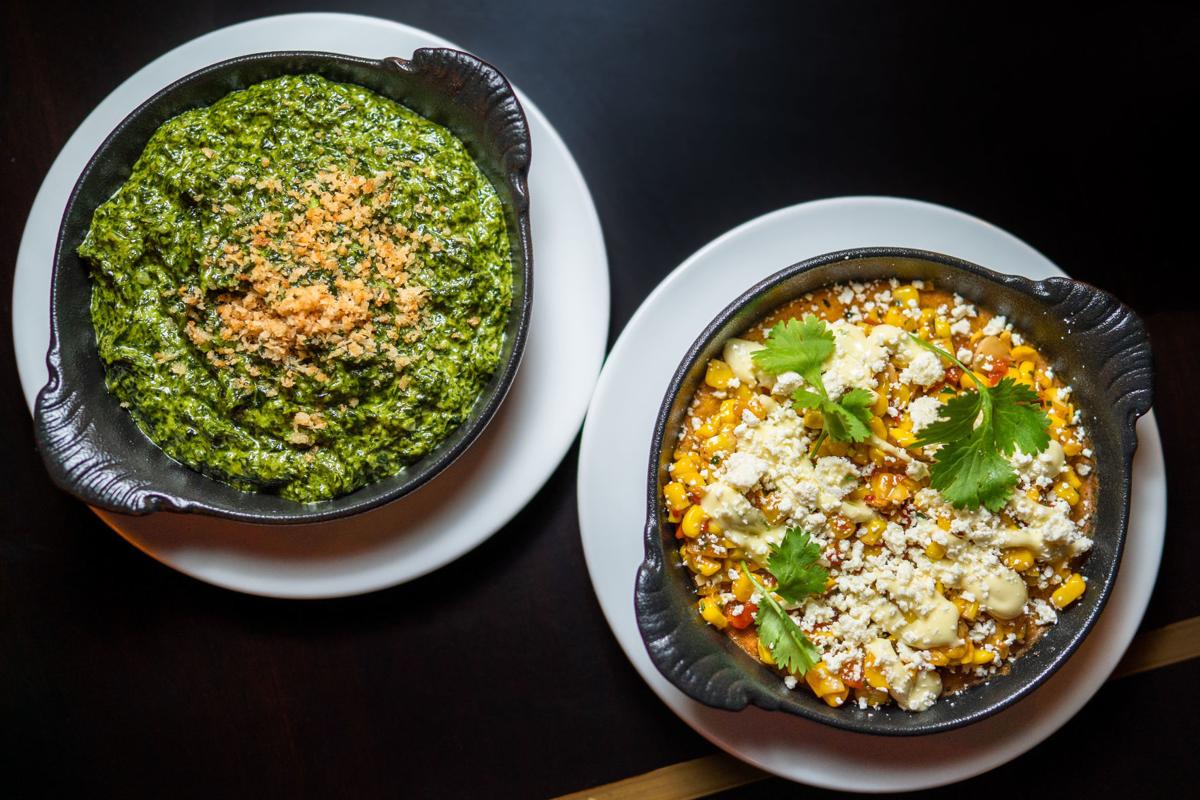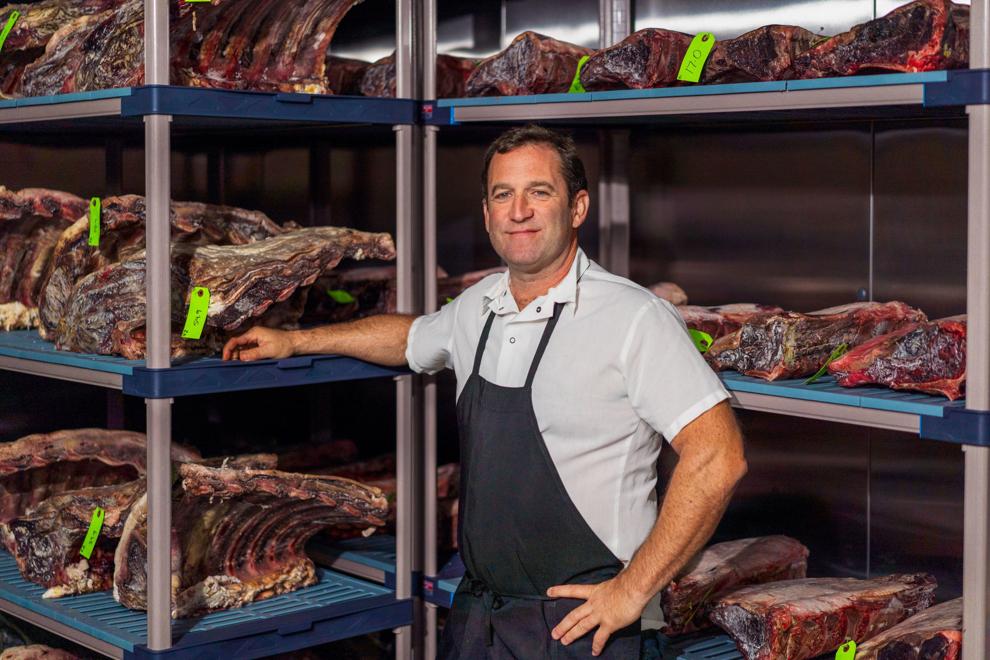 At the media preview dinner for Adam Perry Lang's new restaurant, opening in Yountville on Oct. 15, it was interesting to note how many local journalists — they half-filled a long table — had been invited.
This is not always the case when a renowned chef arrives in the Napa Valley, but it's a gesture as promising as the fare the Los Angeles chef served that night. Lang made it clear that locals matter to him, even as he opens his doors in tourist-rich Yountville.
"It's true," Lang said. "I want this to be a place where locals drop in for barbecue or come for a special occasion — as well as where visitors might want enjoy a Napa Valley cab with a really good steak. It's why there are two sides to the menu. There are value-based options as well as splurges for celebrations."
Lang's APL Restaurant in Hollywood is a showcase his mastery of dry-aged beef and barbecue. The owners of Estate Yountville sought him out and invited him to open a second restaurant in the historic Groezinger Estate House, just north of the V Marketplace. The German-born vintner Gottlieb Groezinger built the mansion in 1870. It's now an elegant but cozy restaurant, with two dining areas flanking a bar, all in rich, deep wood paneling.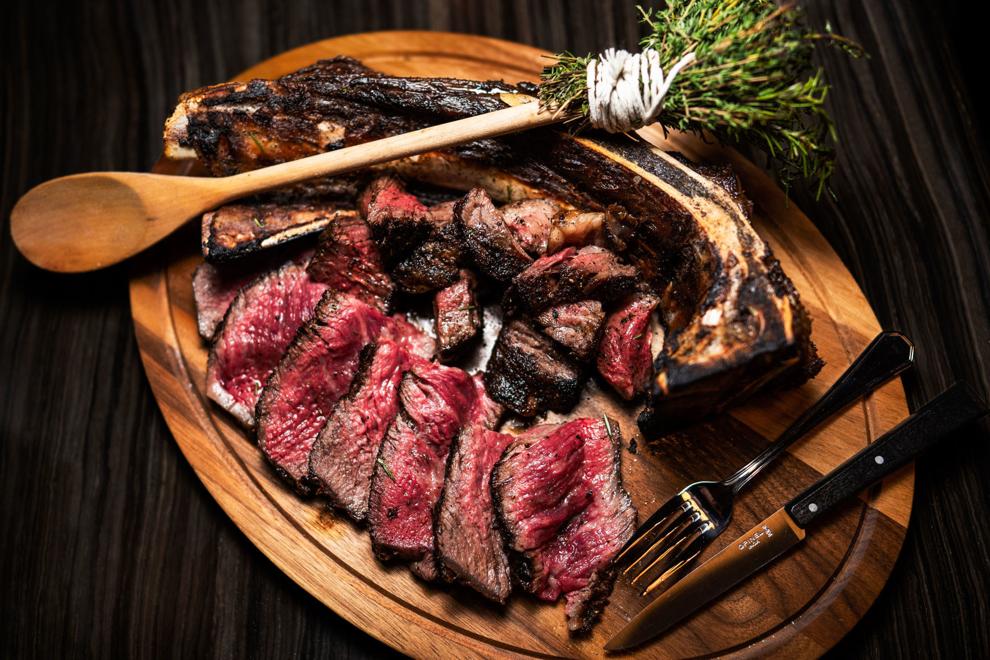 "I'm really excited to be here," Lang said. "It's an honor to be among these chefs, but I've also just been walking around, getting to know people who live here."
Lang said he has acquired a house in Yountville and hopes to split his time equally between the town and Los Angeles, his home for the past three decades.
"It's pretty amazing and so soothing to walk through Yountville," he said. "It's really special. I really, really like it."
Meet the chef
Lang, a classically trained chef from New York, who studied at the Culinary Institute of America at Hyde Park, worked at storied establishments like New York's Le Cirque and Daniel, and Restaurant Guy Savoy in Paris before evolving into a grilling guru.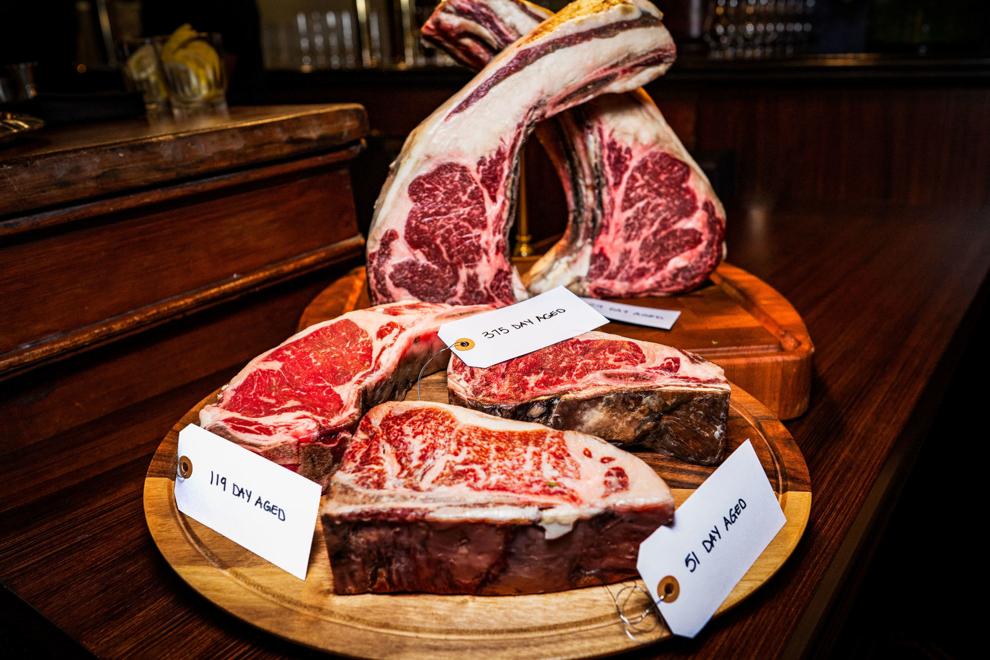 "It's one of those things that happens if you stay in this business long enough. Deep inside of me, I realized I just love cooking beef and meats," he said.
"Beef has many levels, with dry age ranging from concentrated and beefy to transformative in flavor to also wet age, that's clean and juicy but equally as tender. Similar to wine in variance, it's a nuanced experience."
His cooking methods vary from broiling to creating intense browning and crust development "to the opposite — wood-fired cooking with the use of the slow/low method and smoke to coax a different profile."
He brings them together in his new restaurant, which he describes as "an approachable chophouse with California sensibilities."
"I'm not telling people to eat meat every day," Lang said. "But if you do, you should go for the best."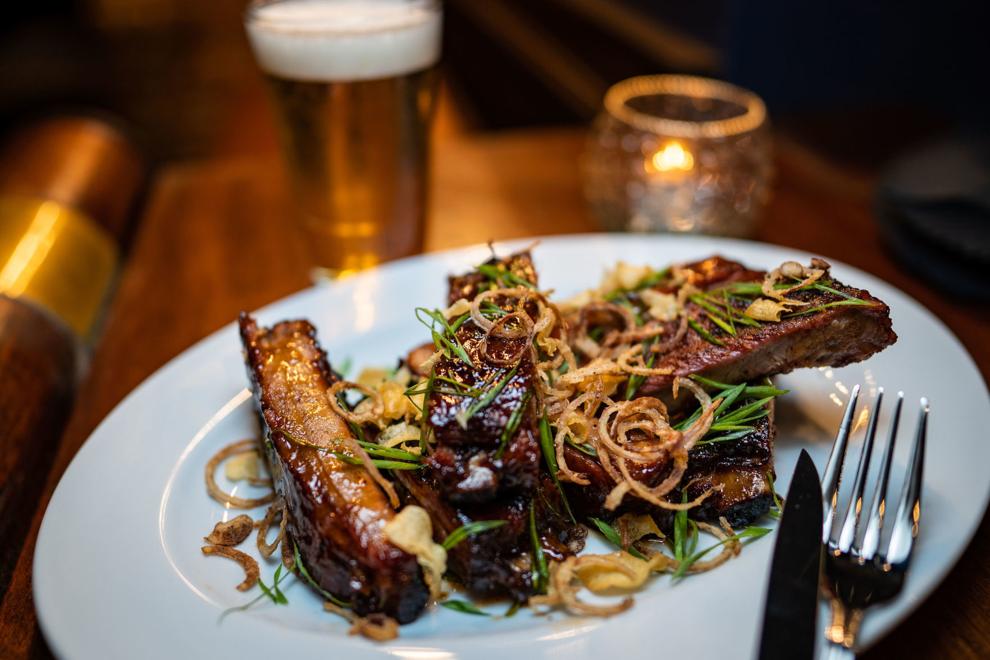 Lang's detailed-oriented approach to meat has led him to cultivate relationships with cattle farmers in the Midwest so that he knows not only how the cattle are raised but who is raising them.
Diners at Perry Lang's will be able, as well, to view the next step in the process of serving a steak dinner: an 8-foot floor-to-ceiling window allows guests to view the dry-aging room, which Lang calls "an environmental chamber" for all kinds of beef, butchered on-site.
"Small changes in humidity and airflow can result in a totally different product," Lang said. "When it comes to aging meat, I have all these little tricks. It's about coaxing flavor and funk in subtle ways."
"Adam Perry Lang is a force when it comes to meat preparation and he's reached a height of expertise that immediately places him in the upper echelon of Napa Valley chefs," said Tim Carl, a Napa Valley photojournalist and frequent contributor to the Register. "Beyond that, his classic French training refines his food while his deep reverence for barbecue intensifies flavors and texture combinations to the point that eating a meal from Lang is akin to remembering what's possible when care and passion are infused into every aspect of a meal."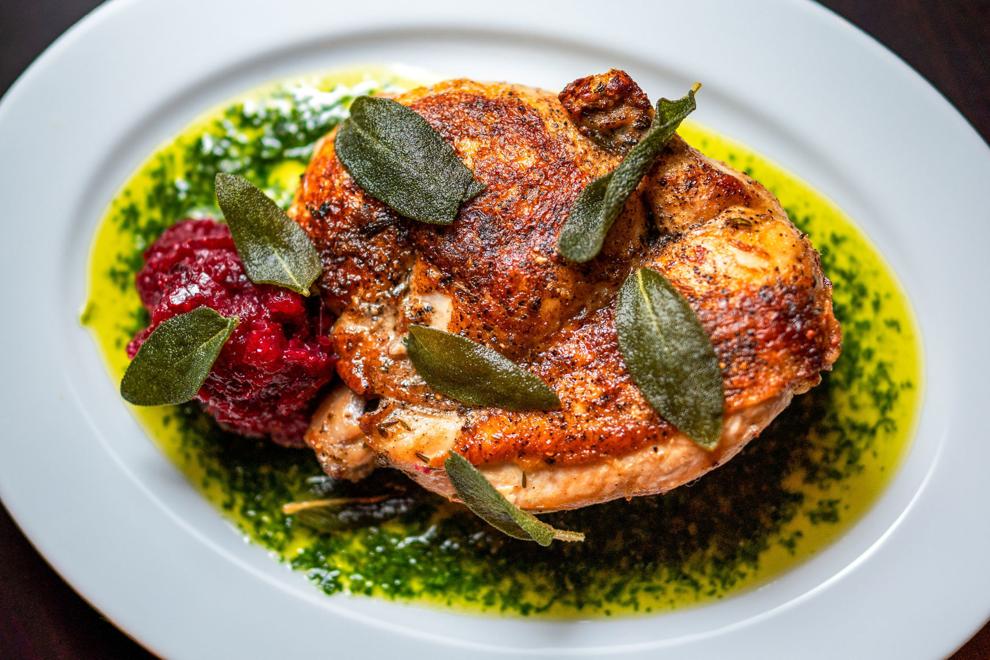 We sampled the results of Lang's art of dry and wet-aged meats: A tender, wet-aged short rib steak aged 49 days, ($32), and filet mignon, aged 35 days ($59) as well as the intensely flavorful dry-aged examples: a bone-in ribeye, (75 days, $67) the famous Tomahawk chop, which looks like a cut of beef from Fred Flintstone's dinner (dry-aged 55 days, $140) and the reserve cut (dry-aged more than 400 days; the menu lists no price, but just says, "ask your server.")
We sampled one that had been aged a mere 375 days; it was phenomenal in its rich flavor. With it, Lang poured a Shafer Hillside Select. Together, they created a splurge, worthy of any occasion.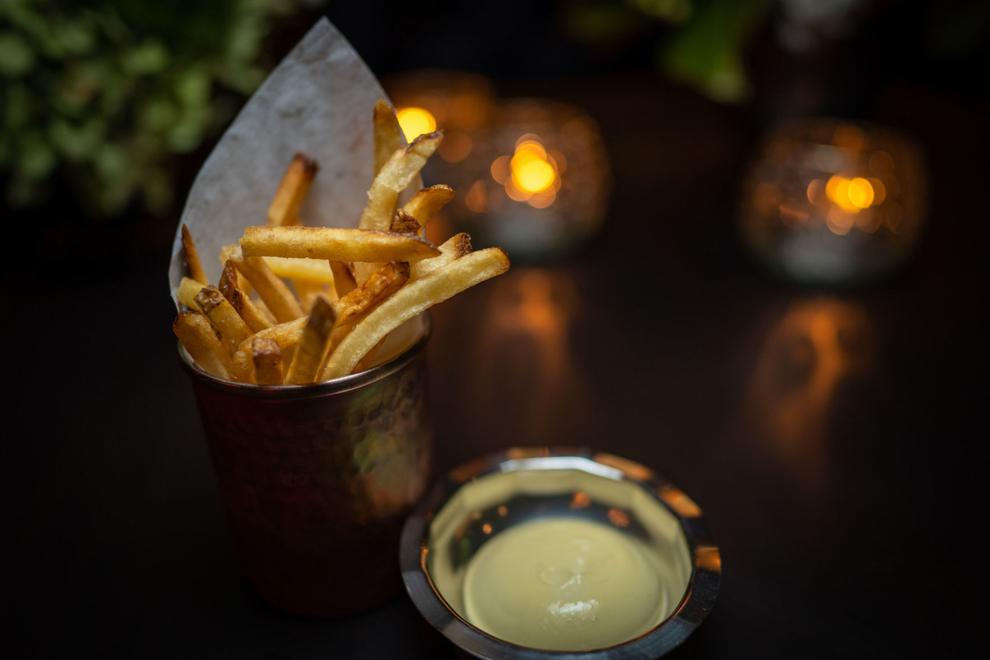 Lang is not only meticulous in the preparation of his meats, but has opinions on the knives you need to cut it. He described how he took time out to study knife-forging at the New England School of Metalwork to create his own hand-forged knives. Pounding hot steel with a hammer on an anvil, he said, is "a religion and release. The knife is your last point of contact with the beef. It affects the experience in every way. A cow that's been raised for almost two years, butchered, aged, and cooked, deserves a great blade. Why blow this with a crappy knife?"
Should diners be overcome by admiration of their knife and wish to carry it home in a doggy bag, it should be noted that in the Los Angeles restaurant it's posted that the knives cost $950 each, which Lang explains, is "the bare minimum for a felony in the state of California."
Also on the beef menu are New York strip steaks (wet-aged 49 days, $48) and a bone-in New York strip (dry aged 75 days, $57), and a steak fries (with duck fat fries and smoked Bearnaise ($38) but even a reporter can only eat so much at one sitting; and Lang had other dishes he wanted us to try.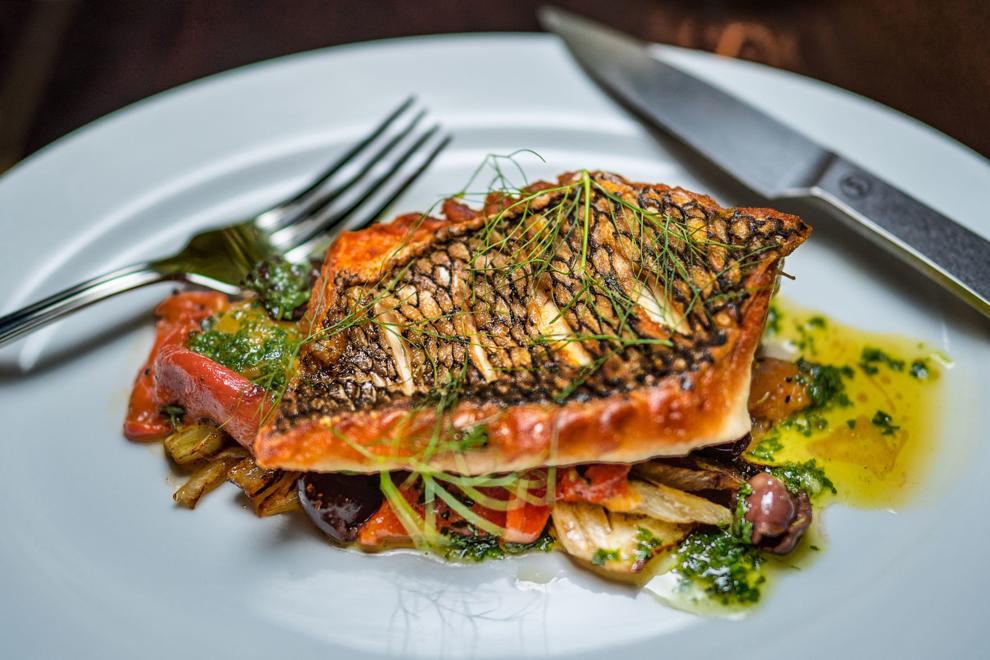 We began with appetizers that included a Diver Scallop Crudo with grapefruit and cilantro ($16), Caesar Salad ($14), and scrumptious, savory Grilled Thick-Cut Bacon with a maple glaze ($9) and, as a healthy touch, Local Radishes ($9). Appetizers also include a Dungeness crab cake ($18), hand-cut Beef Tatare ($17) and a Wedge Salad ($16).
For non-meat eaters, the menu includes alternatives such as the Black Sea Bass with fennel, peppers olives and an herb vinaigrette ($34); chicken cooked under a brick with sage, cranberry relish and spinach gratin ($24).
From the casual side of the menu, we also tried Lang's dry-aged burger ($19) with American cheese, sweet onion, pickles and the deadly irresistible duck fat fries. This could be in the running for the best burger in the valley.
"Adam's Classics" also include Pork Shoulder with caramelized apples and Riesling cabbage ($22), St. Louis Pork Ribs with crispy garlic and peach barbecue sauce ($19), and a Short Rib with mashed potatoes and pickle salad that can serve 2 for $63. We tried them all.
Mashed potatoes, duck fat fries, creamed spinach and pickle salad can also be ordered as side dishes, along with corn spoon bread, sauteed escarole , and brown butter roasted mushrooms with black truffle essence.
Here is the thing not to miss: Popovers, cooked in aged beef fat with bone marrow and onion marmalade ($9).
There is a dessert menu, as well. But at this point, we were somewhat full. For those who have not attempted to try nearly everything on Lang's menu, desserts include a Honeycrisp Cobbler, Buttermilk and Vanilla Panna Cotta, Basque Style Cheesecake, and Nemesis Chocolate Cake, all $10.
Wine manager Marc Irving has created an extensive list of revered local wines as well as international choices. This list includes 2015 Keenan Merlot from Napa; 2017 Rivers Marie Pinot Noir from Bear Wallow Vineyard on the Sonoma Coast; and 2018 Cade, Sauvignon Blanc. Also available are beers and inventive cocktails from Adam Kerr.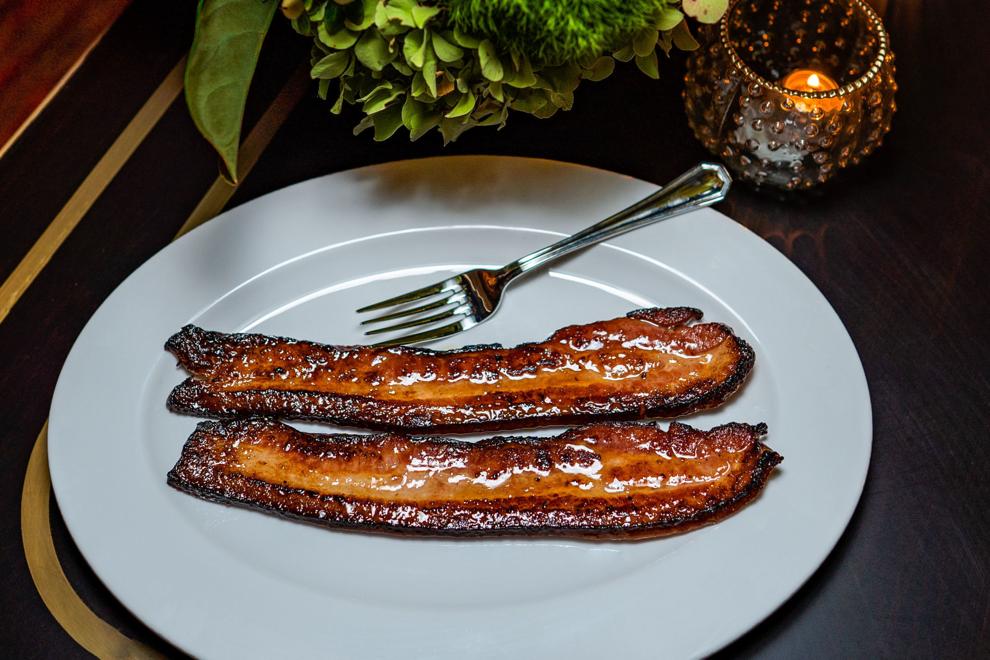 "To put it simply, I absolutely love California in all of its diversity," said Lang. This is reflected in his menu of classics and local creations. In bringing in his own style of beef and barbecue, he acknowledges that it's "the difference in particular that gets me excited because it's something new to offer to the region."
And on top of this, one senses that he sincerely wants locals to drop, whether it's for ribs in for a special occasion steak. Or a popover. And local journalists almost dropped dead from over-eating as he proved it.
Perry Lang's is at The Estate Yountville on 6539 Washington St., Yountville. The restaurant is open for dinner nightly from 5 to 11 p.m.. For more information, visit perrylangs.com or call (707) 945-4522.