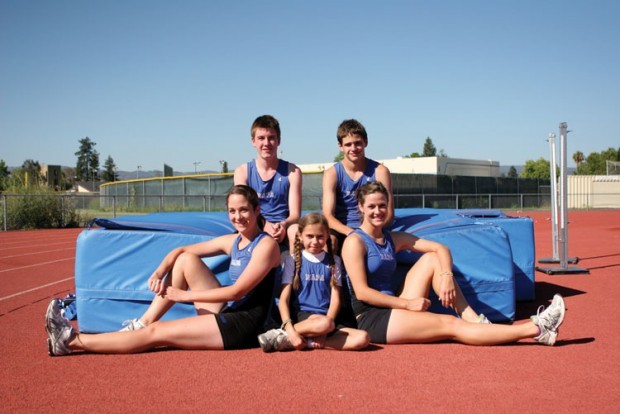 The Napa Track Club wrapped up its 2010 season by sending five athletes to the 44th annual USATF National Junior Olympic Outdoor Track & Field Championships. This year's meet was contested over a six-day span at Hughes Stadium on the campus of Sacramento City College.
The group's lone medalist was Donna Roscoe, who had an eighth-place finish in the Midget Girls division of the 1,500-meter racewalk. She turned in a personal best time of 9:03.86, which moved her up to No. 5 on the Club's all-time top performance list.
In the javelin throw, Brendan Cardey finished in 15th in the Intermediate division (135 feet, 1 inch), while Thomas Salsman was 18th in the Youth age group (117-3).
In the Young Women's division, Megan Zoller finished 18th in the javelin (75- 5) and 23rd in the high jump (4-7).
Lauren Cardey also competed in the high jump but was unable to post a mark.
The Napa Track Club, which has been fielding teams for over 40 years, produced a number of excellent performances in 2010, and several athletes were able to climb into the organization's all-time top 10 list.
Eric Zoller set a new club record in the Young Men's 200 meters, clocking a time of 23.22 seconds at the Track City Classic in Eugene, Ore.
His 400 meters time at the same meet (52.96) is fourth-best all-time.
Sophia Marseilles etched her name into the record book four times. She now ranks fourth all-time in the Midget Girls high jump (4-4), 80-meter hurdles (16.07) and 1,500 meters (5:45), and used that versatility to post the second-best pentathlon score in the club's history (1,680 points).
Despite only long-jumping in one meet, Megan Zoller moved up to No. 3 all-time in that event (17-3). She also finished out her club career by posting the fourth-best mark in the high jump (4-93⁄4) and fifth-best in the javelin (87-8).
Kyle Beaver moved him into sixth-place all-time in two events, the Youth Boys discus (128-2) and shot put (39-3).
Aisley Wallace Harper, the club's youngest member, also performed well in two events, with a fifth-place ranking in the turbo javelin (34-4) and the 10th spot in the long jump (10-2).
In the Youth Boys division, Sean Carlo Uribe moved into the fourth spot all-time in the 100-meter hurdles (17.69). Thomas Salsman had the club's eighth-best performance in the javelin (129-9).
William Marseilles moved into the third slot in the turbo javelin (57-4) for Bantam boys, while Corbin Wells now ranks sixth (46-4) in that event.
Chris Vaziri clocked the club's fourth-fastest 1,500 meters (5:45.35) in that age group.