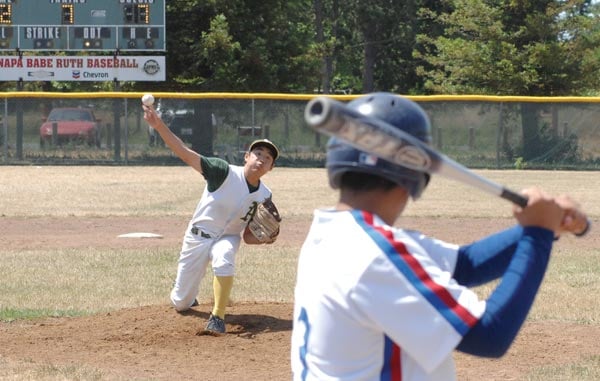 The Pridmore Construction Athletics swept the best-of-three Napa Babe Ruth 13-15 Division city championship series at Kennedy Park, beating the Napa Golf Course Expos 12-5 on Friday night and 7-2 on Saturday morning.
Griffin Abernethy pitched a six-hitter for the American League division champion A's (17-2-1) in Friday's win over the Expos (11-11-1), who finished third in the National Division but won win their divisional tournament.
The A's scored eight runs in the bottom of the first, and pulled away in the third and fifth.
Abernethy, who struck out 10 and walked two, gave up four Expos runs in the third inning. Manny Aguirre (2 for 4), Jake Lustig (1 for 4) and Justin Franzi (1 for 4) chained together singles to key the Expos' uprising.
A's manager Frank Villanueva wasn't taking anything about the next day for granted.
"We need to come out here and play solid baseball," he told his team after Game 1. His concerns were well founded. In the last three years, the winner of the first game went on to lose the tournament.
But Nate Engle had other ideas. Dueling with the Expos' Jake Lustig throughout Saturday's game, Engle fired a three-hitter with seven strikeouts and two walks. Lustig struck out eight and allowed just six hits and three walks, but timely A's hits and untimely Expos errors kept the A's in control.
Leading the A's offense were Zach Yates (1 for 4), Engle (2 for 4, double), Sam "Hammer" Harper (RBI), Alex Neal (1 for 1), Will Knopka (1 for 3, run), Jon Hartung (1 for 1, run), Jake Daniels (1 for 2, RBI, run) and Cameron Duarte (1 for 2).
For the Expos, Alex Parks (1 for 3, run), Josh Mecham (RBI), Lustig (2 for 3, run) and Franzi (1 for 3, RBI) led at the plate.
"I'm proud that our kids made it this far," Expos manager Dan Risley said. "We've played six games in the last week and are just happy to be here."
The Expos also include Timmy O'Hara, Josh Meecham, Dustin Messner, Rafael Gonzalez, Ruben Gonzalez, Jack Richmond, Alec Risley and Jaren Jernigan. Their coaches are Pete Richmond and Mike Wynn.
Rounding out the A's roster are Lucas Gomes, Kelsey Neilson and Justin Jacobson, Jake Daniels and Frank Villanueva. Their coaches are Tom Jacobson and Jacob Ray.
Napa Track Club athletes recently returned from a sectional qualifying meet in Modesto with 10 medals, with three surpassing the qualifying standards for the Youth Outdoor National Championships.
In the Youth Boys division, Kyle Beaver picked up gold medals in the discus (128 feet, 2 inches) and shot put (39-3) and a bronze in the javelin (110-9). All three throws were good enough to earn entry to the nationals, which will be held later this summer in North Carolina.
Brendan Cardey qualified to move on to nationals in the javelin, capturing the gold medal in the Intermediate Boys age group with a toss of 123-11.
Donna Roscoe earned a trip to nationals in the Midget Girls 1,500-meter racewalk with a gold medal-winning time of 9:10.34.
Sophia Marseilles set a new personal best while winning the gold medal in the Midget Girls 80 meter hurdles with a time of 16.07. She also brought home the bronze medal in the high jump (4-0).
Ezra Morgan claimed bronze medals in the Intermediate Boys javelin (119-6) and shot put (27-6). Derrick Miller took the bronze in the Midget Boys high jump (3-10).