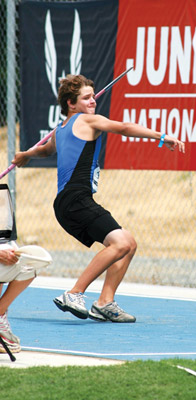 A few years ago, someone took notice of just how strong of an arm Brendan Cardey had.
"When he was little, somebody tried to get us to have him play baseball," said Andrea Cardey, Brendan's mom. "He's got a good arm, a good throwing arm."
Baseball, however, isn't Brendan's game. It's track and field.
As a member of the Napa Track Club, he's one of the top throwers in the country in the javelin for the boys 15-16 division. With a personal-record throw of 138 feet, 6 inches, he ranks 23rd in the U.S.
In May, Cardey won the high jump with a clearance of 5-6 and took second in the javelin (129-3) at the 3M Invitational in Union City.
In June, at a sectional qualifying meet in Modesto, Cardey advanced to the Youth Outdoor National Championships in the javelin, capturing the gold medal with a toss of 123-11.
"He's doing great," said Frank Defilippis, the founder of the Napa Track Club and an assistant coach at Justin-Siena High School. "What he's throwing now is great. He has a strong arm."
Cardey, a graduate of St. John's Lutheran School who will be a freshman in the fall at Justin-Siena, also excels in the long jump and triple jump. He's a multi-event track and field athlete who plans to try out for both football and basketball at Justin-Siena.
Going from sport to sport keeps Cardey plenty busy, but he finds the time to work with Defilippis in the fall and winter months. They focus on the technical parts of throwing the javelin, from the running start to the release and finish.
"You've got to get it up in the air so that it carries," said Defilippis. "If he can get it even higher than he's been throwing it, and if he works on that, he'll see that the thing will really carry."
Cardey said he tries to pick a spot to aim for in the sky. He then tries to throw the javelin through a hole that he picks out.
"It will sail right through and it will go farther," he pointed out at Justin-Siena's Dodd Stadium last week.
At the National Junior Olympic Championships in Greensboro, N.C. — the track club's final meet of 2009 featuring nearly 6,000 young athletes competing in five age divisions — Cardey claimed the final spot on the podium and picked up the eighth-place medal in the youth boys javelin throw.
He also tied for 19th place in the high jump.
It was the third time that Cardey advanced to JO's.
Cardey achieved Youth All-American status in 2009. He was third at the Youth Outdoor National Championships in Ypsilanti, Mich., and took first at the Track City Classic in Eugene, Ore.
"It's pretty much all about technique, but some strength, too," said Cardey, 15. "You really want to plant your foot, because that transfers your weight for a lot of power into your throw. You want to be consistent."
For Cardey, throwing the javelin began one day at practice a few years ago. He looked on as a teammate unleashed throw after throw.
"It's a lot of fun and it keeps me active," said Cardey, who throws left-handed. "It's my best event. I have the best marks in that one."
Track and field is also a family affair for the Cardeys. Lauren and Jennifer, twins who will be seniors in the fall, compete for the NTC and Justin-Siena.
Kevin, a 2009 Justin-Siena graduate who was with the club for nine years, recently completed his freshman year of track at Stanford and does the decathlon, 400 and long jump for the Cardinal.
"The nice thing about track for our family is that each of our kids has excelled in their own particular events," said Andrea Cardey. "Luckily, all four of them have enjoyed the sport and are good at it. Track has allowed us to travel together as a family to the meets and we have made many lifetime friends along the way. It's a great sport for our family. We're all in the same place at the same time."
Kevin Cardey finished fourth in the men's long jump, going 23-11⁄4 for Stanford in the Cardinal's win over host UC Berkeley in the 116th Big Meet in April. He also finished 16th in a field of 24 contestants for Stanford in the men's heptathlon at the New Mexico Classic and Combined Events in February.
Brendan is fortunate to be learning about track from Defilippis, who was inducted into the Justin-Siena Hall of Honor last year for his many years of coaching. He helped start the Justin High Association, which got the school's athletic program up and going. He's won league and section titles, and has taken both individuals and teams to state meets.
"He teaches him a lot — javelin and life lessons as well," Andrea Cardey said of Defilippis.
Brendan Cardey was a starter for the St. John's Lutheran eighth-grade boys basketball team, which claimed five tournament titles, winning the Napa Invitational Tournament, Anaheim, Portland, St. Apollinaris' March Madness, and Justin-Siena's Dan Clark tournaments.
St. John's (29-1) ended the year on a 27-game win streak.
Bob Hauch, the Eagles' coach and an instructor at the school for 29 years, passed away in May after a lengthy battle with cancer. He was 61.
"Mr. Hauch was a great coach and a great person," said Cardey. "It was a very good team, a good season. It was amazing to play with all those guys. It was a good season."