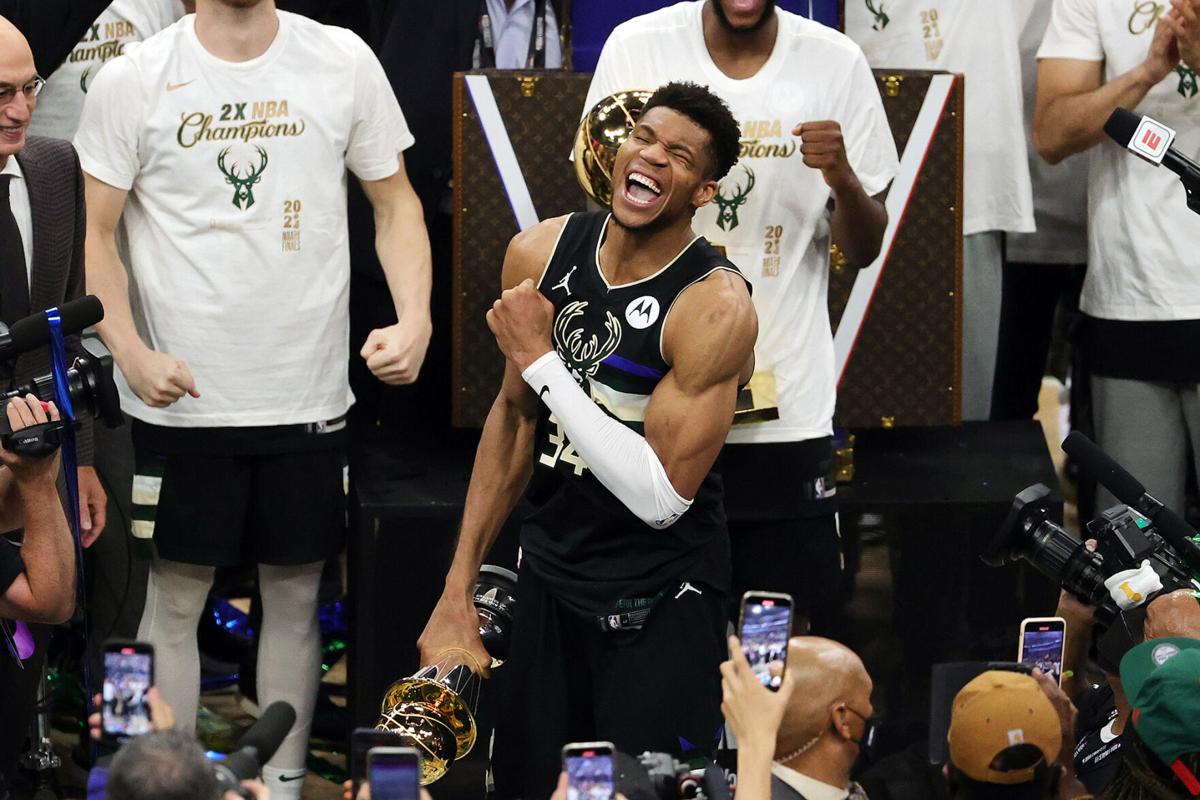 DETROIT — A funny thing happened on the way to the Phoenix Suns winning their first NBA title.
Giannis Antetokounmpo and the Milwaukee Bucks woke up after falling into a 2-0 deficit, and they reeled off four straight wins, for their first NBA championship since 1971.
It's not that the Suns were that bad, but the Bucks were that good.
It's not just a victory for Antetokounmpo, who had an all-time memorable game with 50 points, 14 rebounds and five blocks in the Game 6 clincher on Tuesday night. It's a victory for small-market teams who can't put together a squad with four superstars as easily as the bigger markets can.
It's a victory for patience for sports teams, which seems to wither away every season a favored team doesn't win a championship. The Bucks reached the conference finals in 2019 and fell in a surprising second-round upset last season — with Antetokounmpo winning the regular-season MVP both years — and they didn't panic.
General manager Jon Horst and the rest of the front office deserve a ton of credit for making the necessary changes, including paying a premium price for Jrue Holiday this season, to put the right pieces around Antetokounmpo. It's not easy to stay the course — with Antetokounmpo potentially eyeing an exit for greener pastures if things didn't work out — and getting it right.
It's a victory for Antetokounmpo, who didn't feel the need to jump ship on the team that took a chance on him, and the city that embraced him, to go chasing championships in bigger markets. The temptation to team up with other superstars sometimes is the easy road, but the Finals MVP chose his own path, and Tuesday night's superb performance puts him in a higher echelon with some of the game's best.
That the Bucks were able to get by the craftily constructed Brooklyn Nets by the smallest of margins — whatever the measure of Kevin Durant's foot on the 3-point line — isn't lost in this discussion. It takes a bit of luck to win a title, but they had to get themselves there.
It's a victory for Khris Middleton, who isn't just the player the Pistons gave up on too early. He showed up on the big stage and played his part perfectly, complementing Antetokounmpo and making a name for himself as one of the better players in the league. His inclusion on Team USA this year wasn't a fluke or a gift or USA Basketball settling for a second-tier player.
Middleton has earned everything he's gotten.
Even in defeat, it's a victory for the Phoenix Suns, who weren't supposed to be there in the first place. These are the same Suns who have been a perennial doormat in the NBA for years. They'd had only one winning season since 2010, and to go from a perceived fluky team that finished the bubble last season with momentum to the NBA Finals says something about what their front office did to assemble that roster.
General manager James Jones earned executive of the year, but their front office also did well to take a chance on Chris Paul and Jae Crowder to be the veterans that their young core of Devin Booker, Deandre Ayton and Mikal Bridges needed.
Yes, they lost the series, but like Milwaukee, the fact that they got there should send shock waves through the rest of the league. Besides Paul, they're still young and they still have a few more cracks at a title.
It's not just about the traditional powers in the league anymore. There's a pronounced shift in the structure of the league, and it's good to see.
There's a blueprint for young teams to see how to get there themselves.