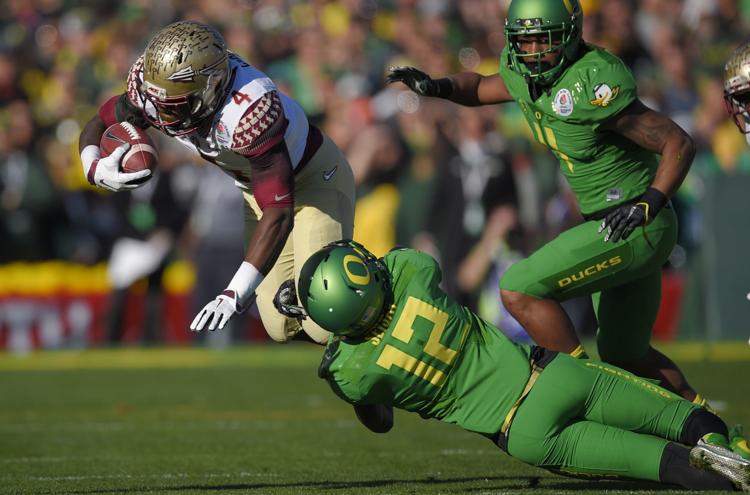 His name was not called during the 2018 NFL Draft, something that Chris Seisay of American Canyon said he was disappointed about.
But around 4:15 p.m. on Saturday, Seisay got a call from the Green Bay Packers.
Seisay, a 2013 graduate of American Canyon High School, has agreed to terms on a three-year contract as an undrafted rookie free agent with the Packers.
Seisay, a cornerback who played four years of college football, said the Packers offered him a spot on the team's 90-man roster.
"That was the best opportunity, so I took it and ran with it," Seisay said in a telephone interview. "It's all happiness. I'm just thankful to be in this situation. It's been a long road and I'm just happy to see things paying off and seeing a lot of people supporting me once they found out the news as well.
"It just feels good. It's really a blessing."
Seisay said he has "verbally agreed" to the contract. He added that he is in "the midst of signing the contract."
Seisay is among the players who have either signed or agreed to terms with teams, according to nfl.com. His name is listed with the Packers on the website.
Seisay said he was offered tryouts by the Oakland Raiders and Cleveland Browns on Saturday.
"He's got a chance. He's got his foot in the door," said Ian MacMillan, who was Seisay's head coach at American Canyon High. "Now it's a matter of just performing to the best of your ability and hopefully making that roster and just putting in the work."
"He's excited and I'm excited for him. He's put in a lot of work. Now he's just got to go to it. It's like anything else. Now it's job interview time."
"Like anything, it's about staying healthy, doing things right, eating healthy, and then just making the most of your opportunity. I know he's looking forward to it. He's got a lot of support. We're all rooting for him."
Seisay left the University of Oregon after three years in the program and transferred to Portland State in 2016. He played the last two years for Portland State.
Seisay joined other seniors as they worked out for scouts representing 13 NFL teams at Portland State's Pro Day in March. Seisay said he was pleased with how he performed.
He accepted an invitation to work out at the Oakland Raiders' Pro Day on April 12 at the team's facility in Alameda. The Raiders will return to Napa this summer for training camp. The team has its summer training camp at Redwood Middle School in Napa and stays at the adjacent Napa Valley Marriott. Last year was the team's 22nd summer in Napa.
Seisay has been training out of California Strength in San Ramon.
"This is something that I wanted to do, to show people that this seems like it could be attainable for anybody as long as you're working hard no matter how difficult school is, that you can create your own history as long as you just work hard and just trust yourself and stay positive," Seisay explained.
"It's definitely the greatest day of my life for sure up to date. I'm so thankful to have this opportunity."
He started games for Oregon against Florida State in the Rose Bowl and against Ohio State in the national championship game during the 2014 season.
He had 55 tackles, six passes defensed and an interception in 18 career games for Oregon.
During the 2016 season, he had 28 total tackles, two tackles for loss, intercepted two passes and broke up eight passes for Portland State.
During the 2017 season, he had 24 total tackles, intercepted two passes and broke up five passes.
Seisay graduated from Portland State last year with a degree in social science.
He had an outstanding career at American Canyon High. He was a MaxPreps.com Division II second-team all-state defender and received three stars by Rivals.com. He was the Vallejo Times-Herald Defensive Player of the Year and was honored with the Wolves' most valuable player award.