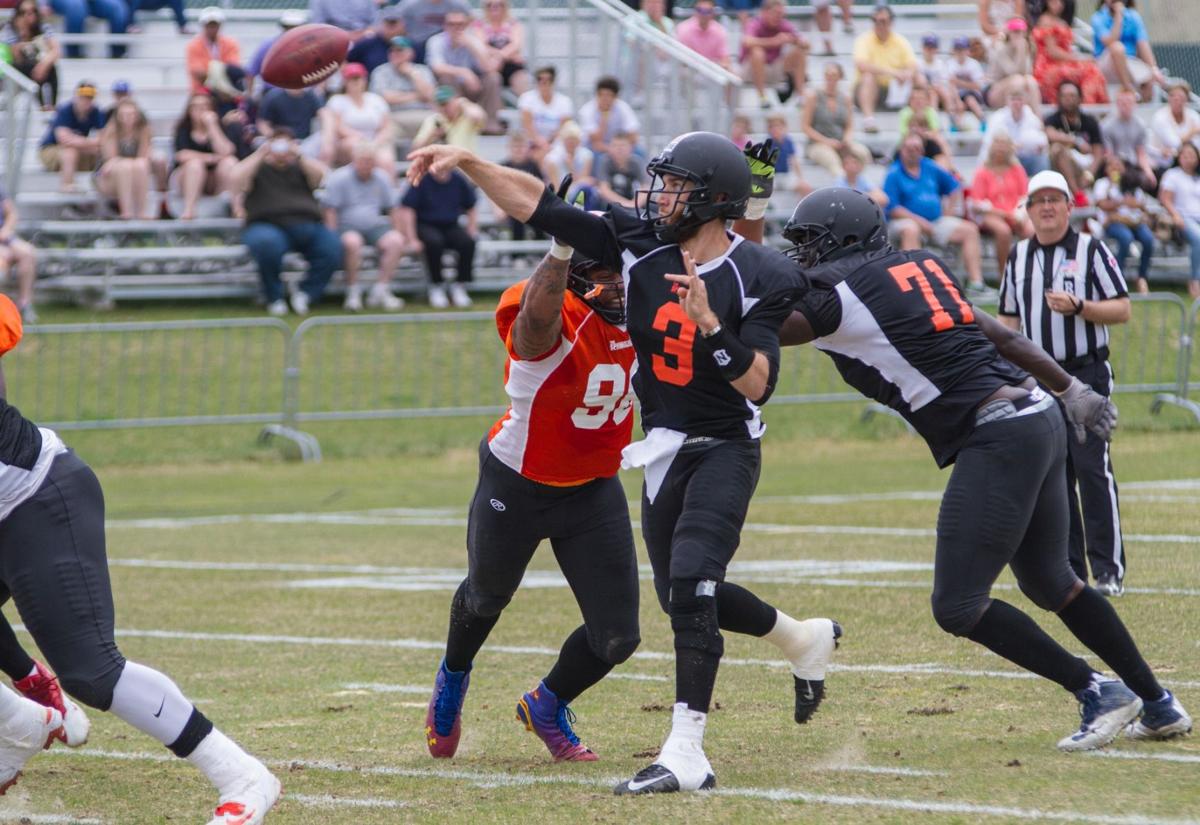 More than 90 players, including Fred Jackson, Anthony Dixon and Greg Hardy, have committed to play in The Spring League Showcase on Saturday, July 15 at Napa Memorial Stadium.
The Spring League is a new professional football instructional league. The game will be played in accordance to NFL rules.
Kickoff is at 5 p.m., and gates will open at 3:30 p.m.
The Spring League was created in early 2016 to serve as an instructional league and developmental platform for professional football talent, according to a press release.
With a current membership of four teams, the league conducts joint practices and games during the month of April. The Spring League also functions as a scouting event for NFL and CFL teams. During the 2017 season, 10 NFL teams, along with two CFL teams, attended both practices and games to evaluate talent.
For The Spring League Showcase, it will be Spring League East, which includes Jackson and Hardy as part of its roster, against Spring League California, whose roster consists of several players with ties to the state of California.
Spring League California's roster includes Griff Whalen (Stanford/New England Patriots), DiAndre Campbell (San Francisco 49ers), Diondre Borel (Tennessee Titans), Joshua Hill (UC Berkeley), Anthony Ezeakunne (Cleveland Browns), Jordon James (UCLA), Gabriel Manzanares (UC Davis), Jabari Carr (San Jose State), Tyrone Ward (City College of San Francisco), and Thierry Nguema (Los Angeles Rams).
"The Spring League Showcase will provide the NFL with additional opportunities to evaluate players just before the start of training camps," said Brian Woods, CEO of The Spring League.
Dixon played for the San Francisco 49ers and Buffalo Bills. Hardy was a Pro Bowl selection in 2013 who played for the Carolina Panthers and Dallas Cowboys.
Ticket prices range from $35 to a $150 sideline VIP ticket. Tickets will also be available at the stadium on the day of the game.
Both the Napa High and Vintage High cheer and spirit squads will be performing during the game and at halftime.
Raiders report to Napa for camp July 28
Oakland Raiders players report to training camp in Napa on July 28. The team's first practice is July 29, from 11 a.m. to 1:30 p.m. at Redwood Middle School.
"We're going to have a tough camp, and we have a tough schedule ahead of us. We have to be ready to put in the work. I thought it was a really good, productive off-season," head coach Jack Del Rio said.
"A lot of good work has gone into it. Getting the system installed and all the fundamental work we want to get. All and all, I'm very pleased with the way the guys are working."
The Raiders break camp in Napa on Aug. 17.
Be the first to know
Get local news delivered to your inbox!