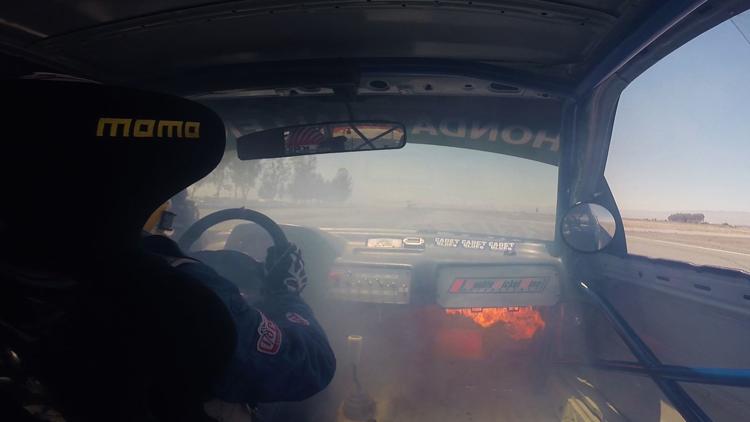 Napa's Rob Krider headed down to Buttonwillow Raceway for Rounds 7 and 8 of the NASA Honda Challenge series, hoping for a good weekend at the racetrack.
He was driving for Double Nickel Nine Motorsports and looking to earn crucial championship points, as well as qualifying points for the NASA Honda Challenge National Championships set Sept. 14 at the Circuit of the Americas in Austin, Texas.
The weekend would show extreme highs and lows for the team. After Krider won Round 7 on Saturday, setting another track record, his car burned to a crisp during Round 8 on Sunday. He got out in time and was not injured, but the team's premier No. 38 car was destroyed in the blaze.
"Cars can be replaced," Krider said.
It was the first weekend of racing for the team with its new sponsor, LetsGo.Racing, an online marketplace that connects racers with racecar owners who are looking to fill racecar seats. DNN Motorsports, with its recent success and expansion to a three-car team, is using the service to find additional drivers for their fleet.
Talking with pit crew members on DNN Motorsports, it was learned that Krider has a reputation for being hard on equipment.
Stephen Young, the team's crew chief, has been on the headset while Krider has blown three different race engines over the years.
"Yeah, Rob is tough on cars, but he knows how to get a lot out of them," he said. "He won for us on Saturday, qualified on the pole for Sunday's race, and at the same time broke the Honda Challenge record at Buttonwillow Raceway. That's pretty much the best you can ask for out of a driver. We are all just glad he got out without being hurt in the fire."
Team spotter Austin Fowler was on the radio watching out for Krider when the car ignited.
"I told Rob, 'You're on fire!' When he went by me I saw him inside pulling off his seatbelts. It was scary to watch," Fowler recalled.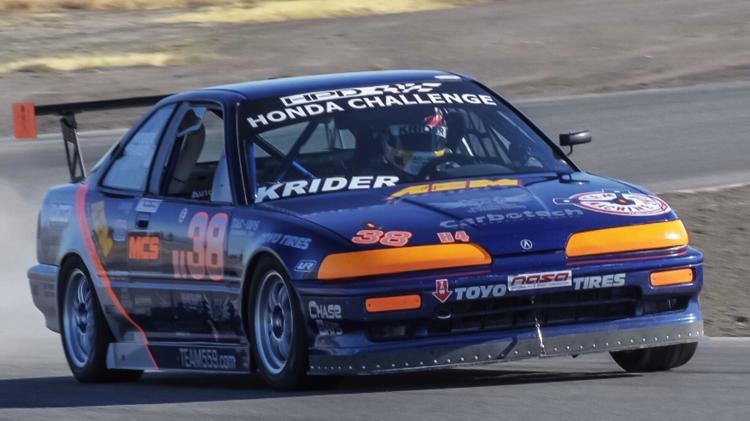 Krider parked the blazing car next to a corner worker where the fire extinguishers were, climbed out and, with his helmet on, watched it burn. The race was red flagged and stopped due to the incident. The red flag meant each racer's position in the race was frozen. Even with a car on fire, Krider was somehow able to finish in second place.
His father, Napa City Councilmember Jim Krider, was glad to hear his son was OK after the incident.
"I know racing is dangerous. Nobody has to tell me that. I'm glad Rob is unharmed," he said. "I don't know how he does it, but he is the only guy I know who can burn a car to the ground and still stand on the podium with a second-place finish."
The team's first- and second-place finishing positions on the weekend propelled Krider and DNN Motorsports to the top of the SoCal Honda Challenge Regional Championship points and secured the team's spot at the national championships. On paper, the team is ready for Texas. But it needs to rebuild the No. 38 car.
Rich Olivier, owner of TEM Machine Shop, has already started.
"I saw on Krider Racing's Instagram feed the car burned down," he said. "I headed down to the shop that day and started working on a new engine. The team can't win a national vhampionship without a fresh power plant from TEM."
Regardless of the loss of the car, or the fact Krider was inside it when it was on fire, he remains positive about the team's chances in Texas.
"We have 85 days until the national championships to rebuild it. We can do it," he said. "I've seen the crew at DNN Motorsports replace an engine in three hours. We'll make this car better than ever."
The team owner for DNN Motorsports, Keith Kramer, is the one feeling the pressure to ensure the team's cars are ready for the Circuit of the Americas.
"Having to rebuild the fastest car we have, right before the biggest race of the year, isn't optimal. But we have a lot of industry support," Kramer said, "and a lot of companies have already reached out to us to help us rebuild.
"We couldn't do it without the help of TEM Machine Shop, Hasport motor mounts, Insane Shafts, Chandler Autosport, Eibach springs, Autopower, Unorthodox Racing, Devsport, Performance In-Frame Tuning, Napa Valley Muffler, B&G Tires, HA Motorsports, Tactical Ops Brewing, Olson Auto Body, Bay Ex, Economy Stock Feed, J&B Farms, I/O Port Racing Supplies, Smart Racing Products, ProSpeed RS 683 brake fluid, Carbotech performance brakes, Cadet Blues the novel, Phase2Motortrend, Hardrace, Synchrotech Transmissions, Toyo Tires, Mountain Top Racing, Racepak, Sampson Racing Communications, and C.J. Fix Co. Bookkeeping."
Without the sponsors, Kramer said, "we couldn't afford to keep fixing the cars Rob blows up."
The team has a lot of work to do, with the nationals only two months away. The one person who doesn't seemed stressed out about the timeline is the same person who narrowly escaped being burned in the fire.
"We're a racing team. We do things fast," Rob Krider said. "I'm confident we will be ready for Texas."
Visit team559.com or follow KriderRacing on Facebook, Instagram or Twitter for more updates.