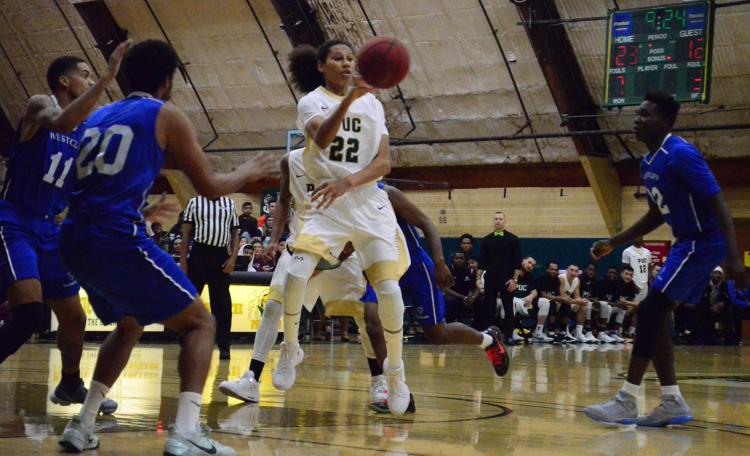 Rae Hubbard scored 19 points on 6-of-9 shooting and had two steals, but the Pacific Union College men's basketball team lost its nonconference game to host Cal State East Bay, 82-72, in Hayward on Dec. 19.
Hubbard made four 3-pointers on 4-of-7 shooting.
Chris Camper scored 16 points and had six rebounds and four assists.
The Pioneers (2-7 overall, 0-1 California Pacific Conference) were also led by Brandon Franklin (13 points, three rebounds), Devon Pinnock (eight points, four assists, three steals), Noel Briones (seven points), Joseph Scott (five points), Jeremiah Blandin (five rebounds), and Jayson Marquez (two assists, two steals)
Pacific Union plays an exhibition game on Dec. 30 at UC Santa Barbara at 6:30 p.m.
Imhoff Player of the Week
Ryan Imhoff, a senior guard, was named as the Frontier Conference Player of the Week on Tuesday after leading the Carroll College (Helena, Montana) men's team to three wins in California.
Imhoff, a Napa High School graduate, scored 31 points on 10-of-14 shooting and had eight rebounds and three steals in 37 minutes as Carroll beat Vanguard University in Costa Mesa on Dec. 20, 82-73.
Imhoff had 18 points on 8-of-14 from the floor with eight rebounds, seven assists and two steals in 30 minutes as Carroll beat Bethesda University of California, 85-55, on Dec. 19 in Costa Mesa.
He scored 16 points on 7-of-8 shooting in 15 minutes as Carroll rolled past Westcliff University in Irvine, 96-53, on Dec. 21.
It's Imhoff's third Player of the Week award this season.
Carroll is 12-0 overall, 2-0 in the conference.
Critchfield has Butte in rankings
The Butte College-Oroville men's basketball team, led by coach Russ Critchfield, is No. 10 in the latest California Community Colleges Men's Basketball Coaches Association state poll.
Critchfield, who is a former Vintage High head coach, has Butte at 11-3 on the year.
Butte lost to San Francisco City, No. 1 in the state, in the finals of the Delta Tournament, 83-66, on Dec. 17.
San Francisco is 15-1. Santa Rosa Junior College is 7-4 and No. 19 in the state poll.
Butte plays in the Golden Valley Conference, which appears to be a two-team race between the Roadrunners and Feather River-Quincy, the Commission on Athletics said on its website, cccaasports.org.
San Francisco City is No. 1 in the Northern California Regional Poll. Fresno is No. 2, Gavilan-Gilroy is No. 3, Foothill-Los Altos Hills is No. 4 and Butte is No. 5.
Critchfield was a three-time Pacific 8 All-Conference selection from 1965-1968 at the University of California. As a senior, he was named to the 1968 Helms Athletic Foundation, Converse All-America First Team and to the UPI All-America Team as an honorable mention selection.
Critchfield is a member of the University of California Athletic Hall of Fame and Pacific 12 Conference Basketball Hall of Honor. He was presented the Pete Newell Lifetime Achievement Award by Cal in 2014.
Winning streak for Napa Valley
The Napa Valley College men's team (5-7 overall, 1-0 Bay Valley Conference) is on a two-game winning streak following victories over Canada-Redwood City, 69-67, and Merritt-Oakland in the BVC opener, 79-71.
In the game against Merritt, the Storm was led by Armani Mills (20 points on 6-of-8 shooting, two steals, two assists), Adopo Amancho (17 points on 6-of-12 shooting, eight rebounds, five assists, three steals), Sasha French (12 points, six rebounds, three blocks), Akeem Dear (10 points, five rebounds, three steals), Joe Fons (six points, six rebounds, three blocks), Tom Salsman (six points), James Ned (four points, three steals), and Sayvon Abdur-Rahman (four points, three steals).
In the game against Canada, the Storm was led by Amancho (21 points on 8-of-11 shooting, 13 rebounds, nine assists, three steals), Salsman (14 points on 4-of-8 shooting, four rebounds), Dear (11 points on 4-of-9 shooting, five rebounds, three assists, three steals), French (six points, six rebounds, three blocks), Ned (five points), Abdur-Rahman (four points), and Fons (four points, six rebounds).
Jackson playing for Suns
Josh Jackson is averaging 9.4 points and 3.6 rebounds per game as a rookie forward for the Phoenix Suns.
Jackson, a Justin-Siena graduate who played two years for Prolific Prep Academy of Napa, is averaging 22.5 minutes per game.
He was the fourth overall pick in the 2017 NBA Draft out of Kansas. Jackson was the 2017 Big 12 Freshman of the Year at Kansas. He was a Wooden All-America selection, first-team All-Big 12, a seven-time Big 12 Newcomer of the Week honoree, and a two-time Big 12 Player of the Week selection.
He was selected third-team on The Associated Press All-America Team. He was named as a Freshman All-America by the Sporting News.