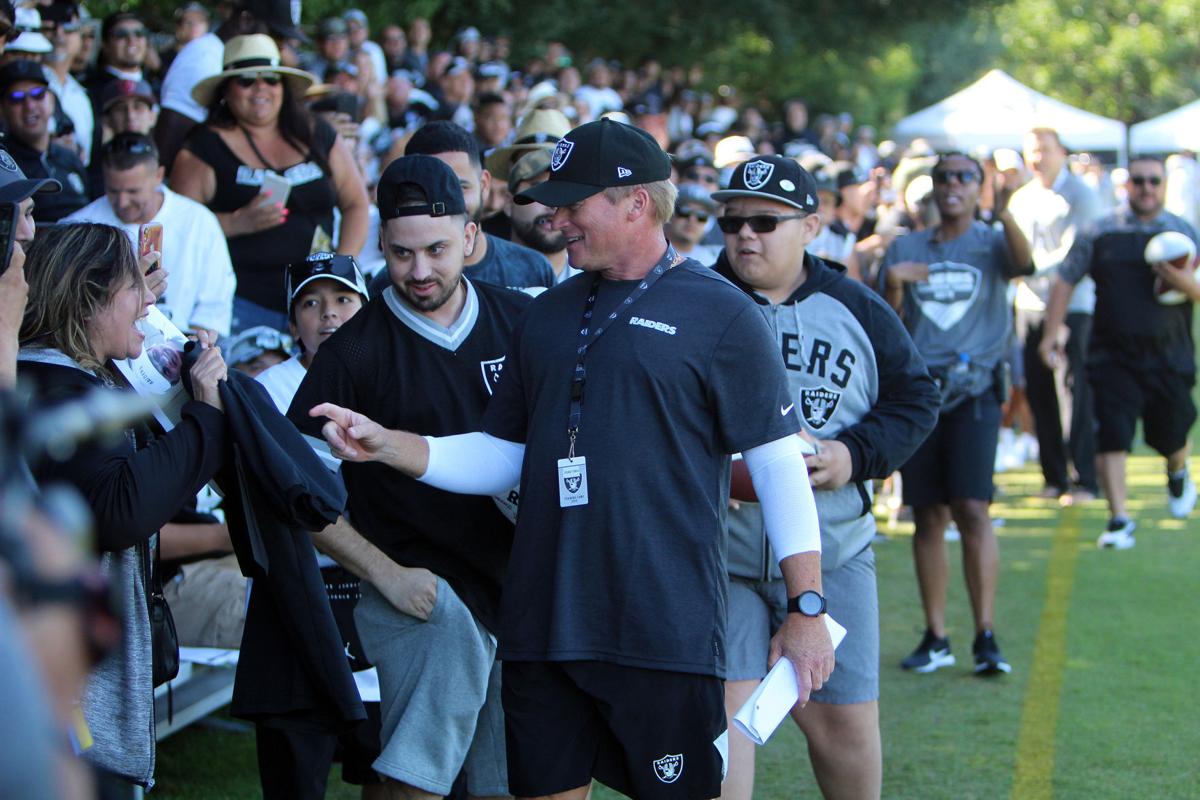 The Raiders will not be holding their training camp in Napa this summer due to the COVID-19 pandemic.
According to multiple reports, the NFL informed teams on Tuesday that they must hold training camps at their team facilities this summer. That means the Las Vegas Raiders, as they officially became known in January, will be holding their camp in Henderson, Nevada, just outside of Vegas, where their new team training facilities are being built.
That news was confirmed by the organization on Tuesday night in a press release. 
"The Raiders are in receipt of the league's memo dictating that all 2020 training camps must be held at each team's home facility," the release read. "We will follow the league's protocol accordingly and begin preparations to host training camp at Raiders Headquarters in Henderson, Nevada. The Raiders would like to thank and acknowledge the city of Napa and the Napa Valley Marriott, which has been our summer home for 24 years. We will evaluate future training camp locations at a later date."
While construction is ongoing, the team "fully expects" the stadium to open in time, barring any delays, for their preseason home opener on Aug. 27, according to a report on ESPN.com.
Likewise, the training facility in Henderson is also still under construction but the Raiders can begin moving in because they have their "certificate of occupancy" for the building, according to the ESPN.com report.
In-person workouts at team facilities were canceled by the league in March at the onset of the pandemic. Only in the past weeks have teams begun the process of reopening, albeit on a limited basis.
Currently, only players undergoing medical treatments and rehab have been allowed to return to those facilities.
According to reports, the league is hopeful complexes can fully open soon but will need to follow strict medical guidelines including social distancing protocols.
The Raiders have held their preseason training camp in Napa since they returned to Oakland in 1995. This summer would have been the 25th year of the Raiders training in the wine country.
Though the 2020-2021 season was to be their first playing in Las Vegas, the Raiders had still planned on holding their training camp at the Napa Valley Marriott Hotel and Spa this summer. It's currently unclear if they will return next year.
A request for comment was not immediately returned by the Napa Marriott on Tuesday.
The team is currently working out of its complex in Alameda.
Contact Gus via phone at 707-304-9372 or email at gmorris@napanews.com. Follow him on Twitter @JustGusMorris.
Be the first to know
Get local news delivered to your inbox!