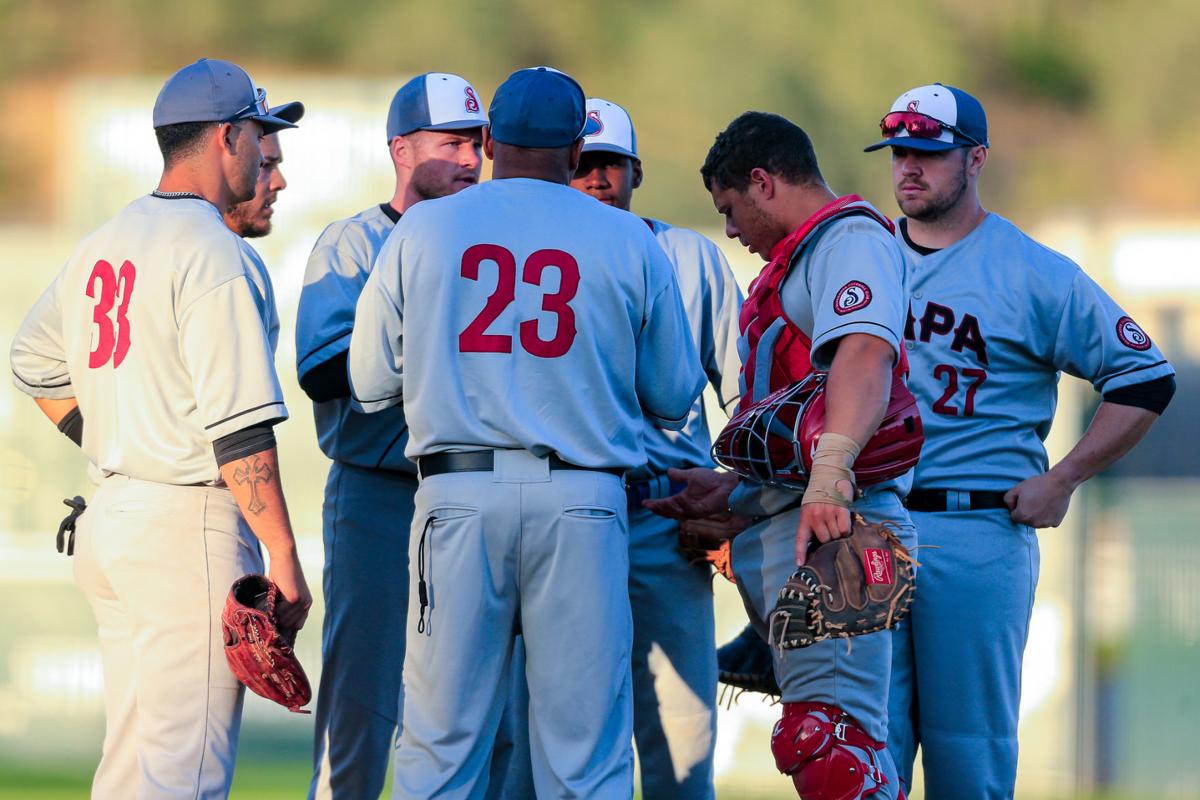 While the rest of the sports world has shuttered around them, the Napa Silverados are still in the midst of preparing to play their third season this summer.
As of Monday, the Pacific Association of Professional Baseball Clubs, the low-level independent professional league Napa is a part of, has not announced any widespread season cancellations yet. The league put out a statement on March 19 indicating that the season would go on as scheduled, but that the situation would continue to be monitored in case changes to the season do need to be made.
"As we prepare for the start of our season in June, the Pacific Association of Professional Baseball Clubs, and each of our teams in Sonoma, Napa, Vallejo and Fairfield, in consultation with health and wellness experts, have decided to keep plans for our summer season," the statement read. "In all hopes that the mass spread of the coronavirus becomes controlled, there is an unknown stage for the next few months. We will be providing regular updates as new health and safety progressions transpire over the next 30 days and beyond. The Pacific Association will continue to monitor this fluid situation and make adjustments to our operations as warranted."
Commissioner of the PAPBC Jonathan Stone said last week that the league and its teams are taking things week by week.
"Each team is still talking to their sponsors and we're still prepared to play the season, but we clearly understand that there's a part of it that's out of our control," Stone said. "We'll see what happens and see how it plays out. And if there is an opportunity for us, we're here to play."
Tito Fuentes Jr. and his wife, Alma Fuentes, both members of the ownership group that took over the Silverados prior to the start of the 2019 season, echoed Stone's statement last week, saying they are making the preparations to play but understand the situation is still developing.
"We're all planning on having a season until we're told we don't have a venue or shelter in place is still in effect or outdoor events are limited to X amount of people," said Fuentes Jr., who also serves as the team's general manager.
However, even making preparations has been difficult of late. The Silverados are supposed to play their home games at Justin-Siena High School this season, after playing them at Napa Valley College the past two years. But with Justin-Siena's campus currently closed until May 1, the Silverados have been unable to use the facilities.
This limited access, coupled with the current shelter-in-place order, has made conducting any type of official team business difficult for every member of the PAPBC, Stone said.
As of last week, the PAPBC was still aiming to start its season in June, but Stone said he was unable to give an exact date because of the fluidity of the current situation. He added that the league was potentially looking at starting the season late and having it end in the fall, but said any and all discussions as to how the league will proceed are still ongoing.
Stone said the league will likely continue discussions sometime in the middle of April.
"We are prepared to play a season, but now we have to sit back and wait and see," Stone said last week. "There are a lot of considerations that would come forward. We'll see. I hope for the best, I really do."
Fuentes Jr. said that if the Silverados can't play at least 65 games, the minimum an independent league team needs to play for its season to be considered professional, the team would likely just cancel the season.
Stone said those kinds of decisions are up to each individual club to make. He did add that if the season were to be outright canceled, it would be a "gap year" and not have a major financial impact on the league, which enters its eighth year of operations, because every team would be in the same boat.
"It's not an impactful thing," he said, "because if we were prepared to play our games and now we're not going to, just like a lot of businesses and a lot of individuals who have been working hard and now their work has stopped, it will start up again.
Alma and Tito Fuentes Jr. seem to feel the same.
"We would just be dormant for a year," Fuentes Jr. said. "It wouldn't have any impact financially on the franchise."
Alma Fuentes added that if the season was to be canceled or altered in some way, the Silverados and their locally-based players would still continue to conduct community outreach like fundraisers and other events when it was deemed safe.
Above all else, she wants the prospect of Silverados games to be a sign of hope that things will get better eventually.
"I just want people to have something to look forward to this summer, to lighten things up and do with their families and reconnect with friendships in the community," she said. "I think it's the perfect venue to boost peoples' lives again. Hopefully we can be able to do that and I hope that things will change sooner rather than later."
Contact Gus via phone at 707-304-9372 or email at gmorris@napanews.com. Follow him on Twitter @JustGusMorris.
Concerned about COVID-19?
Sign up now to get the most recent coronavirus headlines and other important local and national news sent to your email inbox daily.