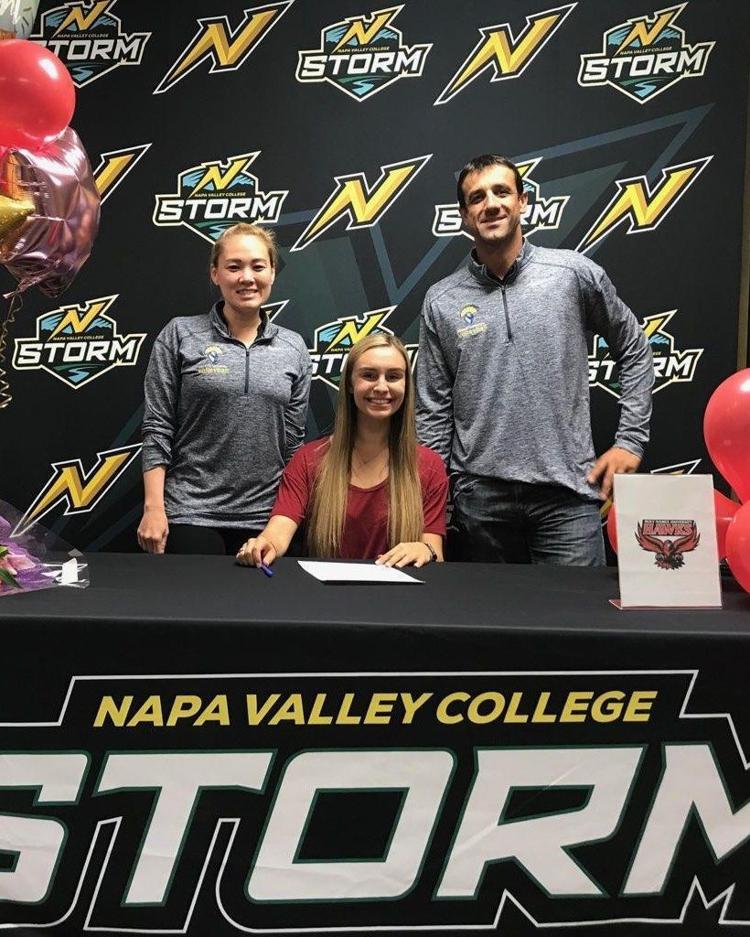 If one had asked Mariah Leal when she graduated from Vintage High School in 2015 what college sport she would play, it would have been basketball all the way.
Of course, she had no idea at the time that her first stop, Napa Valley College, would cancel its next two basketball seasons due to a lack of enough players.
No problem, she figured – eventually. Leal had also been a volleyball standout at Vintage, so after missing the Storm's 2015 season because of her hoop dreams, he played that sport in the fall of 2016. Though a year removed from volleyball, she fell back in love with the game under wife-husband coaches Kristen Iordanova and assistant Danko Iordanov.
Little did Leal know, that season would be the only one recruiters at four-year schools would get to see her play. She was forced to red-shirt last fall, she said, because "my credits for basketball didn't transfer over for volleyball." But she was so determined to play volleyball at the next level, she tried to be as much a part of NVC squad as possible.
"I was completely a part of the team. I went to every single morning practice, I did not miss a game, I went to all of the tournaments we had. I was on the team, just not playing," she said. "I could have warmed up with the team during game days, but to me there was no point in getting my body ready if I had to sit out."
Her plan was to practice hard with the Storm all season and, afterward, show recruiters what she could do at the sophomore showcases.
Like someone applying for a job after not working for a year, Leal had to convince her suitors that she hadn't taken a year because of any kind of disillusionment with the sport.
"Yeah, I got a lot of that," she said.
That put a lot of pressure on her at the Solano showcase.
"There are a lot of coaches at showcases, and thankfully I had a good day," she said. "I was extremely nervous, just because there were a lot of girls from down south whose teams traveled up here with them. So there were like seven to eight girls cheering their teammates on, being loud and energetic. If you were there by yourself, you had to motivate yourself."
Holy Names University head coach Adrienne Beltrami, a Ripon native who enters her third year at the Hawks' helm, saw Leal at the Solano showcase and invited her to the Oakland campus for a tryout in early January.
"They had just gotten back from Christmas break and they dedicated a whole day to me so I could try out. I thought that was really special because I was able to be with the team," Leal recalled. "We went into the coach's office afterward and she offered me a position on her team. I was still in the moment because I had just gotten done with our tryout after having spent the whole day there, like 10 hours. It was like a dream.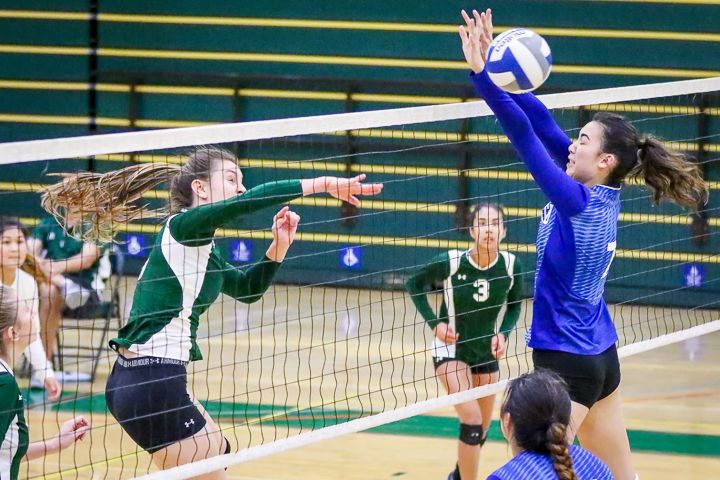 "I had toured the campus and practiced with the team, and got to know the coach a little bit. You get a feeling when you visit a school whether it's right for you. From the moment I stepped on the Holy Names campus, I felt excited. I wanted to spend my next three years there."
Being able to stay close to home was also important for Leal, who has 16- and 17-year-old brothers who attend Vintage, a 12-year-old brother and a 9-year-old sister.
"I had a lot of schools from out of state that wanted me, like in New York and Massachusetts, but I wasn't really ready to move (out of the house)," she said. "I'm the oldest of five and I wanted to see my brothers and sister graduate from high school, so being able to stay in the Bay Area now and play volleyball is the best thing for me and my family.
"I'm the only athlete in the family but my sister is a 5-foot-2 monster and only 9, so I'm hoping she gets involved in sports."
Leal said Iordanova and Iordanov helped her make the best impression possible on coaches from four-year schools.
"Kristen and Danko wanted to make sure my academics were aligned first," she said. "So they put together a whole clip of me, like a five-minute video of my freshman season. Then in my red-shirt season, about two weeks before it was over, we did a skills video. So when I emailed coaches, I had the two clips in there. Kristen and Danko helped out tremendously with everything."
Iordanova and Iordanov have since left NVC to coach volleyball at Westcliff University in Irvine. But they attended Leal's signing ceremony on June 11 and Iordanova was more than happy to talk about the sophomore she couldn't send onto the court, but will now be playing in the NCAA Division II Pacific West Conference.
"Mariah has shown tremendous growth as a person and student-athlete in the past two years. Danko and I are tremendously proud of her," Iordanova said. "She is a great example of what can happen if you work hard and trust the process. We look forward to keeping up with her progress as she continues her journey at Holy Names."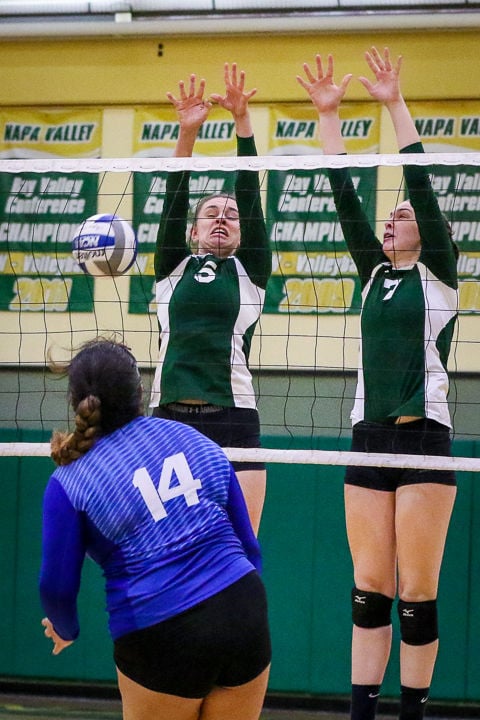 Leal played only two seasons of volleyball and three years of basketball at Vintage, having transferred there after attending Gunn High in San Jose as a freshman.
"I had been playing basketball since I was 5 years old, so it was one of those things I wasn't ready to give up. I was intending to stop my career for volleyball and continue with basketball," she said. "But obviously there were different plans. I'm extremely happy that I decided to try out volleyball again and see where that would take me, because here I am."
Kelly Van Winden, who stepped down as NVC volleyball head coach after the 2014 season, had watched Leal play at Vintage with her daughters, Adlee and Torrey. She called Leal to congratulate her on her opportunity at Holy Names.
"I'm hoping I'll be able to play right away," Leal said. "The lucky thing is that I have three years (of athletic eligibility) left. Most girls don't have three years left coming out of junior college."
Despite having played only one volleyball season in three years, Leal feels ready for Division II volleyball.
"I learned (at NVC) how to be a better teammate," said the sociology major. "I'm the energetic one on the court, so the year I red-shirted, being the oldest one on the team and one of only two sophomores on the roster, I tried to be a role model, like a big sister, and take care of them. I learned a lot about myself and the things I'm actually capable of doing. I was really upset that I couldn't play, but I took it as more of a learning experience rather than just being upset about it."
The 6-foot Leal said she used the red-shirt season to become an all-around player like the tall Van Winden sisters, who both went on to play Division I volleyball in Southern California.
"I really wanted to be able to play back row and become a better passer," she said. "I practiced a lot at right side (hitter), so when the Holy Names coach recruited me I went in as a middle and right side, hoping if she liked my passing I could do a full rotation."
In volleyball, she probably keeps reminding herself, not in basketball.
"Yeah, I definitely do think it is crazy," she said of her athletic path. "I didn't see myself going to school to play volleyball, but I'm glad I did. It's a fun sport and I just want to enjoy my last years while I can."