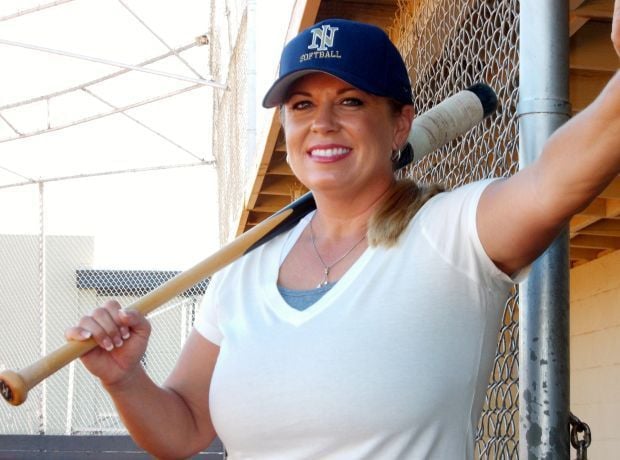 Since moving to Napa 18 years ago, Karen Yoder has had three jobs as softball head coach and two as athletic director that have forced her to be a super commuter at times.
She's known mostly for being the UC Davis head coach from 2005-2014, when the Aggies transitioned from NCAA Division II to Division I. After taking the Napa High helm in 2015, she ended her 18-year coaching career and began a new one as an athletic director.
Since serving as AD at Calistoga Junior-Senior High School from 2015-18, Yoder has had her longest commute – a three-hour round trip on good days – the last two years while serving as AD at Mission Community College in Santa Clara.
On July 1, her drive will be less than half that when she takes over as Director of Athletics at California State University Maritime Academy in Vallejo.
"I was born in the Bay Area and have always been labeled a commuter. The shortest commute I have recorded was the two years of an eight-minute commute to Napa Valley College," she said of when she coached the Storm in 2003 and 2004.
As far away as Santa Clara is from Napa, it wasn't far from her hometown of Morgan Hill and Live Oak High. She was inducted into the Live Oak Athletic Hall of Fame in 2015 for her standout career as a high school softball, soccer and field hockey player, as a college player at West Valley Community College for one year and the University of New Mexico for three seasons, as a professional player, and as a coach.
Known as Karen Matteson she graduated from Live Oak in 1990, she was a catcher who led the Acorns to three straight Monterey Bay League championships. As a senior, she was named the league's Most Valuable Player and helped Live Oak reach the Central Coast Section Division I championship game.
After college, Yoder played in the Women's Professional Fastpitch League for the Georgia Pride and Durham Dragons before retiring as a player in 1999.
She began coaching as an assistant and head coach at Hayward State, now called CSU East Bay, for three seasons before guiding the University of North Carolina-Greensboro to two winning seasons.
After moving to Napa, Yoder not only helped restart the NVC program but guided the Storm to the Bay Valley Conference crown and earned BVC Coach of the Year honors her first year. The following year, the team was the conference runner-up.
Yoder then piled up 217 wins at UC Davis over the ensuing decade, ranking her second all-time. She recorded her 300th college coaching win overall in 2010 over rival Sacramento State, and would finish with 338 career victories as a NCAA head coach.
In 2010, she was named Big West Conference Coach of the Year after UC Davis won the BWC title and qualified for the NCAA Regional at Stanford.
Yoder then succeeded John O'Connor – the winningest softball coach in Napa County history with 463 wins in 10 years at Napa and 13 at Justin-Siena – in 2015 and helped Napa High finish 12-15 overall and 5-10 in the Monticello Empire League, good for fourth place. While serving as the Calistoga AD after that, she was also on the Napa Junior Girls Softball League board.
On Yoder's watch at Mission College, the Saints got Coast Conference South titles in 2018-19 from their baseball team – which also won a playoff-opening, best-of-3 series over Santa Rosa – and women's basketball squad. Women's hoops struggled this winter, finishing sixth out of seven teams in the conference. The baseball team started 2-12 before winning five straight and losing a 3-2 heartbreaker at Santa Rosa on March 12 before the season was ended due to the growing COVID-19 pandemic.
The Mission softball team won one game in 2019 and was 0-1 when this season was ended. The volleyball program, after not fielding a team in 2018, was winless last fall.
"I am proud of what Mission College Athletics accomplished in two short years, and it goes beyond the win-loss column," Yoder told the Register. "We celebrated the highest recorded GPA in the history of the 40-year athletic program with the addition of an athletics counselor in the department. We opened the first-ever athletics building that housed nine head coaches' offices, including a newly added administrative specialist to support the department.
"The championships are an accumulation of efforts of the student-athletes, coaches, and support across the entire campus. The actual celebration came when the system's 'Vision for Success' and the mission statement of the department focused on student success, retention, and matriculation of four-year transfers. Building supportive relations, lifelong memories and genuine concern for students is more critical than any championship celebrated in one year or season. It's all about helping each student champion their passion and reach their potential in life."
Yoder now succeeds retiring athletic director Marv Christopher to oversee CSU Maritime's NAIA and intramural athletic programs.
With bachelor's and master's degrees in kinesiology from CSU East Bay, Yoder also has a combined 19 years of teaching experience as a kinesiology/physical education instructor between UC Davis (2004-18), Calistoga Elementary (2017-18), Diablo Valley College (2014-16), NVC (2002-04) and Hayward State (1997-2000).
"Karen Yoder's experience in working collaboratively to develop and implement strategic plans will be an invaluable skill in leading our athletic program," CSUM President Tom Cropper said in a press release. "Our further growth and success in fully developing our student athletes both on and off the field requires someone with her knowledge and understanding."
According to the release, Yoder brings to Cal Maritime her personal philosophy to serve the educational and personal development of all students. She strives to create a student athlete environment with an inclusive culture that includes an equity-minded approach that respects each individual student athlete. She strongly identifies with Cal Maritime's emphasis on student leadership development. She views athletics at all levels as providing a key platform in preparing students for the mental and physical challenges that encompass leadership development.
"I am a firm believer in contributing across campus and district shared governance and executive committees to continually build on the bridge of academics and athletics to serve the entire student body," she told the Register. "At Mission College, I reported directly to President (Daniel) Peck and was encouraged to contribute on a variety of committees, including President's Cabinet, College Council, Management Council, Student Services Council, Program Review Resource Committee, Facilities Safety Committee, Behavioral Intervention Team, Title IX, Equity Onboarding Team and, most recently, the Campus COVID 19 Response- EOC level team. The alliances you build with constituents and colleagues are a vital piece in developing an understanding of the entire organizational structure in which Athletics contributes to the collective whole."
Established in 1929, CSUM is the only degree-granting maritime academy on the West Coast. It serves about 1,200 students and offers undergraduate degrees preparing students for careers in engineering, transportation, international relations, business, and global logistics. It also offers a master's degree in transportation and engineering management.
"I am looking forward to managing a vision that acquires information and assesses the strengths and shortfalls, and creating an organizational strategic plan for which I will advocate for athletics and physical education moving forward," Yoder said. "Athletics and physical education will focus on contributing to the cadet's total health and wellness development with an equity-minded approach that fosters leadership, all while celebrating the ability to compete."
As a member of Mission College's COVID 19 Response- EOC level team, Yoder is still evaluating the "Return to Campus" and "Return to Play" policies.
"I will use that experience to provide Cal Maritime the same guiding principles as they relate to the campus directives," she said. "COVID-19 has presented challenges on every campus around the world. Athletics and physical education are a microcosm of our society where we will follow federal, state, and county guidelines to ensure the safety of all cadets, coaches, support staff, faculty and administration. The resocialization back on campus will be a collaborative approach that will be focused on the health, safety, as well as assisting in the mitigation of the spread of the disease.
"I look forward to connecting with the community and shining a positive light on the opportunities Cal Maritime provides with a world-class education and intercollegiate experience."
Be the first to know
Get local news delivered to your inbox!