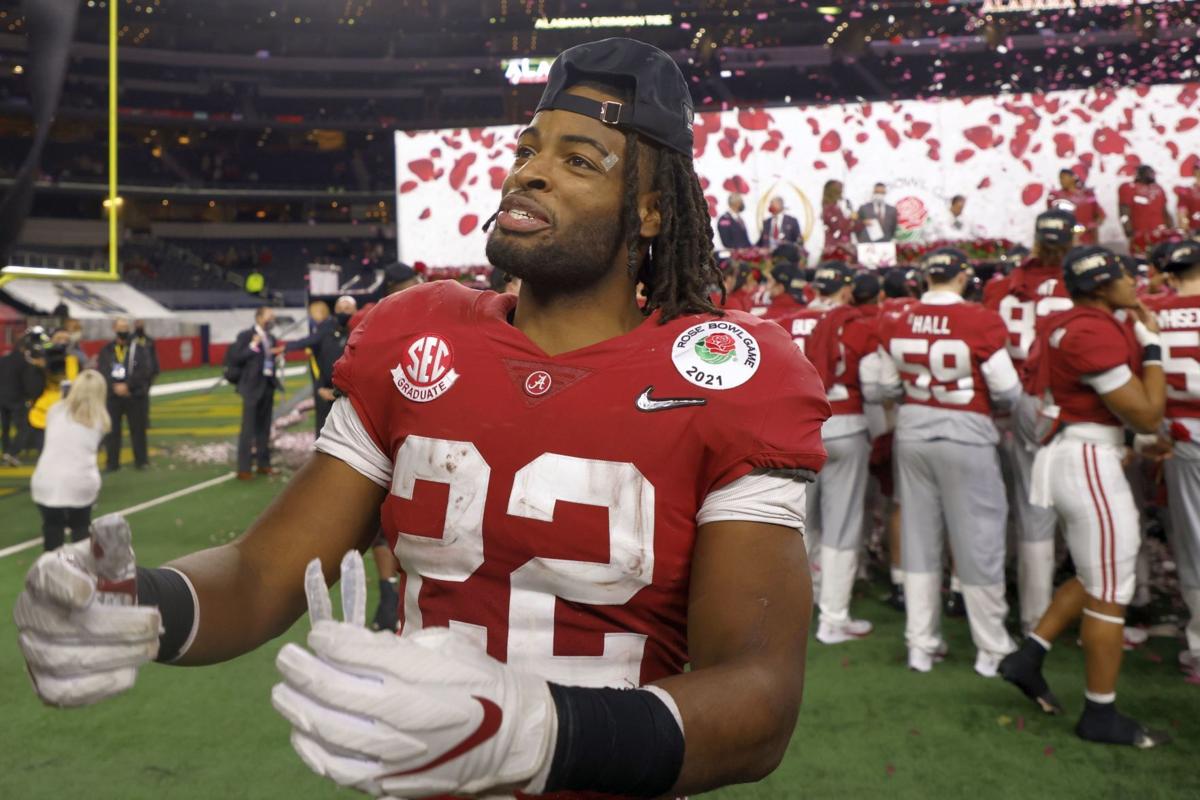 TUSCALOOSA, Ala. — Stepping onto Paul W. Bryant Drive, former Antioch High School star Najee Harris stood directly behind Nick Saban as the march to Foster Auditorium began.
It was Aug. 31 and the Alabama running back had helped organize this Tuscaloosa splinter of the nationwide call for racial justice in a summer and year where voices were heard.
So, for a day, Alabama football paused its preseason practice routine and marched as a team to make a statement for justice.
Just two months earlier, Harris' teammate Alex Leatherwood penned a poem that spoke to the pain and frustration on display for most of 2020. The two future NFL draft picks used their platform to speak for young Black Americans struggling with the murder of George Floyd — a flashpoint in the move for racial justice in this divided country.
Leatherwood's poem was ultimately read by a diverse group of Alabama football leaders on a June 25 video, which was one of the first unified calls for justice by these influential college students. The starting left tackle later spoke at the rally that followed the Aug. 31 march, but his poem set the tone.
"What inspired me to do it, I mean just like seeing this past summer all the things that were going on and taking place," Leatherwood said. "I mean it was just very disheartening and I feel like us and us being who we are and us having this platform, I felt like it was a great opportunity to show that, just like be a voice for my people."
Harris was a driving force to get the Aug. 31 event planned and executed. Standing at the front of the march, the northern California native was the first to speak in front of historic Foster Auditorium after Saban opened the event. Harris introduced himself as a student at the University of Alabama, not the star running back for the Crimson Tide.
"This call for change can't end here today," said Harris at the podium. "We walked to this schoolhouse door intentionally because, while much has changed in the last 57 years, too many things have not. So, in the present moment, we as student-athletes need to play our part in bringing about positive change."
Harris was referencing the infamous 1963 incident in which Governor George Wallace stood in the door of the auditorium to prevent Black students from registering for classes at UA. The days of such blunt-force racism have passed but Harris and Leatherwood stand for the movement that says the work isn't complete.
Harris efforts move beyond the marches and rallies. He also volunteers with the Alberta Head Start Unity Project in Tuscaloosa as part of his outreach.
Both Leatherwood and Harris are seniors who could have left school a year early for the NFL but opted to return for one final season. This racial justice movement wasn't on the radar when they made their decisions to stay in Tuscaloosa but they didn't waste the opportunity to stand up for what's right.
Texas fires Herman, hires Sarkisian as head coach
AUSTIN, Texas — Texas was tired of waiting for Tom Herman to deliver a Big 12 title and turn the Longhorns back into national championship contenders.
Next up: Steve Sarkisian, the architect of the Alabama Crimson Tide's offense and its tsunami of points this season.
Texas fired Herman on Saturday after four winning seasons, then hours later announced it was giving the job to the Alabama offensive coordinator.
It's a quick move Texas expects will deliver quick results. The Longhorns are not known to be a patient bunch.
"I think there's championship talent on this team. Clearly, there's work to be done or a change wouldn't be made," Sarkisian said.
Sarkisian leads a Crimson Tide offense that has pummeled opponents and produced two Heisman Trophy finalists in quarterback Mac Jones and receiver DeVonta Smith heading into the Jan. 11 College Football Playoff championship game against Ohio State. He recently won the Broyles Award given to college football's top assistant coach.
He's also been around. At 46, Sarkisian has previous head coaching stints at Washington and USC. He's been Alabama's offensive coordinator under Nick Saban since 2019, and has experience as an NFL assistant.
Sarkisian will remain with Alabama for the championship game.
"Coach Saban wants to win a national championship, so he didn't push me out the door," Sarkisian said.
Texas wants Sarkisian to not just win — Herman did that with a 32-18 record and four bowl victories — but to knock rival Oklahoma off the top of the Big 12 while also making sure recruiting in their home state doesn't get swamped by Texas A&M's rise in the Southeastern Conference.
He will be Texas' fourth head coach since the program's last Big 12 championship in 2009. Since then, Texas has fired Mack Brown — the only coach to lead the program to a national championship (2005) in 50 years — Charlie Strong and Herman. Of note, Sarkisian was a USC assistant when Texas beat the Trojans for the national championship in the epic 2006 Rose Bowl.
"It's amazing to think here we are 15 years removed from me standing on the opposite sideline of Vince Young running into the end zone at the Rose Bowl, (to) me being the head coach at Texas," Sarkisian said.
Sarkisian was 46-35 overall at Washington and USC, but was fired midway through his second season with the Trojans 2015 and went into alcohol rehabilitation treatment. He later lost a $30 million breach of contract and disability discrimination lawsuit against USC that alleged the school fired him instead of allowing him to seek treatment.
Sarkisian said he's grown as a person since then and is ready to step back into the spotlight at Texas.
"I'm proud of the work that I've done (in treatment). But I will say when you battle what I battle, you have to work on it every day," he said.
Outback Bowl: Mississippi 26, Indiana 20
TAMPA, Fla. — Even before Mississippi took the field Saturday, the Rebels felt good about the direction they're headed. Head coach Lane Kiffin was rewarded with a new contract despite having only been at the school one season. There also was no guarantee one of the nation's lowest-ranked defenses would be able to slow down No. 7 Indiana enough to ensure the team's first non-losing record since 2017.
"It's really only up from here," quarterback Matt Corral said Saturday after throwing for 342 yards and two touchdowns to pace a 26-20 victory that ruined the finish to surprising Indiana's breakout season.
Corral's 3-yard pass to Dontario Drummond put the Rebels (5-5) ahead for good with 4:12 remaining and the Ole Miss defense, which allowed 535.7 yards and 40.3 points per game during the regular season, came through with one more stop to clinch the school's first bowl win since beating Oklahoma State in the 2016 Sugar Bowl.
"We talked about it all week. We're going to need that," Kiffin said. "We were not going to go score 60 points. ... We knew it was going to be a struggle, and it was great to see the defense play like they did."
The Hoosiers were not happy about not being selected to play in a New Year's Six game, replacing Big Ten logos with Outback Bowl logos on their jerseys and wearing the letters "LEO" on their helmets.
Indiana head coach Tom Allen issued a statement to clarify "what we are wearing on our uniform and helmet," noting that ever since he took over as coach at Indiana the program's mantra has been "LEO, Love Each Other."
Saturday's loss concluded a season in which they turned heads by beating traditional Big Ten heavyweights Penn State, Michigan, Michigan State and Wisconsin and losing narrowly to CFP finalist Ohio State on the way to their best start since 1993. The bowl loss could cost Indiana what likely would have been a Top 10 finish in the final AP Poll.
"This season has been the most trying we will ever experience, and we felt it was appropriate to showcase LEO, which has carried us through one of the most historic years in Indiana football history," Allen added. "We did not intend to show any disrespect to anyone. We are a proud member of the Big Ten and are always representing our conference."
Fiesta Bowl: Iowa State 34, Oregon 17
GLENDALE, Ariz. — The youngest team in the FBS, mistake-prone Oregon looked it against No. 12 Iowa State on Saturday. The Ducks (4-3, CFP 25) committed a season-high five turnovers, including a muffed kickoff return, had a touchdown negated by a penalty and held the ball for only 17:12. They were 0 for 6 on third down.
Down 28-17 at the half, Oregon's six second-half possessions ended punt-fumble-punt-fumble-punt-interception. Iowa State (9-3, CFP 10) turned the first fumble into a field goal midway through the third quarter and blunted later drives after Anthony Brown fumbled and Tyler Shough threw an interception.
Orange Bowl: Texas A&M 41, North Carolina 27
MIAMI GARDENS, Fla. — Texas A&M head coach Jimbo Fisher pulled a hamstring as he tried to avoid the players who wanted to give him a celebratory Gatorade bath. Luckily, Fisher didn't have to run in the Orange Bowl. Devon Achane did more than enough of that for the Aggies.
Achane had two touchdowns in the final 3:44, including a 76-yarder that put Texas A&M ahead to stay, and the fifth-ranked Aggies beat No. 14 North Carolina on Saturday night to cap a winless bowl season for the Atlantic Coast Conference.
Gator Bowl: Kentucky 23, North Carolina State 21
JACKSONVILLE, Fla. — Kentucky's postgame locker room provided a scene players and coaches might never forget. They celebrated a third consecutive bowl victory while dedicating it to two guys who couldn't be there. This one was for late offensive line coach John Schlarman and rehabbing linebacker Chris Oats, who has been battling a significant medical condition since May.
A.J. Rose ran for a career-high 148 yards, Chris Rodriguez added 84 yards and two scores and the Wildcats held off No. 24 North Carolina State 23-21 on Saturday in a chippy TaxSlayer Gator Bowl.