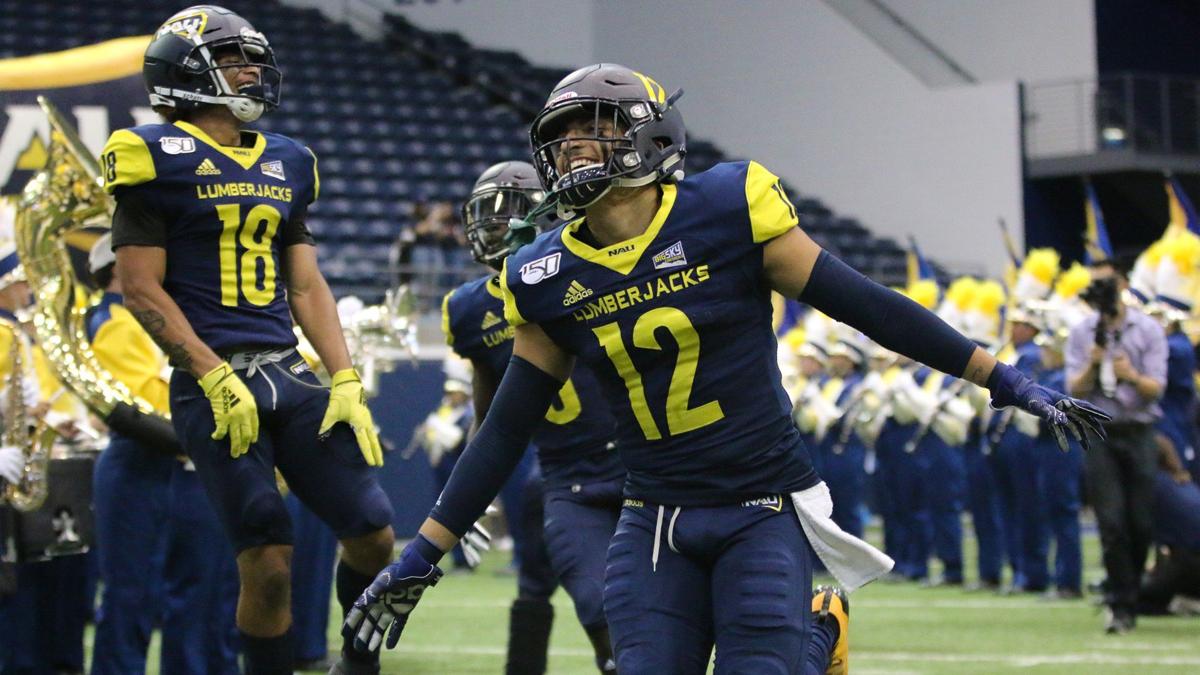 Northern Arizona, after edging Southern Utah 34-33 at home in the first game of its six-game spring schedule on Feb. 27, followed up with a 45-13 loss at Eastern Washington on Saturday.
Anthony Sweeney, a redshirt junior safety who grew up in American Canyon before quarterbacking national high school power De La Salle of Concord, had four tackles in the opener at Walkup Skydome in Flagstaff, Arizona. He had two solo tackles and two assisted stops.
Against Eastern Washington, Sweeney was second on the team with nine tackles, including seven solo stops.
We're offering our best deal ever with this Editor's Special. Support local news coverage by subscribing to the Napa Valley Register.
Sweeney was Northern Arizona's top tackler during the 2019 season with 83 stops. He also had five pass breakups and five tackles for loss.
Named as a two-time Big Sky All-Academic selection, Sweeney graduated in 2020 with a degree in sociology and is in a master's program for applied sociology with an emphasis on culture and community, according to nauathletics.com.
Sweeney was a two-year captain at De La Salle and played on three state championship teams with the Spartans. He helped lead the Spartans to a 28-21 win over Centennial-Corona in the CIF Open Division state bowl game in Sacramento in 2015, throwing a 48-yard touchdown pass and scoring on a 26-yard run.
Napa Valley teams in the rankings
Vintage, Justin-Siena and St. Helena are listed in the MaxPreps Top 25 North Coast Section preseason rankings, announced on March 1 by MaxPreps.com.
"The Crushers return top passer (Jacob Aaron), top yards-per-carry rusher (Dylan Smith), leading receiver (Sam Neal) and second-leading tackler (Ian Avalos)," maxpreps.com reported.
"With one of the section's top quarterbacks returning in Hudson Beers (2,942 passing yards, 30 TDs last year), the Braves should pick up where they left off," maxpreps.com said.
St. Helena is at No. 25, although the Saints won't be playing this spring after their Coastal Mountain Conference canceled all but cross country and spring sports on Feb. 25 and head coach Brandon Farrell stepped down. But the ranking can't hurt the Saints in the fall, when their top player will be back as a senior.
"Junior running back-linebacker Ivan Robledo rushed for NCS-best 2,132 yards and 33 touchdowns last season as a sophomore. If he can maintain the production again, the Saints should keep on winning," maxpreps.com said.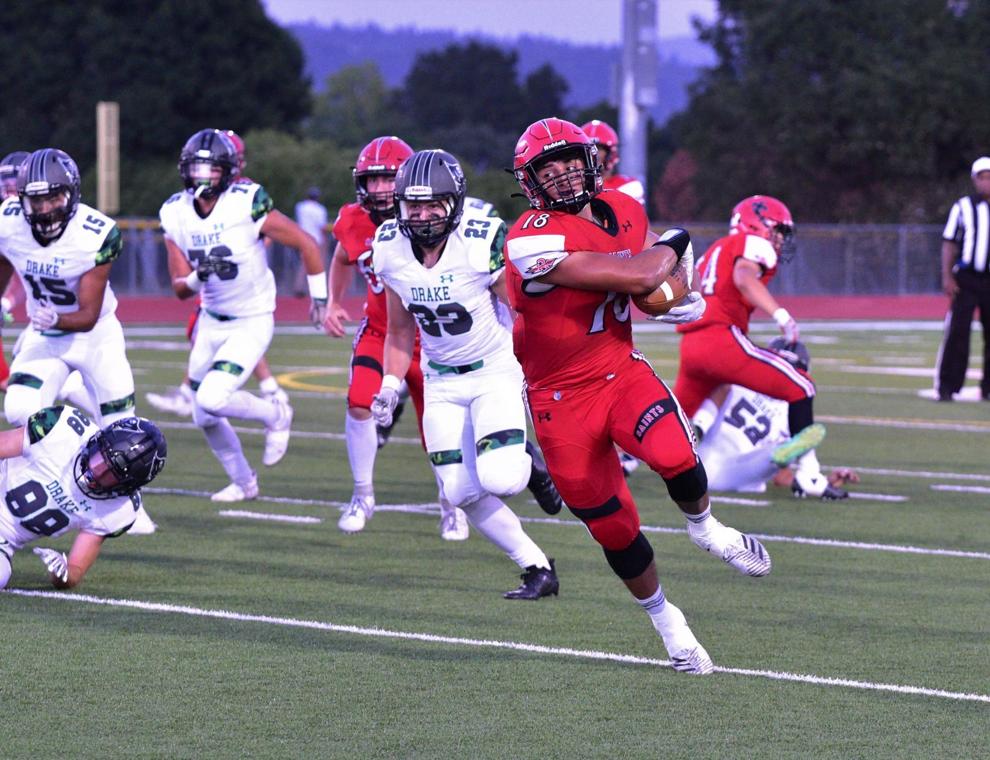 Robledo, a 5-foot-11, 210-pound junior running back-linebacker, was recognized by MaxPreps in a March 1 report as one of "25 North Coast Section players to watch," mentioning that he "also had 34 tackles and five interceptions from his LB spot and is No. 25 on the list.
Robledo had a super sophomore season in 2019. He was named to the 41st annual Cal-Hi Sports All-State Football Team, and was selected to the second team offense on the 2019 Small Schools team. He averaged 10.8 yards per carry and 193.8 yards per game for St. Helena (9-3 overall, 5-2 North Central League I).
The Saints were 1-1 in the CIF North Coast Section Division VII playoffs, defeating St. Vincent de Paul-Petaluma, 44-22, and falling to Salesian College Preparatory-Richmond, 49-14.
Prep2Prep named Robledo, who had school-record single-game 329 yards rushing and scored six touchdowns in an NCL I game against Lower Lake, as its North Coast Section Sophomore of the Year.
Robledo was one of the finalists for Player of the Year honors on the Napa Valley Register's 2019 All-Napa County team. He was named first-team All-NCL I.
De La Salle-Concord is No. 1 in the rankings.
"After the coronavirus and tough state guidelines delayed the season until now, practice for most teams just began and many players have opted out to either focus on other sports or next season. Besides that, conditioning and preparation to this point has been drastically different," maxpreps.com reported.
Also listed among the preseason North Coast Section Top 25 teams:
No. 2 Pittsburg, No. 3 Clayton Valley Charter-Concord, No. 4 Marin Catholic-Kentfield, No. 5 Cardinal Newman-Santa Rosa, No. 6 San Ramon Valley-Danville, No. 7 Rancho Cotate-Rohnert Park, No. 8 Monte Vista-Danville, No. 10 Campolindo-Moraga, No. 11 Moreau Catholic-Hayward, No. 12 Acalanes-Lafayette, No. 13 Las Lomas-Walnut Creek, No. 14 Amador Valley-Pleasanton, No. 15 San Leandro, No. 16 Heritage-Brentwood, No. 17 Hayward, No. 18 James Logan-Union City, No. 19 Foothill-Pleasanton, No. 20 Salesian College Preparatory-Richmond, No. 21 Freedom-Oakley, No. 22 Livermore, No. 24 Piner-Santa Rosa.
Unbeaten Napa Valley teams recognized
Teams from Calistoga, Napa, St. Helena and Vintage high schools have been recognized in a post from CalHiSports.com for achieving unbeaten seasons in all-time Northern California history.
"Here is our latest trip through more than 100 years of California prep football. We're sure any player who was on any of these unbeaten Northern California football teams knows how special of an accomplishment doing that can feel," calhisports.com reported on March 1.
"Thanks to mountains of information on California high school football that can't be found anywhere else, here is an honor roll list according to Cal-Hi Sports of every reported unbeaten team from schools currently in the CIF Northern Section, CIF Sac-Joaquin Section, CIF North Coast Section, CIF Central Coast Section plus San Francisco and Oakland.
"Any teams for the 2021 spring season that finished at 5-0 will be added to this honor roll."
CalHiSports.com added that, "For schools that have moved to a different section, those are listed in the sections in which they are current members."
Each of the four Napa Valley schools are grouped in the CIF North Coast Section. Those attaining unbeaten records:
* Calistoga: 5-0-1 in 1954, 9-0 in 1978.
* Napa: 6-0 in 1942, 8-0 in 1959.
* St. Helena: 6-0 in 1944, 8-0 in 1955, 9-0 in 1960, 9-0 in 1961, 9-0 in 1962, 9-0 in 1963, 9-0 in 1964.
WATCH NOW: BEN ROETHLISBERGER TAKES PAY CUT TO STAY WITH STEELERS