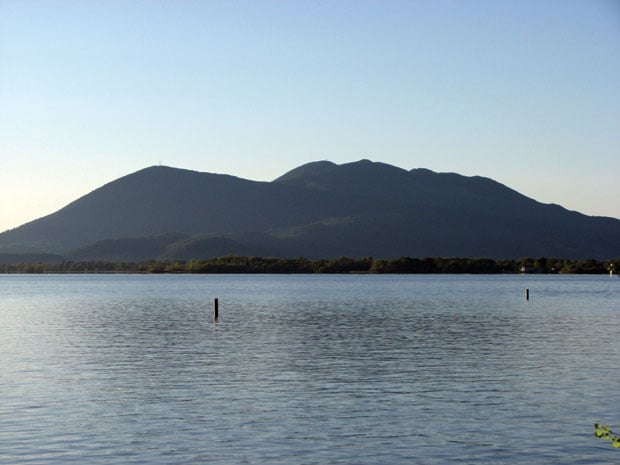 Rising in the middle of Lake County is a mountain teeming with mystery and legend.
Mount Konocti has been admired, respected, and feared for many centuries by both Native American tribes and white settlers alike.
As part of a convention of the Outdoor Writers Association of California, I was treated to a private tour of the mountain by the faithful stewards of Lake County.
Along the way, we learned stories ranging from fantastical tales of Native American lore to unexplained phenomena to scientifically supportable facts.
The name Konocti comes from the Pomo language, roughly translated as "Mountain Woman."
One Native American legend credits the name to a woman who, after quarreling with her husband, stormed off and told him he would "never see her alive again." 
Members of the tribe found her body several days later on the mountain, having been crushed to death by a giant king snake.
A dormant volcano, Mount Konocti is said by geologists to be a composite cone of lava that was built up over millions of years of gentle eruptions. The volcano became dormant approximately 10,000 years ago, making it the youngest mountain in all of California's coastal ranges.
Being such a young piece of real estate, the original lava flows have not been ground down by time and elements into the fine soil found in other parts of the state.
The Konocti soil is extraordinarily porous — so much so that rain falling on the mountain never forms into any kind of creek or stream. It simply absorbs directly into the mountain.
This phenomenon gives support to another legend along the lines of a Jules Verne tale. Native American stories tell of vast network of caverns underneath the mountain, complete with a huge underground lake. It is said that a great drought once lowered the level of Clear Lake to a point where an entrance to these caves was revealed. Native American explorers entered the caves and discovered the giant lake, in whose waters lived a species of fish that had evolved with no eyes.
Modern-day scuba divers have searched for an underwater cave opening, but found nothing. Satellite sonar imaging has confirmed a vacant space under the mountain, but could not verify whether there was a reservoir of water.
The mountain is very protective of its secrets!
Native Americans held a deep respect for the mountain. They would hold sacred ceremonies on it, but never set up any permanent dwellings there.
Our tour took us to an abandoned cabin where a white settler's family had lived. They once had a well driller come up to try and create a water source for them. After drilling about 50 feet down, he hit an unusual rock and then felt an eerie rumbling of the earth. He quickly retracted his equipment and high-tailed it down to safer ground. It seems the mountain didn't appreciate such an intrusion.
Lake County's abundant wildlife also seems to be reluctant to take up residence on Mount Konocti. On our tour we saw a few small birds, insects and lizards, but no sign of any larger creatures.
The terrain would seem ideal for wild pig, but the high obsidian content and rough soil don't appeal to the rutting snout of the boar. Deer, mountain lion, and even squirrel are seldom seen here.
Perhaps it is the lack of available water on the mountain slopes that keeps them away, or maybe it's Konocti's unseen mystical forces that repel them.
For more than 150 years, most of the property on Mount Konocti has been under private ownership. Just recently, however, the County of Lake has purchased a large parcel of this land, including the highest peak of the mountain. 
The county is working to create this into a public park, complete with hiking trails all the way to the top. Our tour took us to this pinnacle, from which we took in breathtaking views of Lakeport and Kelseyville below, the nearby Vaca and Mayacama mountain ranges, and off in the distance you can even see the peaks of the Sierra Nevada.
Pending trail construction and environmental reviews, the park is expected to open in the late summer of this year. The current plan is for it to be a day-use only facility with no overnight camping. The mountain wants it this way.
Guy Carl is a CPA and partner with BDCo Accountants and Advisors in St. Helena (bdcocpa.com).